The forecast is for scattered snowflakes showing up at area forest preserves.
No need to call out the snow plows. These flakes are made of wood and will soon be accompanied by interpretive signage with natural and historical fun facts.
Each snowflake is unique. Just like the real thing, said Pat Cain, public program and visitor services coordinator for the Champaign County Forest Preserve District.
He had just finished installing one of the snowflakes — one of seven — at Lake of the Woods near Mahomet. More will be installed at each of the other preserves in the district — 30 in all.
There's no prize for finding all of them. The snowflake project was floated to get people out on the trails in the county forest preserve districts.
Other sites are Sangamon River, River Bend, Homer Lake, and Middle Fork forest preserves and Kickapoo Rail Trail. The larger facilities will get the most snowflakes.
The snowflakes are mounted on trees. Signs with information will be installed beside each one. The signs will include such information as major area weather events (the winter of 1978-'79 and the Valentine's Day ice storm of 1990 are among the likely inclusions) and what the footprints of wildlife that inhabit the area look like.
Each sign is located along one of the district's many trails. And there are plenty of trails — about 45 miles worth. It's all designed to induce people to bundle up, get some exercise and walk the trails.
The wood from downed forest trees is being used for the snowflakes.
"Take a picture of your finds and share them with us on our Facebook and Instagram pages using the hashtag #CCFPDSnowflakeSearch," said Lisa Sprinkle, forest preserve district marketing director.
Danville 107-year-old celebrates birthday
It was 1914. Ford Motor Co. announced an eight-hour work day and daily wage of $5; Charlie Chaplin made his film debut; Archduke Franz Ferdinand of Austria and his wife, Sophie, were assassinated, which directly led to the start of World War I; and Ruby Meeker was born.
All but Meeker are long gone. The 107-year-old is a resident of Liberty Village of Danville.
When informed of her age, she laughed and said, "Am I that old? I guess I feel pretty good for being that old."
Her family is holding a birthday card shower for her. Cards may be mailed to Hawthorne Inn, Room 610, Danville, IL 61832.
A celebration will be held for her at noon Jan. 25 and will be available for viewing on Facebook.
Meeker, who grew up on Fairchild Street in Danville, said her first memory was walking to and from school across the subway. She had four brothers and one sister, all of whom are deceased.
Cell phones "and all the fancy cars" and "people don't go to church like they used to" are some of the major changes she has seen. "I grew up in church and attended all my life."
Until recently, she still played the piano.
"I like playing any type of hymnal music. Christian music has always been my favorite music," she said.
Meeker has outlived three of her four children — son Floyd Meeker is still living. Her daughters, Norma Pinegar, Clara Ingalsbe and Wanda Falletti, are deceased.
She said she never drank or smoke, despite having grown up across the street from a tavern. Her mother ran a restaurant at the C&I depot, and her father worked on the railroad.
Meeker attended Fairchild Grade School but was unable to attend high school due to the death of her father.
She got a job at the Chuckles candy factory in Danville, where she worked until she married Sterling Meeker. After her children were in high school, she worked at the jacket factory and later at the Glow Motel pancake house.
"She loved to travel," her daughter-in-law, Sharon Meeker, said. "She had gone to Hawaii. Her and her cousin went after her husband died."
The Meekers liked camping, and in the early days enjoyed going dancing.
"She also really enjoyed all the groups at Second Church of Christ in Danville, especially the Young at Heart group," Sharon Meeker said.
A person never had to guess Ruby's opinion about something. She gave it to you, whether you wanted it or not.
"She always told you what she thought," Sharon Meeker said. "She was very opinionated."
Having grown up in the city, it took her a while to get used to living in the country. She and her husband and family lived in rural Bismarck. On Thanksgivings, the whole Meeker family would gather to butcher hogs.
"They hung it up, salted it and sugar-cured it and hung them in the smokehouse. They rendered all the lard and had cracklings," Sharon said.
That took some getting used to, she said.
"She used to have big gardens and canned. She had a lot of friends and enjoyed being with people She enjoyed life, that's for sure," she said.
Sharon Meeker said her mother-in-law doesn't understand the current pandemic and why her family isn't able to visit her.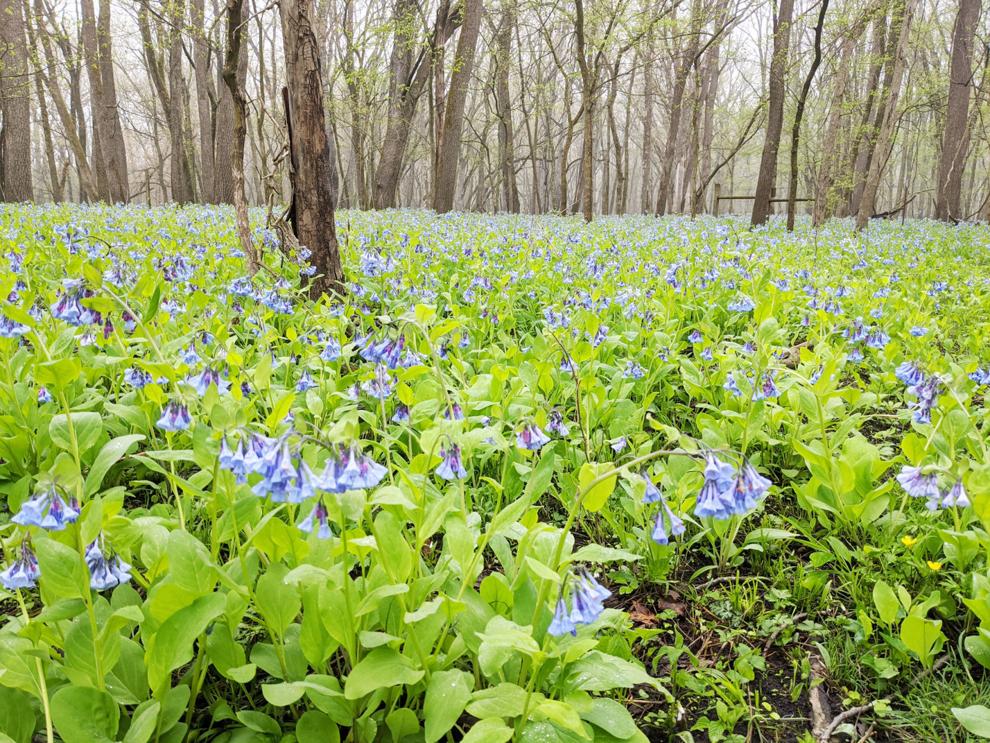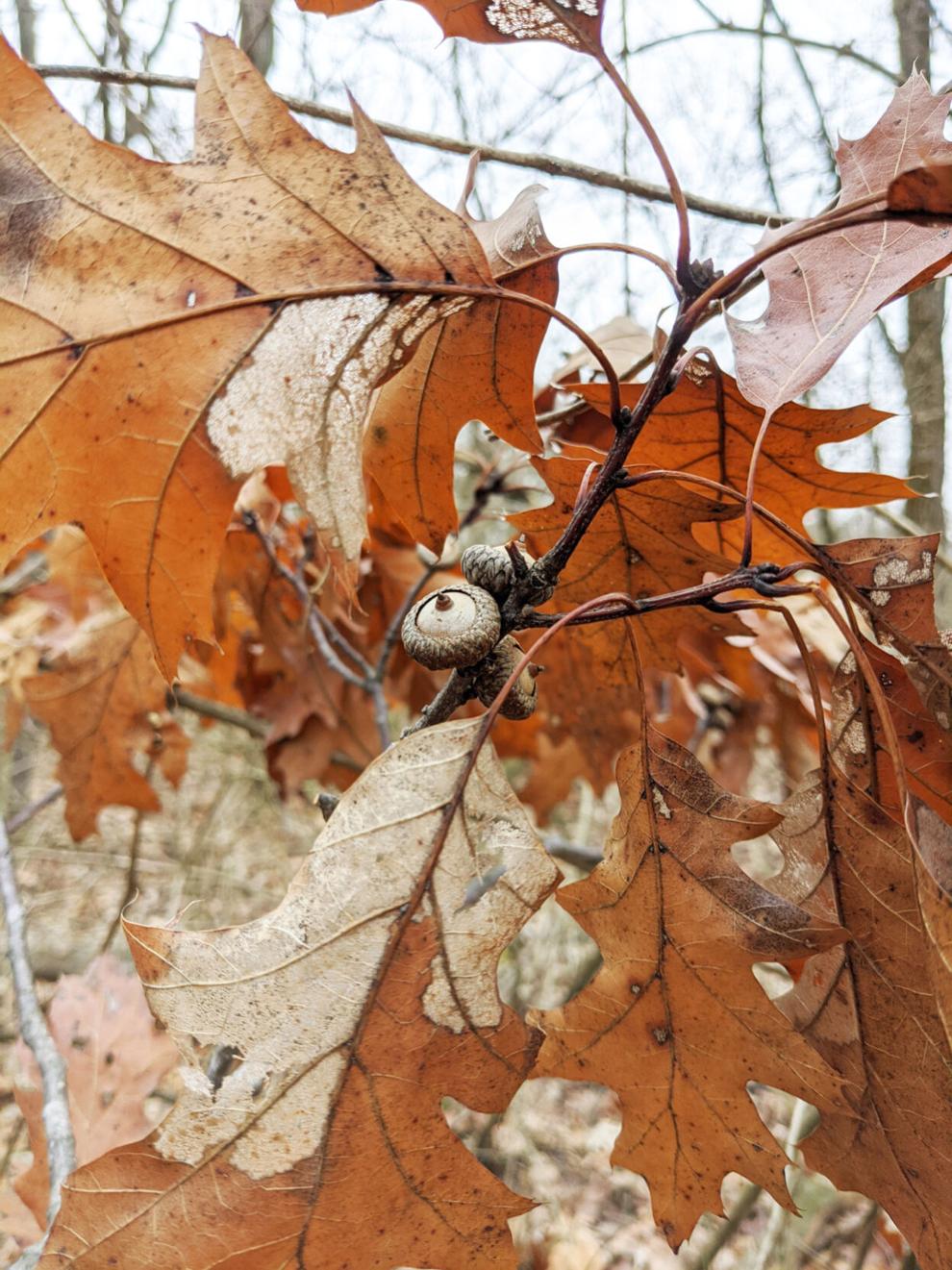 Champaign County adds new preserve along Sangamon River
There's a new forest preserve in Champaign County.
The county forest preserve district is developing the 98-acre Heron View Forest Preserve, which is the fourth along the Sangamon River, and is located about 7 miles north of Mahomet, halfway between Lake of the Woods, and the Sangamon River Forest Preserve.
The district bought the land with a combination of grants and donations, the majority coming from an Illinois Clean Energy Community Foundation grant. A donation by Shawn Tabeling and Brian Keigher of Hidden River Development, LLC., which is developing home sites east of the preserve, provided the balance needed for the land purchase.
Lisa Sprinkle of the forest preserve district said the site is primarily land-locked by private property, but CCFPD staff will be working to provide access to the site from County Road 2600 North in 2021. As a condition of the grant used for purchase, the land will remain largely undeveloped to provide wildlife habitat.
The forest preserve district hopes to add hiking and access to the Sangamon River for paddling.
"As the name suggests, great blue herons are plentiful at the site, with dozens of nests grouped in some large sycamore trees along the river," Sprinkle said. "A majority of the site is bottomland forest, and Virginia bluebells are abundant in the spring. The remaining upland forest area has a good canopy of oak and hickory trees, but the understory needs restoration due to invasion by non-native shrubs like bush honeysuckle, privet and Japanese barberry."
The purchase grant included nearly $10,000 to kick-start that management over the next year.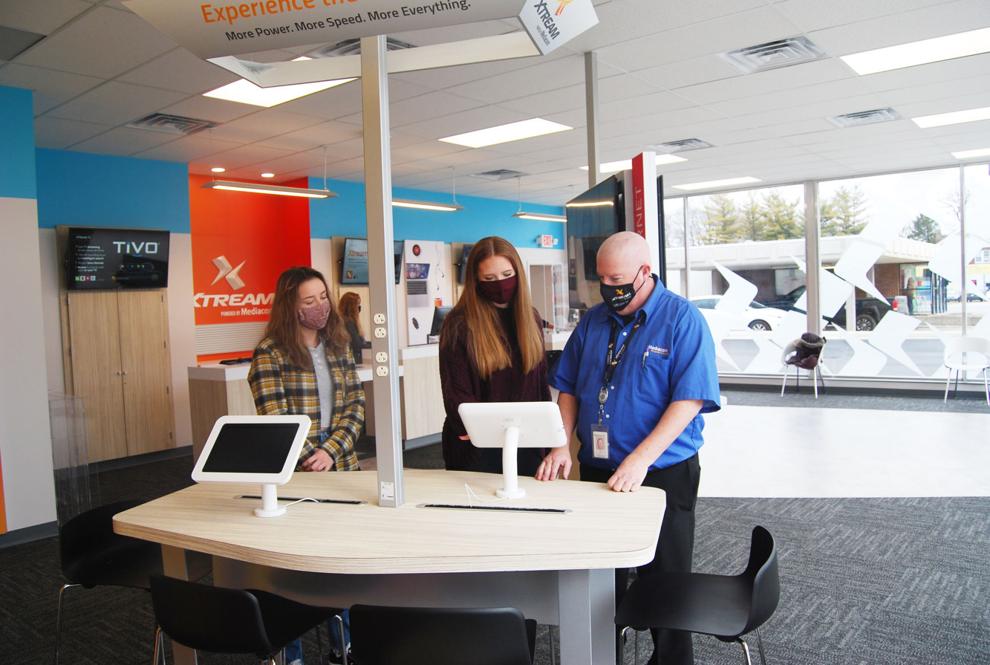 Mediacom moves to downtown Rantoul
Downtown Rantoul is getting a new business.
Mediacom Communications will open its new Rantoul customer service center Monday. As a result of the move, the company will add Saturday hours from 10 a.m. to 2 p.m. beginning Feb. 6.
A tire center was the most recent occupant of the building at 211 E. Sangamon Ave.
The building has undergone a full-scale renovation. It will feature a technology-focused showroom.
Accessible kiosks and digital screens are set up to show customers how they can combine streaming services with TV subscriptions, connect smart home devices to wi-fi networks, use voice-activated remotes and experience the speed of gigabit internet service.
"Mediacom is a digital technology company, and to reflect that, we made it a priority to transform the experience customers receive when they come to our new retail store for information and service," Dan Stuhr, Mediacom's director of area operations, said.
The large open area for customers is double the amount available at the company's previous location on East Grove Avenue. Stuhr described the move as a positive one to be centrally located in the community and noted the availability of parking and the change that adds Saturday service hours.
A variety of Mediacom employees will use the building, including broadband specialists and technical operations staff.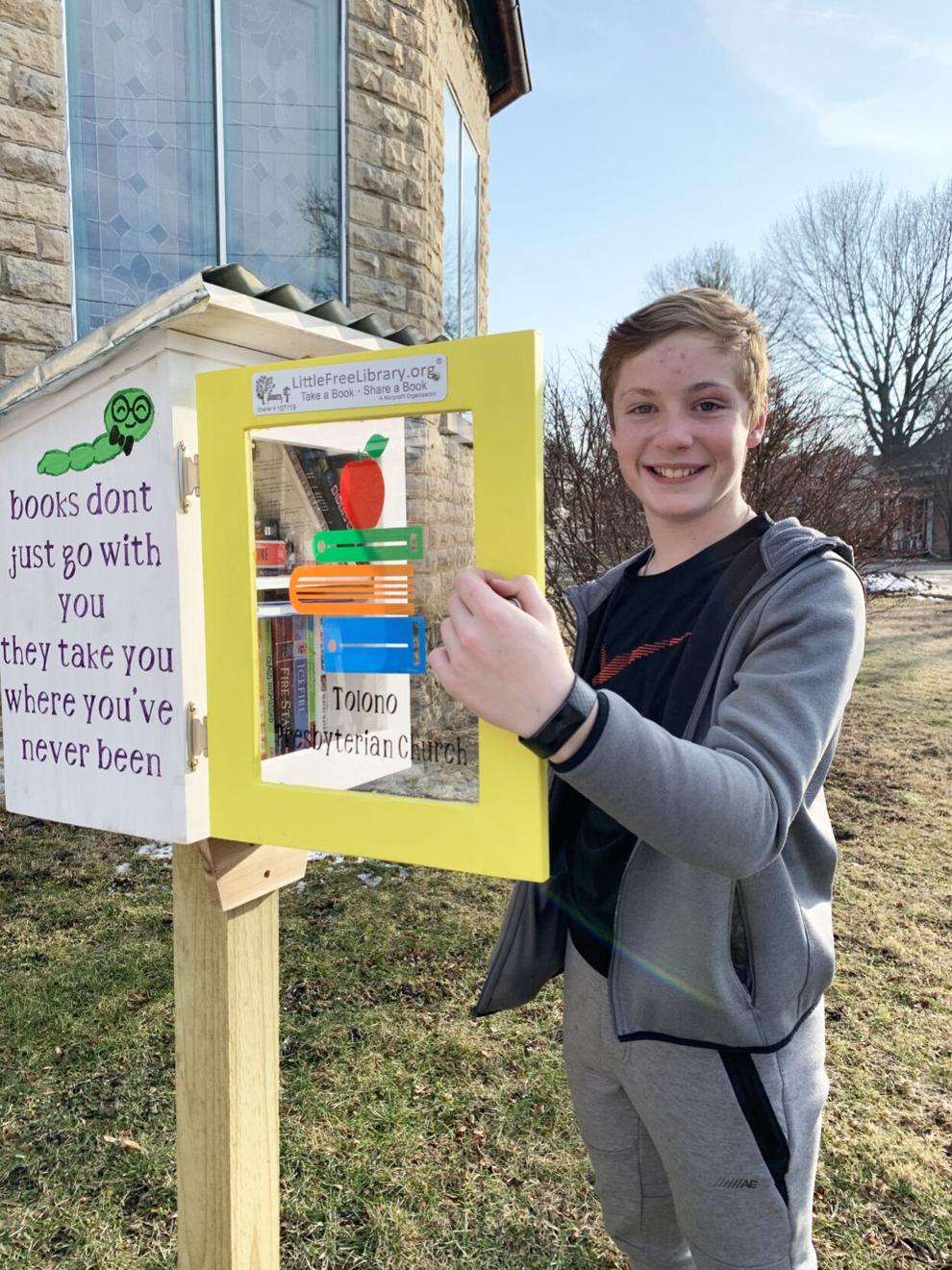 Little Free Library added at Tolono church
One good thing to come out of the pandemic: A Little Free Library outside Tolono Presbyterian Church.
Sarah Wells, who spearheaded the effort with her family, were among those last year who "wanted to do something" to make things better last summer. The Wellses and other volunteers started a free library on Monday evenings outside the church.
"We had people around town donate," she said. "They could pick up books. It was outside, so we could social distance," Wells said.
Snack bags containing about 20 snacks were also handed out.
The Wells family decided they wanted something more permanent "for people to have something to do while we're all cooped up," she said. "With COVID we weren't sure what we could do. A lot of kids are being home-schooled and remote learning."
So they opted for a Little Free Library. The library works on the honor system. People can come and go as they please to pick up books and return them. It's an idea that is popping up around the country.
No more book donations are being accepted, Wells said.
"We had a ton of donations of books" already.
Also helping to put together the summer library and install the library box were Doug Wells, Derrick and Sharon Ennis, Bonnie Kemper, Dawn Huizenga, Meg and Katie Edwards and Jenett Hulick.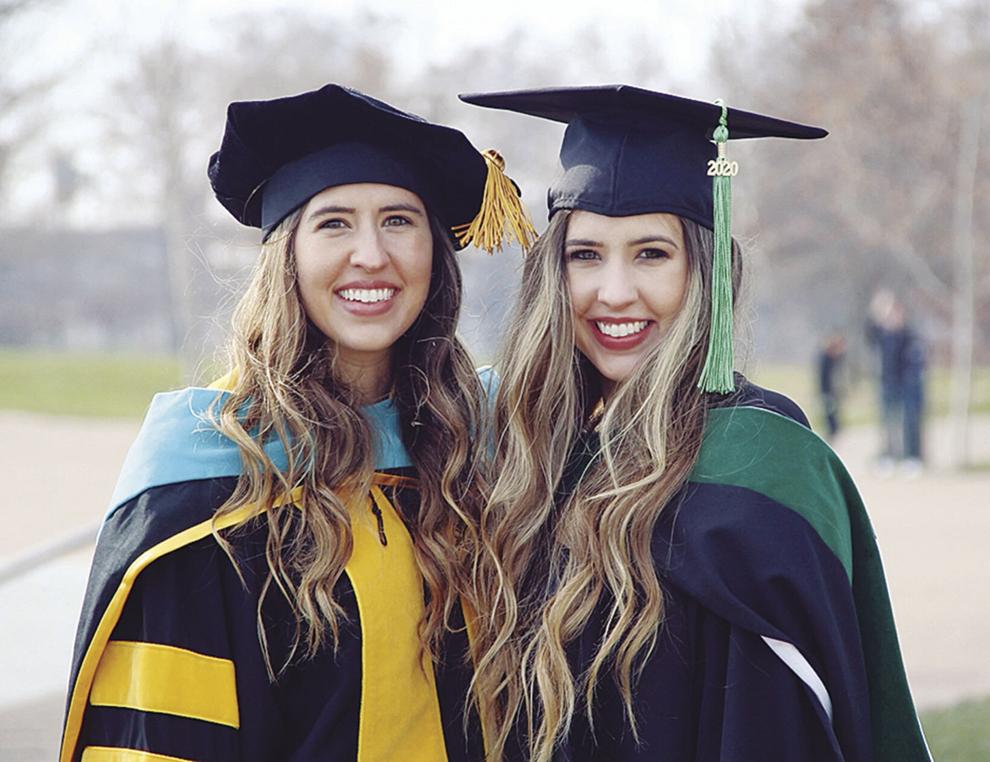 Hendrix sisters earn advanced degrees
Twin sisters, 2013 graduates of Bement High School, completed their advanced degrees from two different graduate programs on the same day virtually Dec. 18, 2020.
Anna Hendrix earned her doctorate of physical therapy degree from the University of Iowa.
Alyssa Hendrix graduated as a physician assistant with a master of medical science degree from St. Louis University.
They are the daughters of John and Lisa Hendrix of rural Monticello.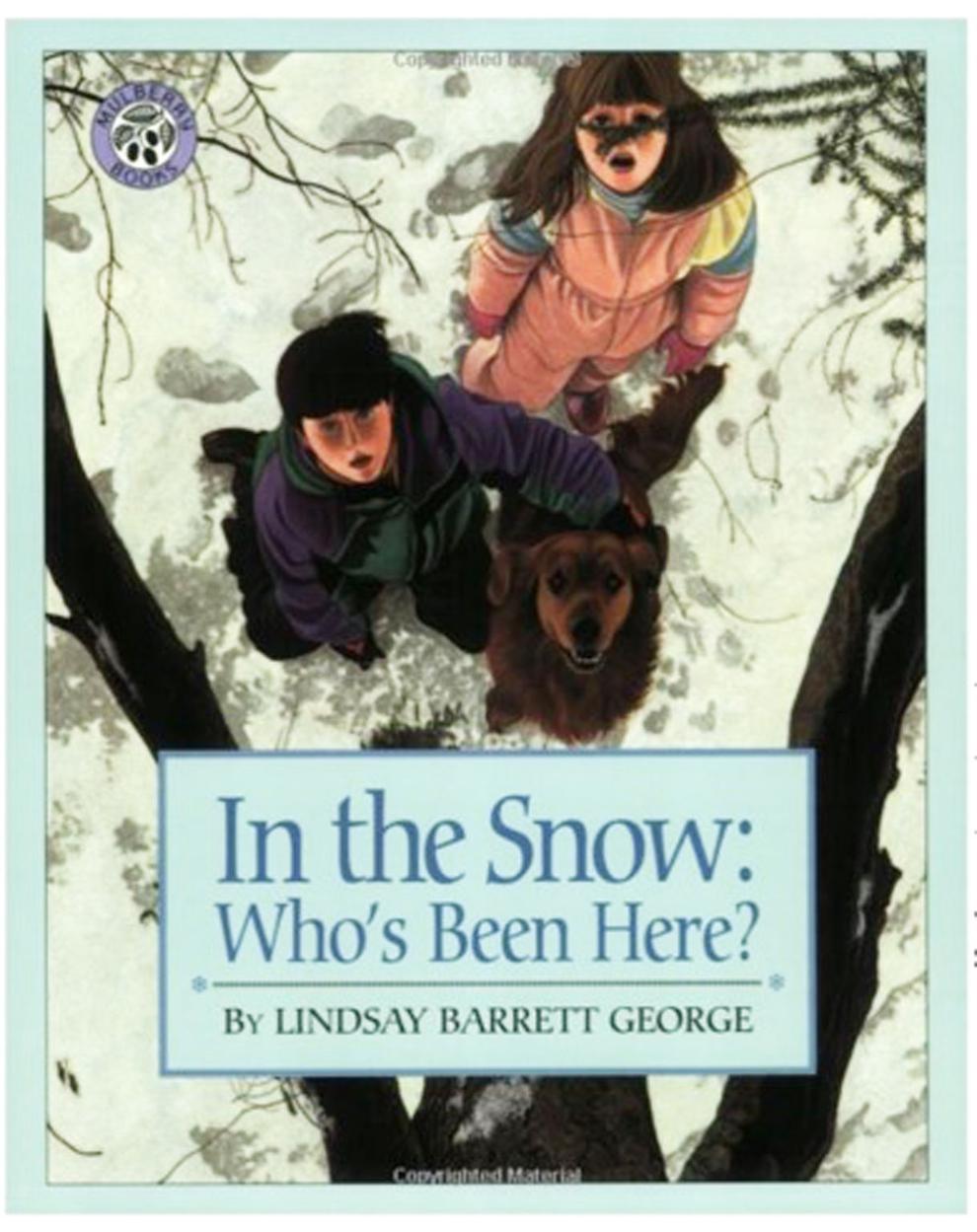 Story plays out at preserve
The Vermilion County Conservation District has added a StoryWalk at Forest Glen Preserve.
It highlights the children's literature book by Lindsay Barrett George, "In the Snow: Who's Been Here?" on the Beech Grove Trail.
The forest preserve is about 4 miles east of Illinois 1 between Westville and Georgetown.
As you hike the trail, you can stop and read a page of the book before moving down the trail to the next page.
The book follows two children walking through the woods as they find evidence left behind from animals along the way.
Participants are encouraged to try to figure out who's been there before the answer is revealed on the next page.
It's a chance to do some hiking and some reading and learning.
The StoryWalk, which began Jan. 8, will be up for several weeks, depending on how long the boards can withstand the outdoor elements.
The project was created by Anne Ferguson of Montepelier, Vt., and developed in collaboration with the Vermilion Bicycle & Pedestrian Coalition and the Kellogg Hubbard Library.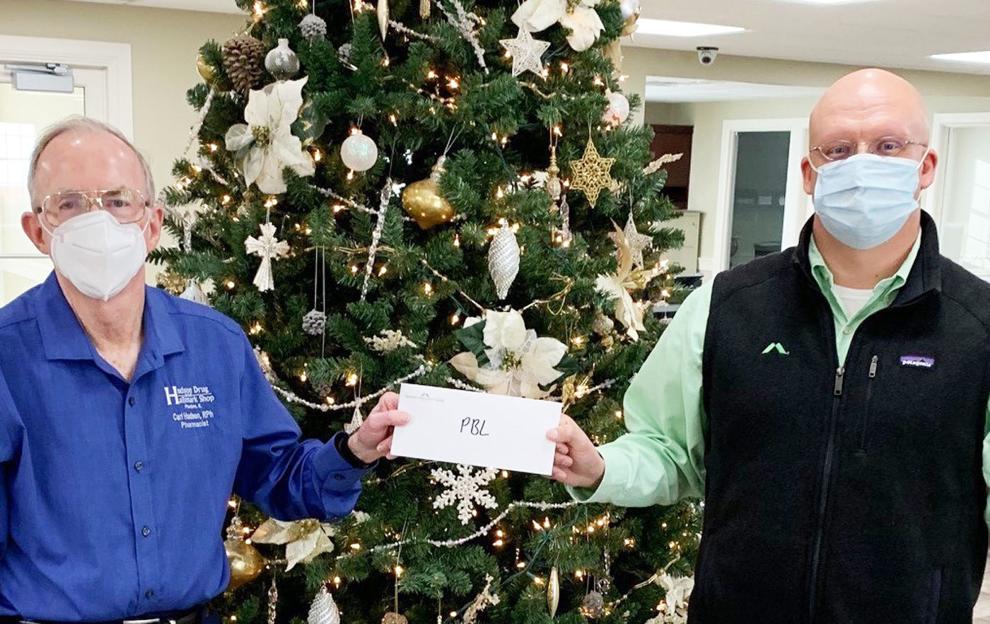 Bank donates to foundation for tech upgrades
Farmers-Merchants Bank of Illinois has donated $13,000 to the Paxton-Buckley-Loda Education Foundation to be used toward improving technology throughout the school district.
Bank President Nick Reutter said the bank recognizes how difficult e-learning has been on some families. They wanted to make sure to do their part to help "combat this challenge."
"I am an education 'junkie,' and I love working with students/schools to help make our young citizens valuable members of our society," Reutter said.
PBL Superintendent Cliff McClure was asked for an assessment of needs and said one of the district's top tech priorities was upgrading the Mac lab. PBL plans to replace all 20 machines with the newest Apple desktops, which will include the Adobe Suite, SketchUp and other 3D printing software.
Refreshing the projection system is also in the works. The Mac lab is used by high school students to create designs for the high school and district, as well as new logos for some city and county businesses.
"This donation comes at a time when the pandemic continues to increase the need for technology across all grades within our district — within school and home classrooms," Foundation board member Carl Hudson said.
Farmers-Merchants Bank of Illinois has been a longtime supporter of the Foundation. Its backing has helped to launch the popular book fair coupon program. The bank has provided an $8,000 scholarship to a local graduating senior each year for the past 21 years.
"When we've needed help to start new programs or provide opportunities in our schools, Farmers-Merchants Bank of Illinois does not hesitate to help us, and we're so grateful for their support," Foundation Chair Robin Niewold said.