Emily Elsbernd has had a love of STEM (science, technology, engineering and mathematics) learning since she was a first-grader at Prairieview-Ogden South Elementary.
She wanted to pass along her joy of that study to future classmates at the school while also working toward a Gold Award with Girl Scouts.
The result was a nearly two-year project as Elsbernd built an outdoor STEM classroom at PVO South. The project had its share of ups and downs and delays caused by supply-chain issues and ankle surgery.
PVO South Principal Carl Heuer said teachers and students use the classroom whenever they can — during good weather, of course.
"Emily did a fantastic job with that," Heuer said. "Being a (former) student at PVO, we're very proud to have her name affiliated with it. She's very driven."
The classroom includes weather-durable benches and a removable chalkboard. She also developed 15 STEM experiments and lesson plans.
The 18-year-old senior at St. Joseph-Ogden High School has been a Girl Scout for 13 years. Creating the classroom took more than a few tools, space to build it and materials. A great deal of planning and documentation were also required.
Elsbernd said the process involves time that most girls don't have, so they have to learn how to carve out time to get it all done.
Elsbernd said she is involved in a number of sports, clubs, activities and other responsibilities, not to mention school work, so she created time for the project by "clearing up my schedule."
"It also requires a willingness to challenge yourself, as there are sure to be hiccups along the way, and the concept of leading a team of adults is very foreign for most teenage girls," she said.
Elsbernd, daughter of Doug and Maureen Elsbernd of Ogden, said there was little that went according to plan in her proposal paperwork.
The idea for the outdoor classroom came from her troop leader. She chose a STEM classroom because she needed to find a global or national issue to address for the project, "and I landed on the lack of resources and funding for STEM education in rural communities."
"I knew that I wanted to provide my old elementary school with something that I would have loved as a child: a space to learn more and do fun experiments that could spark another kid's love and interest in STEM."
Aaron Ketchum served as Elsbernd's construction advisor.
The work took place in three locations — Ketchum's garage for building the removable chalkboard and sanding its posts; Elsbernd's garage for the benches with help from her father; and onsite at the school, where the chalkboard posts were cemented, the benches were anchored into the ground and the bricks and rock were installed.
Unknown roadblocks were a frustration, with factors she couldn't control.
"If a teacher assigned a lot of homework on a day where I had intended to spend a couple of hours working on the STEM lessons portion of the project, I would lose that time to homework," she said.
She also cited supply-chain issues that stemmed from the COVID-19 pandemic for the benches, which meant they didn't arrive until 10 weeks after the order was placed. They arrived the day after she underwent ankle surgery.
By the time she was recovered and able to work on the benches, it was too cold to anchor them into the ground.
When she received an email in September that her project had been approved by the Girl Scout council, it had been nearly two years since she started the paperwork on her proposal.
Elsbernd said the project necessitated a great deal of paperwork before the work began.
"All of this is intended for a girl to understand just how much work the Gold Award truly takes before fully committing," she said, noting she was only able to start when she received council approval. The proposal also required a budget of the needed supplies and the cost. She was also required to explain how the project would be funded.
Elsbernd also had to present her proposal to the board of education.
She did about 10 hours of research to prepare for the job. and the STEM classroom took her about 95 hours to complete.
Elsbernd said she gets a great deal of satisfaction when she drives by the school and sees the fruits of her labor.
She will attend the University of Alabama in the fall, majoring in chemical engineering with a focus in biochemistry and minor in Spanish.
Honor Roll
On Saturdays, we tip our hats to academic award-winners from our area. Submit information at dhinton@news-gazette.com.
PRESIDENT'S LIST
Jacksonville State University (Jacksonville, Ala.) — Hallee Watters, Chrisman.
McKendree University (Lebanon, Ill.) — Dalton Hoel, Kameryn Kresin, Tuscola; Maclayne Taylor, Ogden; Connor Thomason, Mahomet.
Mississippi College (Clinton, Miss.) — Zachary Dixon, Champaign.
DEAN'S LIST
Southeast Missouri State University (Cape Girardeau) — Jake Meyer, Savoy; Erika Vandeveer, Arcola; Aubire Shore, Cayla Koerner and Sarah Kyle, Mahomet; Deamma Cummins, St. Joseph.
Spokane Falls Community Colleges (Spokane, Wash.) — Montana Reitsman, Danville.
Bradley University — Rhianna Norder, Donovan; Johnna Armstrong Watson, Paris; Carson Dudley, Loda; Kayla Sterr, Clinton; Haley Slagel, Cropsey; Skyler Gillespie, LeRoy, Makayla Horn, Yaara Amit, Jordan Smith and Silia Znaniecki, Champaign; Alexandra Reed, D'Jameia Hoskins, Emily Everett and Sierra Bryant, Danville; Colin Dierks, Mahomet; Ian Wilkey, Savoy; Charles Polonus, Sidney; Chrstiana Marlowe, Paris.
Cedarville University (Cedarville, Ohio) — Mackenzie Russell, Fairmount; Abigail Tapuaiga and Jack Boesch, Champaign.
Southern Illinois University-Edwardsville — Nguyen Cao, Julia Davis, Oluwafunmilayo Efunkoya, Hannah Niccum and Lydia Wegel, Champaign; Anna Jennings, Cissna Park; Deborah Lindquist, Ryty Dupont-Barlow, Anna Mills, Drew Milton, Brett Reeves, Bryce Reeves, Jacob Sterr and Jaxson White, Clinton; Lauren Ferris, Danville; Owen Miller and Brandon Olson, Gilman; Megan Claunch, Olivia Knoedler, Abby Levingston and Nicholas Payne, LeRoy; Sydney Esker, Kristin Fletcher, Grace Larson and Ainsley Ranstead, Mahomet; Drew Culpepper, Keegan Davis and Katherine Goodman, Monticello; Zayne Bonner, Garrett Boyer, Elisabeth Cler and Cameron Woodard, Philo; Melina Schuette, Piper City; Jerzie Grob, Rantoul; Joseph Rajlich, St. Joseph; Mackenzie Brunk, Tolono; Bailie Rabideau, Watseka.
Lakeview College of Nursing (Danville) — Dakota Clayton, Sullivan, and Julianna Flores, Danville.
Olivet Nazarene University (Bourbonnais) — Devon Bell, Champaign; Isabella Brady, Georgetown; Sara Burger, Paris; Victoria Cisney, Tuscola; Addisyn Cloin, Tolono; Crystal Coffey, Piper City; Kaylee Cote, Onarga; Madison Crouch, Anna Parmenter, Carson Santefort, Emma Stone, Watseka; Hunter Davis and Olivia Earl, Clinton; Paxton Fisher, Catlin; McKenzie Hasbargen and Hunter Meyer, Watseka; Heidi Heldt and Tyler Heldt, Weldon; Kaitlyn Januzik and Mathew Maitlen, Mahomet; Justine Kauffman, Tuscola; Ivan Munoz, Onarga; Megan Mussard, Milford; Meghan Olthoff, Cerra Thompson, Savoy; Dharmik Owen, Braden Sackett and Katherine Smith, Danville; Jacob Sims, Monticello; Abigail Sizemore, Gibson City; Savanna Spitz, Fisher; Mikala Turner, Philo.
McKendree University (Lebanon, Ill.) — Hunter Howell, Champaign; Jaxson Freeman, Loda; Brody Macak, Monticello; Ryan Drayer, Rankin; Keegan McCarty, St. Joseph; Rylee Edwards, Westville.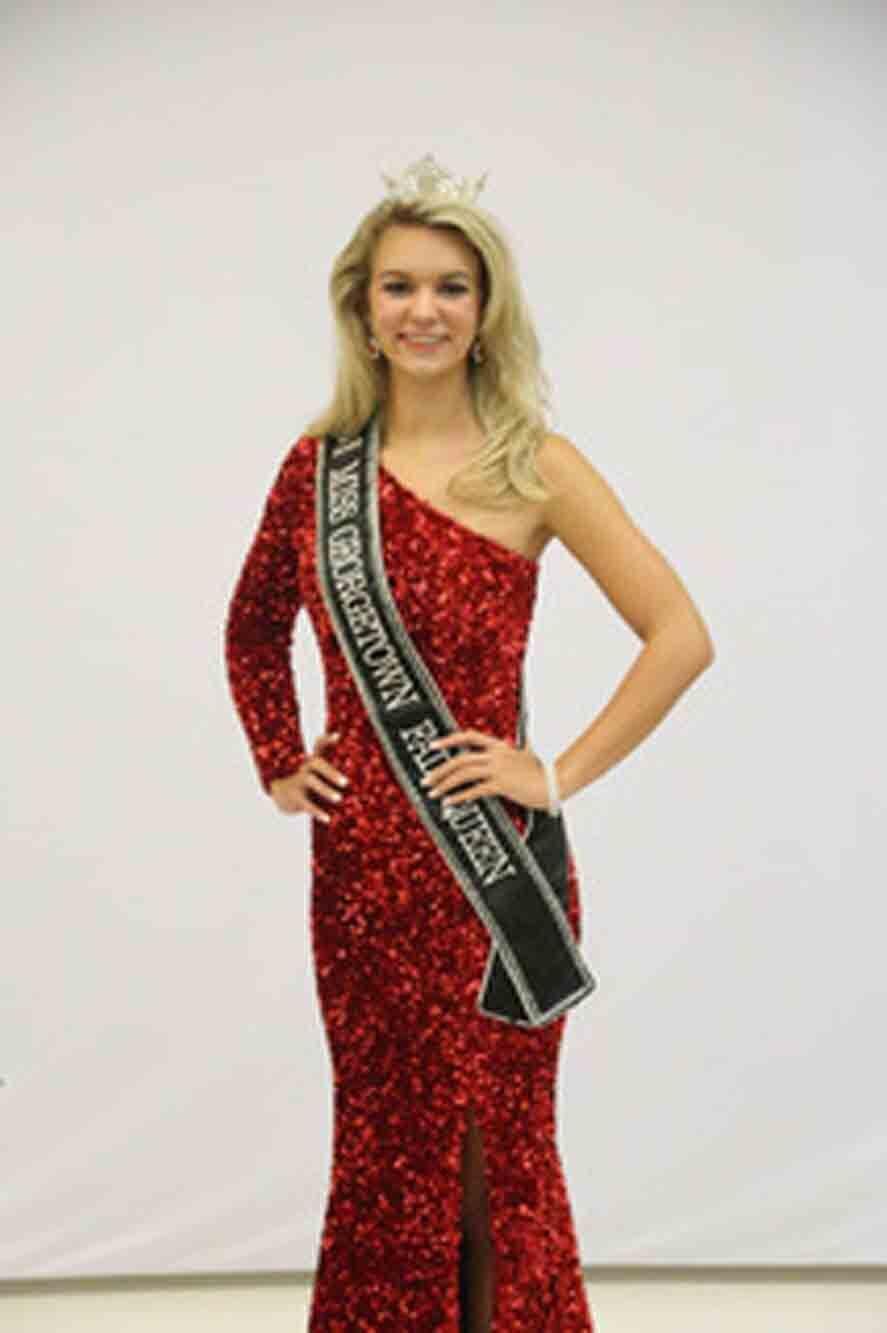 Smith, Greenburg to compete for state crown
Miss Georgetown Fair Queen Brylie Smith and Miss Ford County Fair Queen Gracelyn Greenburg will be among the contestants who will compete Jan. 19-22 for the Miss Illinois County Fair Queen title.
It will be a busy week for Smith. The Oakwood resident, daughter of Korry and Lainey Smith, a senior at Salt Fork High School, will be playing in the girls Vermilion County Tournament, hopefully up to Wednesday when she will leave for the state pageant in Springfield.
An All-Vermilion County basketball player, Smith has had a busy schedule the past few months attending basketball practices, playing in games and making time for mock interviews, speech and stage practice.
"She works very hard giving of her time to both of these activities," Karen Thornsbrough, Miss Georgetown Fair Queen Pageant, director said.
Smith plans to major in radiology at Danville Area Community College.
Greenburg, 17, daughter of Kelly Reitz and Matt and Kristi Greenburg, is a senior at Paxton-Buckley-Loda High School.
She is enrolled in the CNA Health Professions course at Parkland College through the ECCA program at PBL. During her first semester, she has spent time learning in the classroom as well as completing her necessary clinical hours.
Greenburg recently received her CNA license and is looking forward to starting a job in the health care field.
The state pageant winner will travel more than 20,000 miles in a provided car to visit county fairs in Illinois, hosting the Illinois State Fair and the Duquoin State Fair. She will also speak to the Illinois House and Senate on FFA Day.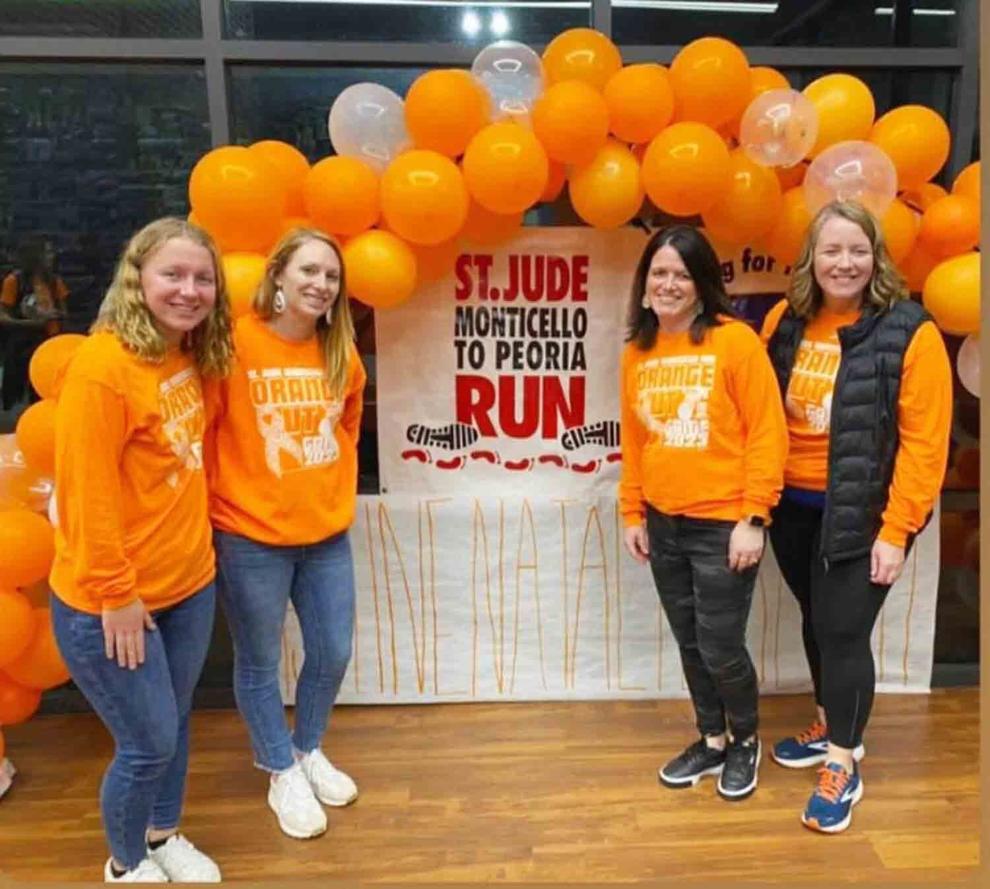 Pep Club comes through for St. Jude
Monticello High School's pep club showed it won't let bad weather get in the way of a good cause.
The club hit the $6,600 mark in money raised for St. Jude Children's Research Hospital in honor of the late Natalie McDowell at a Sages basketball game — even after a tornado warning in which everyone had to take shelter near the locker rooms and near the cafeteria.
Ms. McDowell was a school one-on-one nurse for several years. She was part of the St. Jude Run of Monticello and one of the fundraisers for the children's research hospital. She passed away from injuries sustained in a car accident in November 2021.
Fundraising events have included t-shirt sales, an Orange-Out basketball game, raffle baskets, 50/50 drawings, a half-court shot contest and donation buckets that go through the stands.
"The Kirby Medical Group always is so giving and matching $2,500 in donations," pep club sponsor Tara Stetson said.
A pie-in-the-face contest will also be held.