Theresa Meacham
Theresa Meacham | The true meaning of the holidays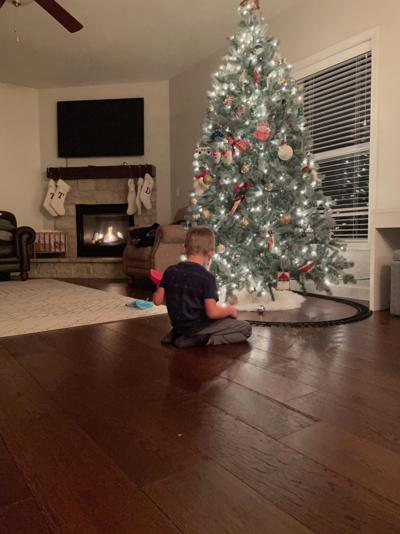 Only a week into November, and I've already begun to feel the familiar tug.
It's the same tension that builds every year as the holidays approach.
And it's not so much a pressure from the outside pressing in, but something that mounts on the inside.
I am an idealist at heart. I have specific and high hopes for what the holidays will be for myself and for my family. I feel the speed of the world quickening as I struggle to slow down. The pace of the holidays is hardly conducive to what I want most for my family — time spent together. Embracing the season's fun, but even more so, uncovering the meaning and depth of the season with real intention.
I am not someone who stresses out over the tree, the trimmings or our outdoor light display (should I say lack thereof?). We make our home festive in manageable ways, but I don't mind it if my house isn't dressed to the nines in holiday decor.
Do you know where I do feel the burden?
Rituals. Relationships. Traditions.
Not so much a burden of how I'm supposed to navigate those things — with presents or games or superficial expectations. But a burden for how I want to navigate them — with purpose and principle and hope.
I care profoundly about each of those — rituals, relationships and traditions. And the stakes just feel higher during the holidays.
I want to make memories my boys will treasure for long past my lifetime. I want to find pockets within the holiday season chaos where my family truly slows down enough to see each other — really. I want to establish practices my boys will anticipate with excitement every year. And I want to surprise them with special moments and memories they weren't expecting at all.
More than creating a fun and festive string of weeks (although I hope for that, too!), I want these days to be drenched in meaning. I want them to really count.
At a time when there is no shortage of games, fluff, parties and time-sucks, I hope my family stays mostly anchored in the sole reason we celebrate this season at all. And that we put more effort into our people than our presents.
I hope the holiday season is celebratory, not just for what we gave or what we gained, but for who we became. That somewhere in the hustle and bustle, we took the time to slow down, religiously and repetitiously, and transform into a better version of ourselves.
I can put a lot of pressure on myself to turn this time of year into something magical and special for myself and my family. I want it to be joyful and merry, but also meaningful and true.
As so when I put my boys down for their naps on a recent afternoon and glanced at my husband's work schedule and spread out the scraps of paper with my handwritten ideas for how to navigate this holiday season, I became a bit overwhelmed.
How can we do this well?
That's when I began to think about my own childhood memories. What made it meaningful?
And it wasn't about a perfectly decorated home or well-planned party. On the other hand, it wasn't more meaningful because of a well-chosen Advent devotional or particularly holy Christmas service.
It was meaningful because we pulled out the Christmas books and my parents would hold me and my siblings as they read to us those special, once-a-year books.
It was meaningful because we played with the chipped-up nativity scene and organic conversations about what it must have been like were birthed from those humble moments.
It was meaningful because everyone gathered at our home, and I don't remember much else other than everyone gathered.
It was meaningful because my mom trusted me to put the breakable ornaments on the tree as we decorated it — together.
It was meaningful because we brought food to our friends who wouldn't have otherwise had any. We didn't call it charity; we just called them friends.
It was meaningful because every year my dad forgot to dig the hole in the ground for our bulb Christmas tree before the first frost — and I'll forever remember my mom boiling water to pour over the dirt as my dad slammed his spade at the frozen soil.
The most meaningful moments were meaningful because they were simple and centered. It's almost as much about what they didn't hold — too much stress or technology or expectations or apprehensions — as what they did.
With that in mind, I got to planning. And I planned less about what I want our family to do or accomplish this holiday and more about the wife and the mom and the woman I want to be.
And if I can be that person, then I have a feeling my hopes for this holiday season will mostly take care of themselves.