Theresa Meacham
Theresa Meacham | Weathering the changing of the seasons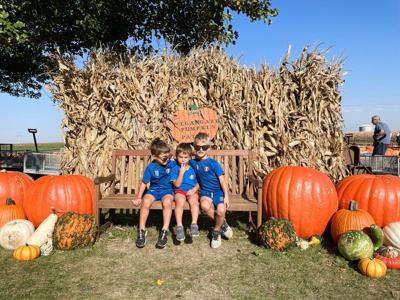 "I miss the seasons."
A dear friend of mine who transplanted to the desert shared this on a recent trip back to the Midwest.
While I've probably taken it for granted because seasonal weather is all I've really ever known, I do find myself mindfully grateful for the changing seasons as each new one rolls around.
And fall is probably at the top of my list.
As someone who looked forward to going back to school, August and September have always held excitement.
As a former basketball player, fall was a time for laying the foundation of a new season. Hard work and fresh hope filled the air.
As an expat for nearly a decade, fall was when Trent and I would sign a contract, hop a plane and first set foot in our new home overseas. Anticipation would be an understatement in describing the feeling of fall during that time of my life. Whether it was Austria, Germany, France or Italy, I discovered my new surroundings in all the glory of changing leaves and dropping temps.
Now as a mom, fall holds its own kind of special.
I'm rediscovering the season through the eyes of my boys.
Leaves dropping, days shortening, corn turning and football playing. They are magical and new in the eyes of my sons, who have not had years of the routine.
I refuse to leave out my personal favorite — sweatshirts.
Last week, I gathered my boys around the table to make our fall list.
We'd crossed off all but one or two things from our lengthy summer list, and they were as excited as I was to fill a new page that would be dedicated to fall.
In stereotypical Midwest fashion, we wrote down all the things — many of them having to do with food, of course. Anything pumpkin, cider or spiced made the list.
After a little banter, we made a consensus that going to a pumpkin patch would be our first fall activity to tackle. So we picked a day.
On the day of our big pumpkin-patch excursion, I loaded my three boys into the car with hot chocolates in to-go cups to make it extra festive. I threw sweatshirts into the back of the van, and off we went.
Upon arriving at the patch, I realized I hadn't taken one thing into account when it comes to fall in the Midwest.
It was 90 degrees and sunny.
Bound and determined to usher in fall (as well as cross the first line off our list), my boys and I walked up and down row after row of pumpkins. We lugged big ones and debated over small ones.
We traded our hot chocolates for our water bottles.
We never touched our sweatshirts.
And we were dripping with sweat after loading our prized pumpkins into the car.
Everyone was tired, hot and more than a little irritable when we got home.
It didn't necessarily go how I expected it would go. I hadn't planned for 90-degree weather almost into October.
One look ahead at the forecast and there it was. The 70s. There was still hope for fall.
In the meantime, I gave my friend a call.
I miss the seasons.
Theresa Meacham's column appears Wednesdays in The News-Gazette. She can be reached at theresam