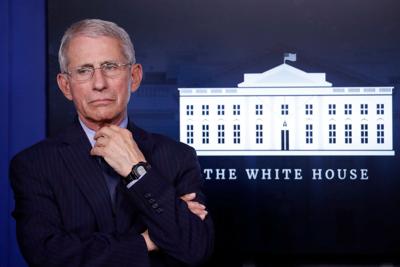 I'll make one prediction about 2021: Making predictions will make you look foolish.
I told myself in 2016 — after Donald Trump's surprising win — that I wouldn't try to forecast political outcomes again. But a few days before the 2020 election, I suggested — it wasn't really a prediction — that U.S. Rep. Rodney Davis was in for another close race in Illinois' 13th Congressional District.
"A few polls have showed another close race this year, with the added concern that Trump is running even more poorly than he did in the district four years ago, when he got 49.39 percent," I wrote.
Davis ended up defeating Democrat Betsy Londrigan by nearly 9 percentage points, far better than two years earlier. And Trump got a slightly higher percentage of votes in the district than in 2016.
I wasn't alone in such folly. How about this one in the waning days of 2019, made by Illinois football coach Lovie Smith?
"All our good football is ahead of us," he told the Chicago Sun-Times. "We're not running from what our record was the last decade. Illinois had been down a long period of time. But as far as catching teams in our division that have traditionally been very good, we feel like we're there now. We plan on beating everyone and eventually being the champion of this league."
Illinois finished in last place in the Big Ten West division in 2020, with one win against a division foe. Smith was fired.
In baseball, the Yankees and Dodgers were the picks in Las Vegas to play in the World Series. The Dodgers won the series, but the Yankees went down in the second round of the playoffs to the eventual American League champs, the Tampa Bay Rays.
Even the beloved Dr. Anthony Fauci, the grandfatherly immunologist who has been depended upon for wisdom and calm during the coronavirus epidemic, faltered.
Here's Fauci in a USA Today story in February: "Fauci doesn't want people to worry about the coronavirus, the danger of which is 'just minuscule.' But he does want them to take precautions against the influenza outbreak, which is having its second wave.
"'We have more kids dying of flu this year at this time than in the last decade or more,' he said. 'At the same time, people are worrying about going to a Chinese restaurant. The threat is (we have) a pretty bad influenza season, particularly dangerous for our children.'"
The wise guys on Wall Street were pretty bad too, wrote Jeff Sommer in The New York Times.
"In December 2019, the median consensus on Wall Street was that the S&P 500 would rise 2.7 percent in the 2020 calendar year," Sommer wrote. "At the moment, that target is too low: On (Dec. 18), the market was up almost 15 percent for the year. That's a forecasting error of more than 12 percentage points — much greater than the estimate of the market's increase for the entire year.
"How bad of a forecast is that? It's as if you were told that it would snow 2.7 inches just before a blizzard dumped 15 inches on your town.
"Wait, there's more.
"That would have been bad enough, but when the stock market plummeted in February and March, forecasters wouldn't leave bad enough alone. In April, the Bloomberg survey showed, forecasters predicted that the S&P 500 wouldn't rise at all for this calendar year: They said the market would fall about 11 percent."
That consensus forecast was off by "a whopping 26 percentage points," Sommer wrote.
In politics, there was that time in March that Bernie Sanders said he'd win the all-important Michigan primary and steal the momentum from Joe Biden.
"I feel good about the momentum we have. I think we are going to do well on Tuesday and beat Biden," Sanders said.
Biden won Michigan, 53 percent to 36 percent. Sanders did win North Dakota that day, but Biden also won Missouri, Mississippi, Idaho and Washington.
House Speaker Nancy Pelosi predicted in August that the "most pessimistic" outcome for Democrats in House elections would be gaining Republican seats in "double digits." Democrats lost 10 House seats.
No list could be complete without some of Trump's 2020 prophecies, like this one after a rally at The Villages in Florida. He tweeted video where one man yelled, "White power! White power!"
Trump tweeted: "Thank you to the great people of The Villages. The Radical Left Do Nothing Democrats will Fall in the Fall. Corrupt Joe is Shot. See you soon!!!"
The tweet was removed.
And the president had a series of sunshine-y statements early in the COVID-19 pandemic, contending that the virus soon would be gone.
"Just stay calm. It will go away," he said March 10.
"It's going to go away, hopefully at the end of the month. And if not hopefully it will be soon after that," he said March 31.
"At some point, this stuff goes away. And it's going away," he said June 15.
"This thing's going away. It will go away like things go away," he said Aug. 5.
Then the message changed.
"We are rounding the turn. We are rounding the corner," he said Oct. 22.
"It's going away. It's rounding the turn," he said Oct. 24.
And on the distribution of the coronavirus vaccine, Trump declared on Dec. 8: "If authorized, tens of millions of vaccine doses will be available this month. And we'll get it distributed very quickly. We have that all set. And hundreds of millions more will quickly follow."
As of Dec. 30, the Centers for Disease Control and Prevention reported that 2.79 million people had been vaccinated, far short of the president's lofty prediction.