Opinion: Tom Kacich
Tom Kacich | A sad day for local horse-racing family Team Block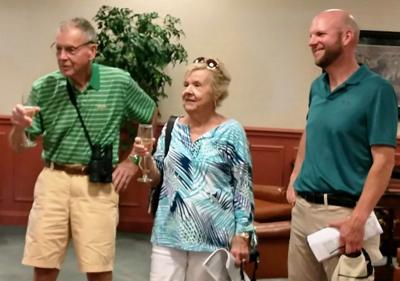 You won't get much sentimentality out of Dave Block about what may end up being the last day of horse racing at 94-year-old Arlington Park in suburban Chicago.
Block, who raises thoroughbreds for racing at Arlington and other premier tracks from his farm in southern Champaign County, is bitter about the way things are ending at the luxurious, multimillion-dollar facility.
"It's been a struggle, especially for people like me who have been in the business for a long time," he said. "We have our roots in Illinois, we have our breeding program in Illinois. We raise all our babies right down here south of Philo.
"It's been a great profession to be in because I have (son) Chris as the trainer, and we've got his younger brother Ryan, who has taken over the farm here."
"And we have a farm in Ocala, Florida, where we take our horses and raise them and break them and set them up for the races and send them to Chris.
"All of that will go awry if there's no racing at Arlington Park."
Team Block, as the family is known in racing circles, was at Arlington on Saturday with two horses entered in the closing-day card.
"They're going to have an unbelievable fireworks display after the last race," Dave Block said last week. "That's a celebration, I guess, but I'm leaving before the fireworks because I'm not celebrating anything."
The owners of Arlington Park, Louisville, Ky.-based Churchill Downs Inc., announced earlier this year that the track was for sale. They opted not to apply for racing dates for 2022.
That would leave Illinois with just two racetracks, Hawthorne in Stickney and FanDuel Sportsbook and Horse Racing (formerly known as Fairmount Park) in Collinsville. Several Illinois tracks have closed in the last 40 years, including Maywood Park, Sportsman's Park, Balmoral Park, Aurora Downs, Quad City Downs, Cahokia Downs and Washington Park.
None could come close to the magnificence of Arlington, which was rebuilt by onetime owner Richard Duchossois after a 1985 fire.
"We had horses in a stable when that fire broke out," Dave Block recalled. "A week later, they were running again. We ran the rest of that meet under tents. And after that, Duchossois built a mega race track. He must have had a hell of an insurance policy.
"It's probably the nicest turf course in America," he continued. "It has six lanes to run on. Most racetracks have about two lanes. It's lush.
"The layout is magnificent. If you go up to the third and fourth floors — and they're not even open anymore — you'd swear you were in Las Vegas at a casino. That's how Duchossois built that place."
But Duchossois, a tank commander at Normandy and other battle sites in World War II who is now 99 years old, sold Arlington in 2000. Churchill Downs Inc., meanwhile, has let some conditions at the racetrack lapse while becoming majority owner of the nearby Rivers Casino in Des Plaines.
By buying into Rivers, Churchill Downs was prohibited from having casino gambling at Arlington Park.
"That would have been a big coup for our business, the racing business," Dave Block said. "Arlington was paying about $140,000 a day in purses (to horsemen) at that time. If they had a casino, too, we figured they'd go up to about $300,000 a day, and that would have put us right up there with the top tracks in the country such as Belmont Park, Saratoga and Churchill Downs."
At one time, there were four bidders to buy Arlington from Churchill Downs. Block believes only two remain: a consortium of horsemen and investors led by former Arlington Park President Roy Arnold and a bid from the Chicago Bears.
"I'm very optimistic," Block said last week. "They've got to sell it. The real-estate taxes alone on that place are just astronomical."
He said he thinks it's possible the Bears and the horsemen can get together and both make use of the 326-acre property.
"It makes sense for the Bears to come out there. It also makes a lot of sense for, if the Bears get it, to allow Arlington to keep what they have and move the barns and some other buildings to another area. That's our hope," he said. "There's a lot of room there."
Losing Arlington would have nationwide consequences, Block said.
"There are a lot of people in the thoroughbred business who know how important Arlington Park is to racing in the United States," he said. "To have these bastards close it down for no reason is wrong. They've made big money this year. They've had big crowds all summer.
"That's the sport that nobody talks about. The people over in Springfield who are making all the decisions think it's the old-time racetrack with some old guys smoking cigars. It isn't. This was a haven for families. And that's going to be richly lost up there."