Opinion: Tom Kacich
Tom Kacich | Be kind to your server — and cook, and manager, and dishwasher ...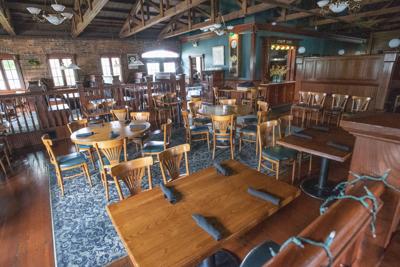 Question for Tom? Just click here
The Panera Bread restaurant in north Champaign has closed its drive-thru service while the nearby Chick-fil-A is offering only drive-thru service and no sit-down dining.
The popular Custard Cup ice cream shop is now closed on Tuesdays and limiting its lobby hours. The Courier Cafe in Urbana has sit-down breakfast and lunch but only carryout for dinner.
Much of the local restaurant business is in crisis with too-few employees, supply-chain challenges getting product and equipment and a demanding public that doesn't appreciate the stresses on the hospitality business today.
"It's a nightmare. It's so aggravating because we struggled and suffered worse than anybody through the pandemic," said Allen Strong, longtime owner of the Courier Cafe and Silvercreek in Urbana. "We've come out on the other side of it and now we're dealing with losing two-thirds of our workforce because the government's paying them to stay home."
For most Illinoisans, the expanded unemployment benefits Strong referenced ended more than a month ago, but the staffing shortages persist.
"Because of the pent-up demand, we're smoking-hot busy," Strong said, "but customers don't understand what we're up against and some of them are (jerks) about it.
"We're all working like dogs. We're only open half the hours we used to be. We just came up with a sign that we're going to put up outside and having T-shirts made that say, 'Be Kind, Y'all, to the Ones Who Showed Up.'"
Buck Plummer, general manager at the Ribeye in Champaign, said the long hours his shortened staff was working prompted a temporary shutdown in September.
"We understand that people want to come here and eat, but they've got to understand that there was a reason I shut down. It was because we couldn't handle the demand. My staff was worn out," said Plummer, who has worked at the Ribeye for more than 40 years. "We didn't have enough people and we were worn out. And since then, multiple members of my staff chose to leave and do other things in life."
Since reopening, Plummer has cut back the restaurant's hours so it is closed on Sundays and Mondays.
"If we need to make adjustments or we need to close again, we will do that," he said. "And if we cannot keep up with the demand, we'll go to four nights a week."
The owner of the well-patronized Chick-fil-A in Champaign took to social media last month to apologize for his decision to open later and close the restaurant's dining room.
"Thank you for your kindness to our staff during this time," wrote owner/operator Bob Williamson. "We understand this may create some inconveniences and for that we apologize. I can assure you that every member of our team is working hard each and every shift to serve you well. There are days when we will have to adjust service options due to staffing, so we appreciate your patience and grace in advance. Our drive-thru will always be open, and even though the lines may look long, our team has an incredible ability to hustle and move cars through quickly.
"We miss serving you breakfast and miss seeing your faces in our dining room."
Plummer said he worked longer hours to make up for the staffing shortage at the Ribeye and suffered for it.
"I don't know how many 86- to 92-hour weeks I worked between April of this year and the closure in September," he said. "It was just ridiculous. I was worn out."
And he sees what's going on at other restaurants, too.
"When I leave here and drive by Jarling's (Custard Cup) and they're closed early at 7:30 or 8 o'clock, I've got to think about that too," Plummer said. "People just have to understand. I'm talking about the everyday people who want to go out to dinner every place. This is a tough business and there is a lot of stress on a lot of people.
"You cannot do the same things you were able to do before, at least not at the level that customers have come to expect. I sympathize with anybody right now who is struggling to stay open. People need to be patient."
So if you're dining out this week or this month or the rest of this year, don't just tip your server generously. Thank them and if you can, thank the manager and the busboy and the cooks and anyone else busting their butt. Don't stop there. Thank the cops and librarians and teachers and nurses and dental hygienists and retail workers and day care workers and bus drivers who are still showing up and doing the work.