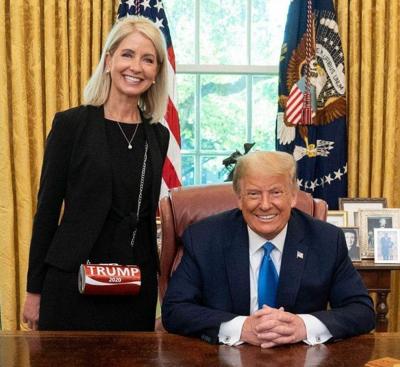 Here in East Central Illinois, the Republican Party looks like a badly split organization, with one fervently Trumpist member of Congress, one who has made a bitter break with the outgoing president and another straddling the middle.
In the rural 15th Congressional District that includes Rantoul, Danville, Tuscola and much of southeastern Illinois, there is U.S. Rep. Mary Miller, a freshman member so enamored with President Donald Trump that she carries a purse made to look like a can of Coke with the word "Trump" emblazoned on it.
She was one of 147 House Republicans — but only two in Illinois — who voted in support of objections to the results of the 2020 presidential election, claiming that some states "conducted their elections in an unconstitutional manner."
And in the wake of the Jan. 6 attack on the Capitol, Miller told the Epoch Times, a right-wing newspaper, that despite the presence of rioters who carried Trump flags and banners and wore Trump memorabilia, she wasn't sure who was behind the assault.
"I think that we shouldn't rush to conclusions. One side is saying it's Trump, another side saying it's antifa," she said. "Personally, I'm going to be slow to making a statement about that. I'm sure that it's under investigation. I wouldn't be surprised if it was both."
The FBI said there was no evidence antifa was involved in the siege. Instead, officials said, rioters included members of the Proud Boys and White-nationalist groups.
Miller, who defeated her Democratic opponent in the November general election by nearly 47 percentage points — even better than Trump's 45.7 percent bulge in the district — is a good match for her bright red district. It is the most conservative district in Illinois, one of the most conservative in the Midwest and hasn't supported a Democrat in more than a decade. Even widely admired Illinois Secretary of State Jesse White lost the district by 7 percentage points in 2018.
Miller voted against impeaching Trump and said her allegiance isn't solely to the GOP.
"I'm committed to the conservative platform, even more than to the Republican Party," she said.
Representing Champaign-Urbana and much of the state to the southwest is Republican Rep. Rodney Davis of Taylorville, recently elected to his fifth term.
Davis has taken a middle course on Trump, voting against overturning the election results and against impeachment.
Davis, who won the 13th Congressional District by 9 percentage points and outperformed Trump by more than 5 percentage points, said he voted against impeachment because the process was rushed with no hearings, no evidence presented and no time for thoughtful deliberation.
Trump's punishment, Davis said, is he won't be president after Wednesday. And claims of a rigged election are false.
"He listened to people tell him that somehow he lost the election due to fraud. And that clown-car legal team that he had was 0-for-60 in the court of law in presenting what they said in press conferences were complete facts but which were in the end completely bungled legal cases," Davis, a frequent guest on radio and television outside of his district, said on Chicago radio station WGN.
Still, Davis voted with Trump almost 89 percent of the time and endorsed him for re-election in 2020 after rescinding his endorsement in 2016.
Just north of Champaign-Urbana is the 16th Congressional District, represented by Rep. Adam Kinzinger of Channahon. It extends from Gibson City to the Wisconsin state line.
A six-term congressman, Kinzinger, like Davis, is a potential candidate for statewide office in 2022.
But Kinzinger angered some in his conservative district — Trump won it in November by nearly 16 percentage points — by voting against the election challenge and for Trump's impeachment. Kinzinger won the district by almost 30 percentage points.
And he minced no words talking about the outgoing president.
"I think the president for all intents and purposes is not the president. He's just nuts. He's going crazy," Kinzinger told CBS News.
It's moderate Republicans like Kinzinger, willing to make a quick and clean break with Trump, who are the future of the state Republican Party.
Trump's loss — finally — is good news for the Illinois GOP. Although he won six of the state's 18 congressional districts (by between 1.7 and 45.7 percentage points), he lost the other 12 by anywhere from 2.5 to 74 percentage points. Overall, he lost the state by a stunning 17 percentage points, twice.
Trump will no longer be a handicap to Republicans in the Chicago suburbs and in places like Champaign County, where he could manage no more than 37 percent of the vote and where the once-dominant GOP lost six countywide offices since Trump became president. Democrats also have gained a pair of seats in both the Illinois House and Senate since 2016.
Trump's loss, combined with the demise of Michael J. Madigan, the longtime Speaker of the House who has bedeviled Republicans in the Legislature for 50 years, makes January 2021 one of the best months for the Illinois GOP in years.
The political pendulum may finally be moving in favor of Republicans in the Land of Lincoln.
Tom Kacich's column appears on Sundays in The News-Gazette. He can be reached at kacich@news-