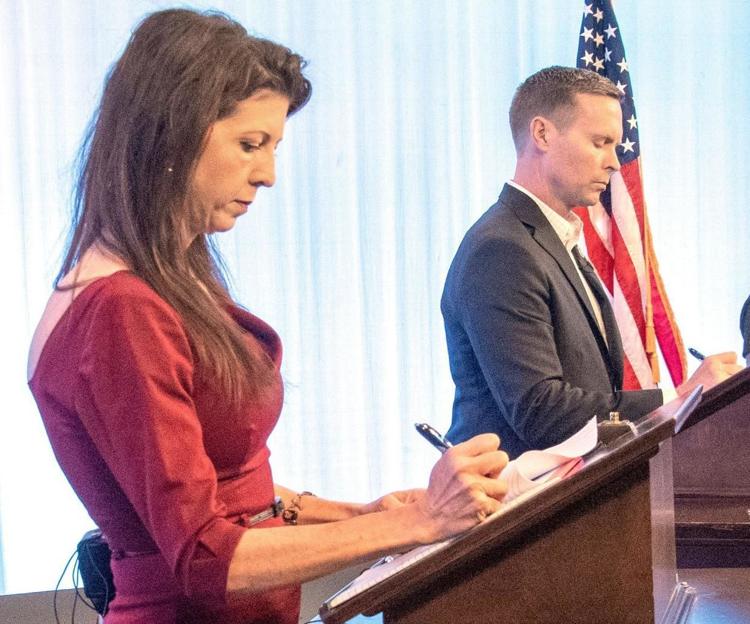 Boosted by individual contributions collected through a number of national fundraising platforms, Democratic congressional candidate Betsy Londrigan outraised U.S. Rep. Rodney Davis in the last three months by more than $250,000.
And the two candidates in the 13th Congressional District that includes Champaign-Urbana are now virtually tied in money raised during the current election cycle.
Davis, a four-term Republican from Taylorville, has collected $2.9 million in contributions since Jan. 1, 2019, to
$2.8 million for Londrigan. As of June 30, Londrigan's campaign said she had $2.2 million on hand, compared with
$1.8 million for Davis.
Assuming the coronavirus pandemic does not upset voting patterns this fall — a big assumption — the race should again be close, as it was in 2018, when Davis defeated Londrigan by less than 1 percentage point, or 2,058 votes, in the 14-county district.
Most of Londrigan's campaign contributions have come from individuals: $669,343 in the quarter completed June 30. Davis got $206,324 from individuals in the same period.
Londrigan's campaign benefited from an abundance of Democratic fundraising platforms such as ActBlue, JSTREET, Emily's List, End Citizens United, Frontline USA, Council for A Livable World and Democracy Engine that serve as a conduit for mostly small-dollar contributions from political donors near and far.
ActBlue alone has provided more than $450,000 in contributions to Londrigan's campaign so far.
In the past, Davis has acknowledged that Republicans are behind in building an infrastructure to harvest small-dollar donations. He has collected just over $201,000 from the Republican platform WinRed.
His individual donors in the last fundraising quarter included the richest man in Illinois, Chicago businessman Ken Griffin, who gave Davis' campaign $8,400. Also, JSM Management owner Jeffrey Hartman, $4,500; Dodds Company President Newt Dodds, $4,200; Champaign businessman and past Republican candidate John Bambenek, $3,050; Monticello attorney and Parkland College board member James Ayers, $2,490; auto dealer David Parkhill, $1,500; and former Champaign County GOP chairs Jan Miller and Habeeb Habeeb, $1,000 each.
But the majority of Davis' campaign money continues to come from political action committees, many of which have business before his
two main House committees: Agriculture and Transportation.
Davis got more than $300,000 from PACs in the last quarter; in this election cycle, their contributions account for $1.95 million of his total haul of $2.9 million.
Among them: $10,000 each from the CME Group, a financial derivatives exchange that includes ag products; the Cubic Corp., a defense and transportation contractor; the National Beer Wholesalers; the National Association of Convenience Stores; Toyota Motor North America; the BNSF Railway Company; the Williams Companies, which builds and operates natural-gas facilities; NetJets Association, which sells ownership shares in business jets; the Southwest Airlines Pilots Association; the National Corn Growers Association; the National Air Traffic Controllers Association; the Crop Insurance Professionals Association; Comcast Corp.; Charter Communications; the American Crystal Sugar Co. and Koch Industries.
Davis also reported thousands in contributions from health-care-related groups: $10,000 each from UnitedHealth Group, a health care and insurance company, and AFLAC, a health and accident insurer; $7,000 from Molina Healthcare; $5,000 each from the American Physical Therapy Association and the American Academy of Sleep Medicine; and $4,500 from Pfizer, a pharmaceutical company.
Londrigan's campaign continues to insist that it does not accept corporate PAC money, although it's a matter of semantics. Her campaign takes money from other members of Congress who accept PAC money. Among those donors: Sen. Dick Durbin's Prairie PAC, $10,000; the Congressional Black Caucus, $5,000; and Friends of Cheri Bustos, $4,000.
She also took PAC money from unions, including $10,000 each from
AFSCME, the Machinists union; United Steelworkers; the American Federation of Teachers, and the Service Employees International Union. Other big PAC donors to Londrigan include $10,000 from the American Association for Justice, a trial lawyers group, and $7,000 from the League of Conservation Voters Action Fund.
Among her big local donors are onetime Democratic congressional candidate Stephen Cox of Urbana, $5,300; Urbana physician John Peterson, $4,000; University of Illinois Professor Matthew Ando, $3,600; Champaign environmentalist and retired Professor Bruce Hannon, $2,050; former Urbana Alderwoman Esther Patt, $1,750; and Jon Ebel, a UI professor who ran against Londrigan in the 2018 Democratic primary, $500.
There's even some star power in the contributions to Davis and Londrigan this quarter. Jayson Werth, a retired Major League Baseball player who was born in Springfield, contributed $1,250 to the Davis campaign.
Londrigan's donors include fashion designer Diane Von Furstenberg, $2,800; Sony Pictures Chairman Thomas Rothman, $473; and Hollywood director and producer Ellie Kanner, $1,148.