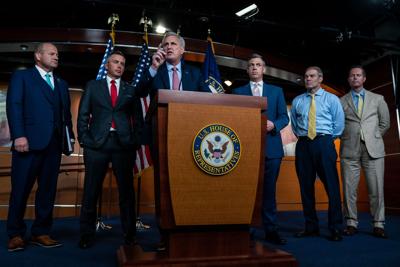 U.S. Rep.
Rodney Davis seems to have settled on running for something other than governor, based on a preposterous fundraising email he sent to supporters last week.
The Taylorville Republican whose district includes Champaign-Urbana had been chosen by Republican leadership to serve on the House committee investigating the Jan. 6 attack on the Capitol. But when Speaker Nancy Pelosi rejected two of the GOP nominees — ostensibly because Reps. Jim Jordan and Jim Banks would create "antics" — Republican Leader Kevin McCarthy pulled all five of them, including Davis.
Shortly after McCarthy's decision, Davis' campaign asked in an email for a $6 contribution — get it? — to "help me STOP Nancy Pelosi's partisan ploy and STAND UP for the patriots who are being attacked falsely for January 6th."
That's a big U-turn
for Davis, who a week after the attack on the Capitol said "it's imperative we fully investigate how it happened and the steps needed
to ensure it never happens again."
Seven months later, his fundraising letter said: "Friend, the Democrats were OUTRAGED when they learned strong conservatives like Jim Jordan and I were standing up to Nancy Pelosi and her sham investigation into January 6th."
That's the first time anyone called Davis a strong conservative like Jordan. Davis has tried for his entire congressional career to walk a moderate line. Recall that in 2016, he withdrew his support of Donald Trump for president.
While both Jordan and Davis represent an Urbana — one in Ohio, the other in Illinois — Jordan voted to overturn the results of the 2020 election; Davis did not. Davis voted to remove statues of Confederate leaders from the Capitol; Jordan did not.
In the last Congress, Davis voted with Trump about 82 percent of the time; Jordan's score was 92 percent. This year, Davis has voted with President Joe Biden 23 percent of the time, while Jordan's support score is 6.5 percent.
Davis' quick right turn is an indication that he's not interested in running statewide, where an affiliation with Jordan and Trump (who barely got 40 percent of the statewide vote in November) would not go well. Instead, Davis must be anticipating having to run for Congress again, but in a more conservative district.
When the Illinois General Assembly undertakes congressional redistricting later this year, it's likely that parts of Davis' current 13th District could be forged either into the 15th (now represented by Rep. Mary Miller, and where Trump got 72 percent last year) or the 12th District (represented by Rep. Mike Bost, and where Trump got 56.1 percent).
Trump got 50.5 percent in Davis' more moderate 13th District.
There's one more point that could add even more political intrigue to the Davis-Jan. 6 issue: the possibility that his Illinois Republican colleague, Rep. Adam Kinzinger, could be appointed to the same committee that Davis was pulled from.
Pelosi said last week that "everybody else" thought that Kinzinger — whose congressional district includes Ford and Iroquois counties, north of Champaign-
Urbana — would make a solid addition to the committee.
If he is added, Kinzinger would join another anti-Trump Republican, Wyoming Rep. Liz Cheney, on the panel. And he'd present a sharp contrast to Davis, who said in his fundraising missive that the Jan. 6 committee "is just a partisan ploy to attack President Trump."
Davis seems to have forgotten that the only reason Jan. 6, 2021, is a day of infamy in U.S. history is because Trump urged his supporters to show up that day to protest the presidential election results.
"Big protest in D.C. on January 6th," Trump wrote on Twitter days before Christmas. "Be there, will be wild!"
He was right.
Tom Kacich's column appears on Sunday in The News-Gazette. He can be reached at kacich@news-