Opinion: Tom Kacich
Tom Kacich | Democrats' new congressional map shows no respect for voters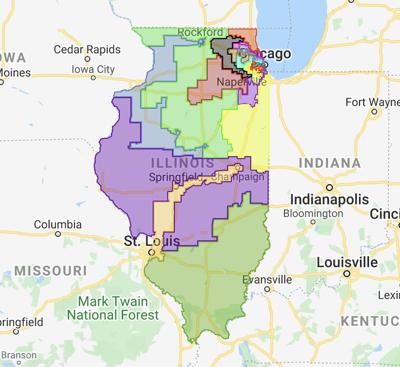 Ask Tom anything by clicking here
Much of the coverage of the new, horribly gerrymandered Illinois congressional map passed Friday by the Democrats in the Legislature focused on what it would do to incumbent members of Congress, such as dropping Republican Reps. Mary Miller and Mike Bost in the same district.
But the real story is not the mischief it does to politicians but the disservice it does to voters, particularly those in central Illinois.
Several cities — Charleston, Mattoon, Decatur, Bloomington and Normal — are divided between two congressional districts. Counties are fractured into multiple congressional districts (Champaign County is in three; Vermilion and Piatt in two each).
Champaign-Urbana is included in a 13th Congressional District that snakes through part of Decatur, part of Springfield and all of East St. Louis, Alton, Granite City, Belleville, Glen Carbon, Fairview Heights and Swansea, ending about 185 miles away on the banks of the Mississippi River near Dupo. The Democratic-drawn district gives Democrats about a 6 percent head start on Republicans.
In the current 13th District, Champaign County had the greatest number of votes. That won't be the case in the new 13th, where the southern part of the district — Madison and St. Clair counties — has a greater share of the electorate. That makes it less likely that a Champaign-Urbana candidate could get elected to Congress. There's only been one, Republican Tim Johnson of Urbana, in the last 50 years.
Mahomet, St. Joseph, Gifford, Philo, Tuscola, Arcola, Paris, most of Charleston and most of Mattoon are included in a 15th Congressional District that extends to north of Galesburg, as far west as Quincy and as far south as Troy and part of Collinsville. It's 189 miles from Gifford to Collinsville. The 15th District is considered overwhelmingly Republican, one of the two most solid GOP in the state.
Most of Bloomington-Normal will be in a new 17th Congressional District that also includes most of Peoria, the Illinois half of the Quad Cities and most of Rockford.
The rest of central Illinois, including Oakland and Ashmore in Coles County and parts of Charleston and Mattoon, are in a new 12th Congressional District that includes all of southern Illinois outside of the metro St. Louis area. The fact that Oakland is included in a district with Cairo is no accident; Democratic mapmakers wanted to put Donald Trump ally Miller in the same district as another Republican. Based on the 2020 presidential election, it is the most Republican district (about a 70-30 advantage) in Illinois.
Danville, Rantoul, Paxton and Gilman are included in a new 2nd Congressional District that may be the most egregious example of gerrymandering.
Westville is at the southern end of the district and a narrow band of the South Side of Chicago — ending at 43rd Street — is at the northern end. It will be the first time since the 1840s that parts of Vermilion and Cook counties will be in the same congressional district. It's a solidly Democratic district where the votes from Chicago and south suburbs like Dolton, Harvey and Homewood overwhelm those from Ford, Iroquois and Vermilion counties.
Danville goes from being the largest community in the old 15th District to likely being more than 100 miles from the clout and the holder of the 2nd District seat. Its current member of Congress, Rep. Robin Kelly, is head of the Illinois Democratic Party and lives in Matteson.
Larry Baughn, chairman of the Vermilion County Board, said he fears voters in his county will suffer with a diminished voice with their member of Congress.
"We go from being one of the more populated counties in our current district to now one of the smaller ones," said Baughn, a Republican from Hoopeston. "I feel as though our residents will feel now more than ever that their vote doesn't matter. That is what I have a real problem with, and Springfield should, too."
The way the map was drawn — hardly compact, contiguous or respectful of political boundaries or communities of interest — shows a disdain for the electorate.
A voter in Monmouth, for example, would have to drive 165 miles through two other congressional districts to see their member of Congress in Taylorville. Voters in Charleston-Mattoon and other divided cities will be confused for the next 10 years about which representative to contact with concerns. And all of these voters isolated by way of extreme cartography will have fewer opportunities to see their member of Congress.
Illinois Senate President Don Harmon, in discussing the map, said that Democrats who drew it "chose to unite communities of interest that shared political philosophies and policy objectives, and I think that's the theme all across the map."
It's difficult to imagine what policy objectives link voters in Westville or Paxton with voters on the South Side of Chicago, or what political philosophies are shared by voters in Normal with those in Rockford.
And Harmon added that "many of these areas have been together in prior maps, too," which can be politely called an untruth. Champaign-Urbana has never been in the same congressional district as East St. Louis or Belleville. Bloomington-Normal has never been in the same district as Rockford or Freeport. Charleston-Mattoon has never been in the same district as Quincy. But apparently, Harmon knew about that 1840s map that had Vermilion and Cook counties together. Impressive.