Being Black in America: Dionne Clifton
In her own words, an African American community resident shares a first-person story about what it looks, feels and sounds like to be black in America.
Continuing a conversation we're privileged to host, The News-Gazette asked African American community members to share their stories and solutions in the wake of George Floyd's killing.
Featured today: Urbana High alumna and local business owner DIONNE CLIFTON.
If you'd like to share your story, email jdalessio@news-gazette.com. To view the entire series, click here.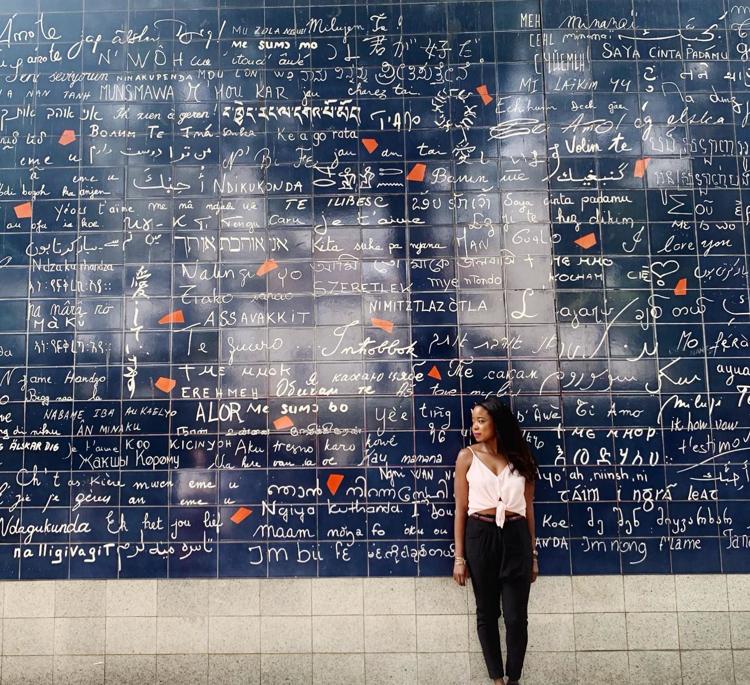 'Black people are proud and kind, and hard-working. We are creative and accepting and have a universal soul.'
By DIONNE CLIFTON
Everyone has been asking me what I'm feeling lately. I feel everything. Being black in America is complicated.
On the one hand, it's "lit," it's amazing. I am a part of a unique group of people that have undeniably steered and dictated culture around the globe. We have, despite the most "hellish fires," risen and created beauty from ashes.
I love everything about us — our humor, our intelligence, the ways we speak among each other, the ways we laugh through the pain, the way we love church and traditions, our kindness, the way we season our food.
Black people are proud and kind, and hard-working. We are creative and accepting and have a universal soul. We are so lovable and incredibly beautiful.
But being black in America is also waking up on a Monday morning, a little hungover from "quarantine," wrapping your head around all the inevitable BS Mondays bring — logging on to Instagram and seeing an innocent black man being murdered by a police officer over your morning coffee, like it is normal.
We don't even see animals being killed with the frequency with which we see black men and women being brutalized. The trauma and desensitization people feel constantly seeing people who look like me casually being murdered is unsurmountable.
These are people who remind us of our fathers, mothers, aunts, uncles, brothers, sisters, cousins, sons, daughters, nephews, nieces, friends and lovers. We know them. We love them.
I am black as hell. I always have been, and I love that, but I live a double consciousness.
Some of you have never read "The Souls of Black Folk," and it shows. I have been rereading it lately and it is devastating that something written 117 years ago is still relevant to race relations today. It's killing me softly.
Black people live across two realities. We are forced to see and understand ourselves as we are "seen" by America more broadly. This is often negative, based upon stereotypes and racism.

This is why black parents talk about teaching their black children to behave a certain way — because despite being children, they know black people are perceived as dangerous, aggressive, scary, etc. Don't just be you — constantly think about how you are being perceived as a black person and offset that. Be palatable.
While black folk also understand ourselves as we "actually" are, we are constantly trying to unify these two identities. It's exhausting.
My dad (RIH) was a black man who grew up in a South Side Chicago housing project. He wasn't meant to be much, based upon that fact alone. Despite that, my dad served in the military and was a 100 percent disabled veteran. His service allowed him to finish college and he eventually went to law school and became an attorney.
He was militant and educated, and at times full of rage — because, as James Baldwin has said, "to be a Negro in this country and to be relatively conscious is to be in a rage almost all the time."
But despite the many injustices he had experienced, he loved this country. My father, who was not particularly emotional, could often be seen shedding a tear during the national anthem.
I distinctly remember being young and asking him how he reconciled being militant and a patriot. Nothing seemed more duplicitous to me than this.
He simply explained to me that it is because he loves our country that he is so outraged. In these weeks of civil unrest and a mass awakening around race, I have never better understood my father.
So I sit here, with tears in my eyes writing this, because this is what it is to be black in America — it is being a part of a culture you love, in a country you love, that misunderstands you and doesn't love you back — and lately I have been feeling everything.
If you'd like to share your story, email Editor Jeff D'Alessio at jdalessio@news-gazette.com.
Dionne Clifton is an Urbana High graduate, designated managing broker/owner of LIVE Real Estate Group and a lecturer in the UI's Department of Advertising.