Being Black in America: Staci Ward
In her own words, an African American community resident shares a first-person story about what it looks, feels and sounds like to be black in America.
Continuing a conversation we were privileged to host Sunday, and will keep up in the weeks ahead, The News-Gazette asked African American community members to share their stories and solutions in the wake of George Floyd's killing.
Featured today: STACI WARD, an instructional coach at Champaign's International Prep Academy.
If you'd like to share your story, email jdalessio@news-gazette.com. To view the entire series, click here.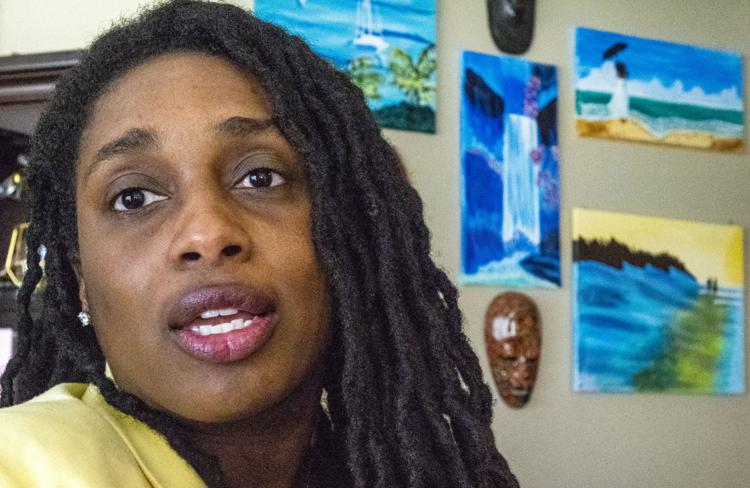 'An officer held me back as I watched, in horror, four grown men try to hold down my 5-foot-2 mother as she screamed and fought for her life'
By STACI WARD
I don't want to talk. I don't want to join the walk. Or the run.
I don't want to make a sign to or attend the protest. I don't want to take up a monument, post tweets or status updates. I don't want to join the Let's Come Together to Fix This Country Book Club. No. Not yet.
The constant images of death and altered lives at the hands of white people have shut down something inside of me. My grief has transported me back to age 14, when I watched six white policemen "arrest" my mother.
Two officers came to my house in Sauk Valley, conveniently after my father had left for work. They were there to serve a warrant to someone who didn't live there. I stood by as my mother answered the door and told them that they had the wrong house. The officers insisted she was lying, said she was "obstructing justice," pushed their way through our door and called for backup.
Always outspoken and unwavering, she demanded that they get out and an argument ensued. The next thing I knew, four more white officers appeared, and they chased her to her bedroom, where they tackled her onto her bed. An officer held me back as I watched, in horror, four grown men try to hold down my 5-foot-2 mother as she screamed and fought for her life.
And then, a giant of a man sat on top of her and dug his knee into her back while trying to get her to stay facedown. Unlike George Floyd and Breonna Taylor, though, she survived.
After a few days, I went back to school, where my first-hour English teacher demanded to know why my vocabulary homework hadn't been turned in. She asked if I had been sick; I replied that I had not.
"So, you decided to take a few extra days off and still couldn't find the time to complete your work?" she asked.
Did she notice that I wasn't the same person that I had been just a few days before? Did she even care? Or was I confirming a presumption she held all along that I was another black student that couldn't keep up?
Rather than have an opportunity to reconnect in an emotionally safe way, like a journaling activity, I had to produce an answer on her terms. So, we spoke, and I explained what happened, and she listened. She seemed to genuinely want to help me get caught up, and she offered her sympathy. But what I felt then is what I feel now — an unwillingness to receive it.
Public statements of solidarity and commitments to unlearn racism are initial steps and a comfort to some, I'm sure. But for others like myself, they're just words that I can't do anything with right now.
I need space to deal with my grief from living through too many macro- and no-less-hurtful microaggressions in white spaces. And then, I can figure out my place in the revolution.
But, I still won't want your words. I need to witness your change demonstrated in the way you treat black people who don't do school or life in the way you expect them to.
What will you do when they don't do what you say?
If you'd like to share your story, email Editor Jeff D'Alessio at jdalessio@news-gazette.com.
Staci Ward is an instructional coach at International Prep Academy in Champaign.