Featured today in Part 17 of "Called to Serve," a weekly N-G series in which law-enforcement officers share stories about their journey to the job: Urbana police Sgt. JAY LOSCHEN, who retired two weeks ago after 21 years of service.
Know someone you'd like us to reach out to for an upcoming edition of Called to Serve? We take requests at jdalessio@news-gazette.com.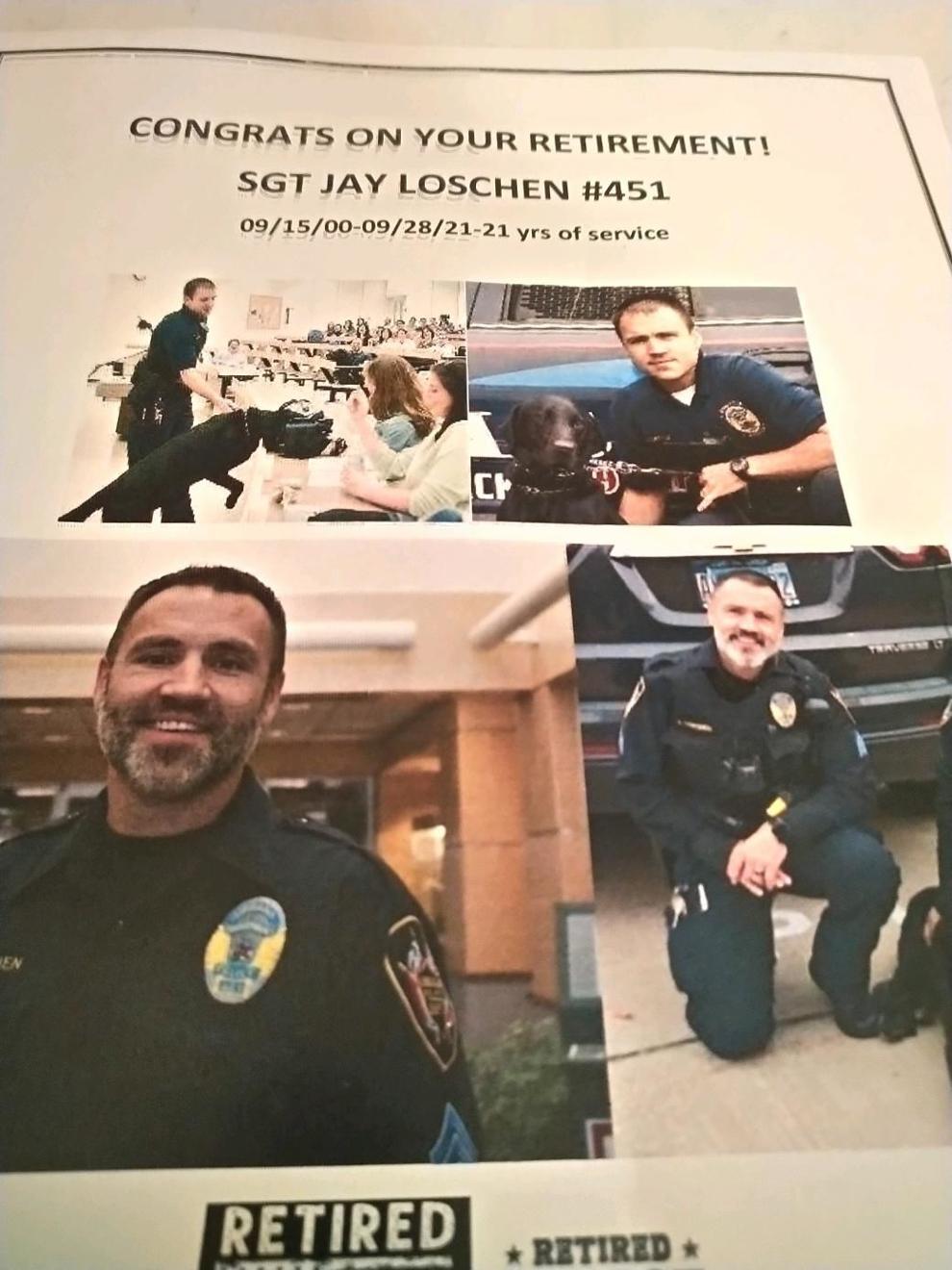 'In 21 years, I have seen a variety of calls for service, and it never ceases to amaze me what law enforcement deals with'
By JAY LOSCHEN
When it comes to a defining moment, I don't exactly remember the year or how old I was but my mother, Juanita Loschen, was the victim or an armed robbery at the old Stewart Oil that was located on Springfield Avenue in Champaign.
I knew then that this was unacceptable and I wanted to try to make a difference. Even though I was young, I knew when I got out of high school at Centennial that I was going to join the Navy.
While serving my country, I also knew what I wanted to do when I returned home and actually tested once while I was home on leave. I departed the Navy in 1992, started my criminal-justice degree with Parkland College that year and worked a variety of jobs before landing a part-time position as a correctional officer at the Douglas County Jail, being hired by then-Sheriff John Chambers. He truly gave me my first chance.
From there, I worked at the Pontiac prison for a short amount of time before coming back home. I was given the opportunity to work at the Champaign County Jail from 1996 to 2000 when I was hired with the city of Urbana.
While employed with Urbana police, I have held the position of K-9 officer, field-training officer, mobile field force and FOP president, and was promoted to sergeant in 2012, which is the rank I retired at.
In 21 years, I have seen a variety of calls for service, and it never ceases to amaze me what law enforcement deals with.
As I mentioned before, I worked at Pontiac prison before the Champaign County Jail; therefore, my street name for those I dealt with was "Pontiac." Many new officers will get asked if "Pontiac" is working, and they are like "Who?"
I truly thank the community I have served for making my 21 years an exciting and fulfilling career. There are many people, parents, I would like to thank for allowing me to be the person and police officer I am today — even after arresting one of their family members.
Those who might read this will know who I am speaking of without saying their names.
First and foremost, I have to thank God for allowing me to wake up each day the last 21 years. Secondly, I would have to thank my wife, Tracy. She has stood by me during my career, even though sometimes I would forget to empty my cup before entering our home.
Last but not least, I would thank my children for trying to understand what I dealt with and even though they may have thought, at some point, that I was trying to police them, I was only trying to keep them safe based on things I have seen.
In closing, I want to thank all of the brothers and sisters throughout Champaign County I have come to know over the years and for those believing in me. I also want to thank the dispatchers from METCAD who have tolerated me, as I know they too get frustrated, overworked and overlooked.
What I want people to remember about me is this, "Be a leader, not just a title."