My Turn: Ron Simkins
MY TURN: 'It is an important time for those of us who are white Americans to listen non-defensively to Black Americans'
May I praise and criticize in the same letter?
Thank you, News-Gazette, for the editorial leadership that is allowing Black sisters and brothers from our C-U community to talk about racist actions, racist words and racist systemic policies in their own words.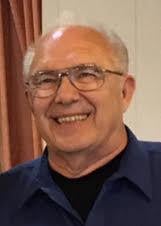 Thank you, Bob Asmussen, for allowing former U of I Black athletes to speak in their own words of racist policing actions that have haunted their lives.
It is an important time for those of us who are white Americans to listen non-defensively to Black Americans. You are giving us an opportunity to do so, and I hope many of us are taking it. Thanks to all of you who were responsible for Wednesday's editorial noting that America is beginning to confront its deeply troubled past concerning the relationship between policing and non-white Americans.
I have been greatly encouraged by your new direction and the new level of expressed concern. May it continue and increase.
As for my criticism: Wednesday, on the same page with the editorial about the need for a change in policing, Jim Nowlan offers a critique of East St. Louis that reeks with a White Savior mentality, White Privilege and a White is Right narrative.
Do cities like East St. Louis have systemic problems that fall mainly on the lives of marginalized people? Certainly. My son-in-law who works for a large corporation, tells me that the policy used to get to the root cause of a problem is to ask "why" five times. This way, layers of symptoms can be peeled away, exposing or leading to the root cause.
Why #1: Why in 1980 does a white governor send a "white country boy" (Nowlan's words) to evaluate how to jumpstart a renewal in East St. Louis?
Why #2: If there were not enough experts of color in Illinois to do this evaluation, why not?
Why #3: Why would a rural white American male think he could evaluate Black family life and determine that "dysfunctional families" is the real underlying systemic problem?
Why #4: If in some locales, the families of marginalized minorities are hurting after 400 years of legal white supremacy in our laws and practices that ensured little wealth or political power could be accumulated by these fellow citizens, why do we (who are white) think we can blame the hurting rather than begin to support making repairs to our systems that have caused dysfunction?
Why #5: Of course, throwing money at systemic problems without a change of heart in the people who control the banks, the laws, the policing, the real estate markets and the large businesses that choose not to do business in these areas and not to hire executives of color, will not bring a quick fix. So why aren't we (who are white) asking our Black sisters and brothers to be at the center of figuring out ways to repair our unjust, unfair and broken systems?
It occurs to me that in this case, not only might many Black Americans do a better job with the needed five "why's" than I have, they likely would also find that responding to critiques like Nowlan's demands more than five levels of asking "why" in order to even begin plumbing the depths of systemic white privilege in articles such as this one.
Hopefully, the policy of allowing them to speak for themselves in The News-Gazette continues.
Urbana resident Ron Simkins is Pastor Emeritus of New Covenant Fellowship in Champaign.