Opinion: Jim Dey
Jim Dey | Issues remain for those ignoring vacccines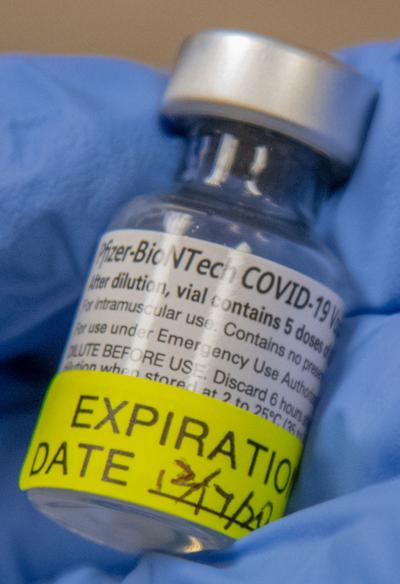 After more than a year of stressing out about the coronavirus pandemic, Dr. Jim Leonard feels like he's looking into a car's rearview mirror as it starts to fade.
Then again, the chief executive of Carle Foundation Hospital is aware that those mirrors have warnings stating that "objects in the mirror are closer than they appear."
So while he contends that circumstances are far better than they were, Leonard is resigned to another "two years of a lower-level pandemic."
In fact, he has a prediction to make.
"We'll have another mini-surge this fall when people start getting together for sporting events and going back to school," Leonard said, attributing the problem to people's failure to be vaccinated.
Note that he said "mini-surge."
The maxi-surges that had hospital administrators worrying about whether they had enough beds to treat COVID-19 patients appear to be over.
The mini-surges would be over as well, Leonard said, if more people would take advantage of the widely available coronavirus vaccines.
Leonard stated emphatically that "the vaccines work," emphasizing their 90-95 percent efficacy rate.
Despite that, the nationwide effort to get the overwhelming percentage of the U.S. population vaccinated has fallen far short of expectations.
Still, circumstances are far better than they were.
Leonard reports that Carle had "less than 20 coronavirus patients" across its five hospitals late last week. The numbers have been as low as 10 or 11.
Of those groups of coronavirus patients, he said, there have been "consistently one or two that have been vaccinated." Leonard said vaccinated people who have contracted the virus and been hospitalized have shorter stays than unvaccinated patients.
"They recover and go home," said Leonard, who indicated that vaccinated patients typically also have "underlying medical conditions."
That means most hospitalized coronavirus patients have not been vaccinated. Clearly, most of the unvaccinated are choosing to run a higher risk of illness than necessary for purely personal reasons.
Among the various groups of Americans, Leonard said there are two who remain most vulnerable to the virus.
There are the elderly, particularly those with other health issues, and there are younger adults who have either health or weight issues, he said.
There has been much discussion about the possibility that vaccinated people may need "booster" shots at some point. Leonard said "at this point, it's not evident we need a booster," but that could change as time unfolds.
He said Americans are slowly building a "herd immunity" to the coronavirus, owing to a combination of those who have been vaccinated and those who have contracted the virus and recovered.
But he said building herd immunity naturally is much slower than doing so via the use of vaccines.
He said three groups have shown resistance to vaccination: Those opposed for religious reasons, those with underlying health issues who fear that a vaccine would aggravate their conditions and those influenced by "misinformation or working off old information."
He cited one misinformation example, that young women are concerned that vaccination might negatively affect their fertility. Leonard said that fear is groundless.
Nonetheless, he said, "we got plenty of vaccine" but a "lack of trust."
Surveys have shown that the more affluent and better educated have higher levels of being vaccinated while those lower on the education and socioeconomic scale are skeptical of claims that vaccination is a good thing.
Some states, including Illinois, have tried to encourage more vaccinations by holding lotteries offering cash prizes for those who get their shots.
But Leonard expressed skepticism that offering prizes will have much an of an impact on skeptics.
"It's a core issue with people. I just see where the possibility of winning money is not going to change anyone' s mind," he said.
Jim Dey, a member of
The News-Gazette staff, can be reached at jdey@news-
gazette.com or 217-393-8251.