Theresa Meacham
Theresa Meacham | Present and accounted for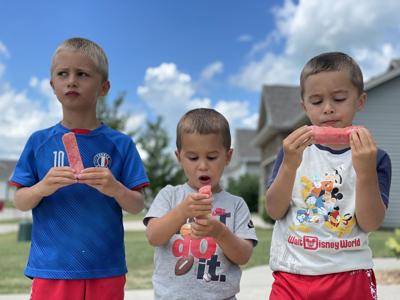 I looked out the window into our backyard at twin almost-5-year-olds and an almost-3-year-old playing in front of a massive cornfield that seems to have popped up overnight.
Sometimes we don't notice things growing until we notice that they've grown.
Someone once told me if you want life to speed up, then have a child. They weren't kidding.
Have you discovered the function on iTunes podcasts where you can listen to an episode at 1.5-times speed? I think someone pressed that button on my life.
I moved from a delivery room with babies to a preschool room with boys in only a couple of blinks.
And while I know these years slip by quickly, it doesn't always keep me from wishing away time on long afternoons when naps are short and fuses are shorter.
"Cherish it … even the hard parts!" say moms who are older and admittedly wiser than me.
"You'll miss these days," they tell me. And I know I will.
"I'd love to go back and do that time of my life again," they insist. I'm absolutely sure they would.
It's not that the above is bad advice. I know it couldn't be more true.
I may one day echo their sentiments if,
God willing, I make it to their season.
It's just that I have a hard time right now, in the thick of it, seeing things the way I will when my young-mom present turns into older-mom memories.
It feels a little too far off to affect my everyday life.
It's difficult to constantly step out of where I am and see it from some point up ahead looking back. And then to let that perspective garner within me some sort of gratitude for what I have at hand. In theory, it sounds great. In reality, it rarely happens.
And I want to learn to better look at my reality.
I'm trying to learn to see things well from exactly where I stand. Right here. Right in the middle of it.
I'm trying to learn how to appreciate changing diapers, wiping dishes and reading Daniel Tiger stories in the present moment, not for the sake of some future perspective.
I want to be fully present, because this is my now. And not because I'll miss it when ...
I have something taped to my wall where I can see it every morning: Teach us to number our days, that we may gain a heart of wisdom.
I don't pretend to be anything close to a theologian. I have a hard time living out principles in my faith, much less interpreting them.
But this verse means something to me.
Everyday it tells me that I can foolishly rush through my days and one day wonder where my life has gone.
Or that I can number my days with intention.
I can commit to being fully alive to whatever is at hand — the joys, the challenges, the routines, the humdrum. Even the diapers and the dishes.
Wise women and men spend most of their efforts living in and looking at what's in front of them instead of what was behind or what is ahead. They do the best they can with what they have, and in choosing to do so, their wisdom grows.
Sometimes I choose foolishly — getting stuck in the past, stuck in petty stress or stuck in a screen. But with the simple reminder of a paper taped up to my wall, I'm choosing better more often.
Reminiscing and regretting are two different actions, and I hope I'll do more of the former than the latter.
One day, I'll miss these days.
But not because I didn't live them fully or number them well.