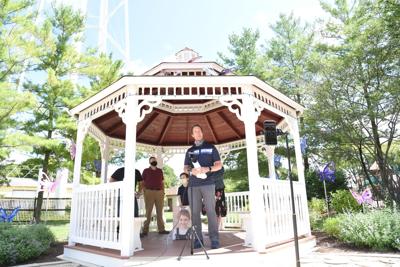 In a rare Saturday session earlier this month, U.S. Rep. Rodney Davis was one of only 26 Republicans to join all 231 House Democrats in approving a measure granting $25 billion in additional funding for the U.S. Postal Service.
It was one of only 13 times in this Congress, which began in January 2019, that Davis defied the position of President Donald Trump.
According to FiveThirtyEight.com, Davis has voted with the president 84 percent of the time in this Congress, and 91 percent during Trump's term. That's the lowest level among the state's five Republican congressmen, all of whom represent downstate Illinois.
Rep. Adam Kinzinger, whose district includes Ford and Iroquois counties in East Central Illinois, has supported Trump on 86 percent of votes. Retiring Rep. John Shimkus, whose district includes Vermilion County and most counties south of Champaign-Urbana, supported Trump on 95 percent of roll calls in this Congress.
The Trump support level is another indication that Davis is walking a fine political line, given that he won his district by less than a percentage point in 2018 and that Trump won Davis' district in 2016 by less than 5.5 percentage points.
A recent poll of Davis' 13th Congressional District by Scott Rasmussen found that most voters (54 percent) had an unfavorable opinion of Trump, including 48 percent who said their opinion was "very unfavorable."
Still, Davis is stuck with Trump even though four years ago, the congressman withdrew his support after the infamous 2005 "Access Hollywood" tape became public.
"The abhorrent comments made by Donald Trump are inexcusable and go directly against what I've been doing in Washington to combat assaults on college campuses," Davis said in October 2016. "With the terrible options America has right now, I cannot cast my vote for any of the candidates, so I hope Donald Trump withdraws from the race so the American people can elect Mike Pence as our next president."
This time, however, Davis is among four Illinois congressmen (Kinzinger was excluded) who are co-chairing the Trump campaign here.
In voting with Democrats on Aug. 22, Davis said he was disappointed that the Postal Service "recently became a political weapon." And he said the $25 billion infusion — which faces little chance of approval in the Senate — "is not going to solve our election administration problems."
Election administration issues don't lie with the Postal Service, Davis said, but with states.
"Despite early warnings from the Postal Service, at least 18 states still have ballot-request and -return policies that are incompatible with their delivery standards, which significantly increases the risk of disenfranchising voters," he said.
Davis has endorsed Illinois' vote-by-mail effort.
"Our vote-by-mail program, which is very successful, mails applications out to every registered voter," he told the Ripon Society, a Republican group, last week. "You can turn that application in, and once they verify it's you, you get a live ballot sent to your house. Democrats in Congress, on the other hand, have been pushing a national vote-by-mail initiative that would just mail live ballots to every registered voter without any verification."
104th House race
In Illinois' 104th House District, Republican Rep. Mike Marron of rural Fithian has a rematch with Democrat Cindy Cunningham, whom he beat two years ago, 56 percent to 44 percent.
Cunningham isn't going quietly in the district that includes most of Vermilion County and the northern half of Champaign County.
She has raised more than $22,000 since July 1, adding to the $20,140 she had on June 30. Most of her contributions came from individual supporters, although she also got money from labor unions.
But Marron, who had more than $94,000 in his campaign fund on June 30, has added nearly $20,000 in the last two months, including $15,000 from the political action fund of another union, the Illinois Education Association.