RANTOUL — When Rantoul resident Wilbur "Bill" Wallis started throwing Frisbees with his brother back in the late '60s, he noticed on the back of the Frisbee the words, "Invent games."
So he and his brother invented a game where they would throw a Frisbee around a light pole and try to hit a garbage can.
"We didn't know it at the time, but that was disc golf," Wallis said.
Now, Wallis is disc golf.
When others refer to Wallis and his nearly 35-year involvement and admitted obsessiveness with the game of disc golf, they say, "Oh, Bill? He is disc golf."
Wallis happily wears the moniker.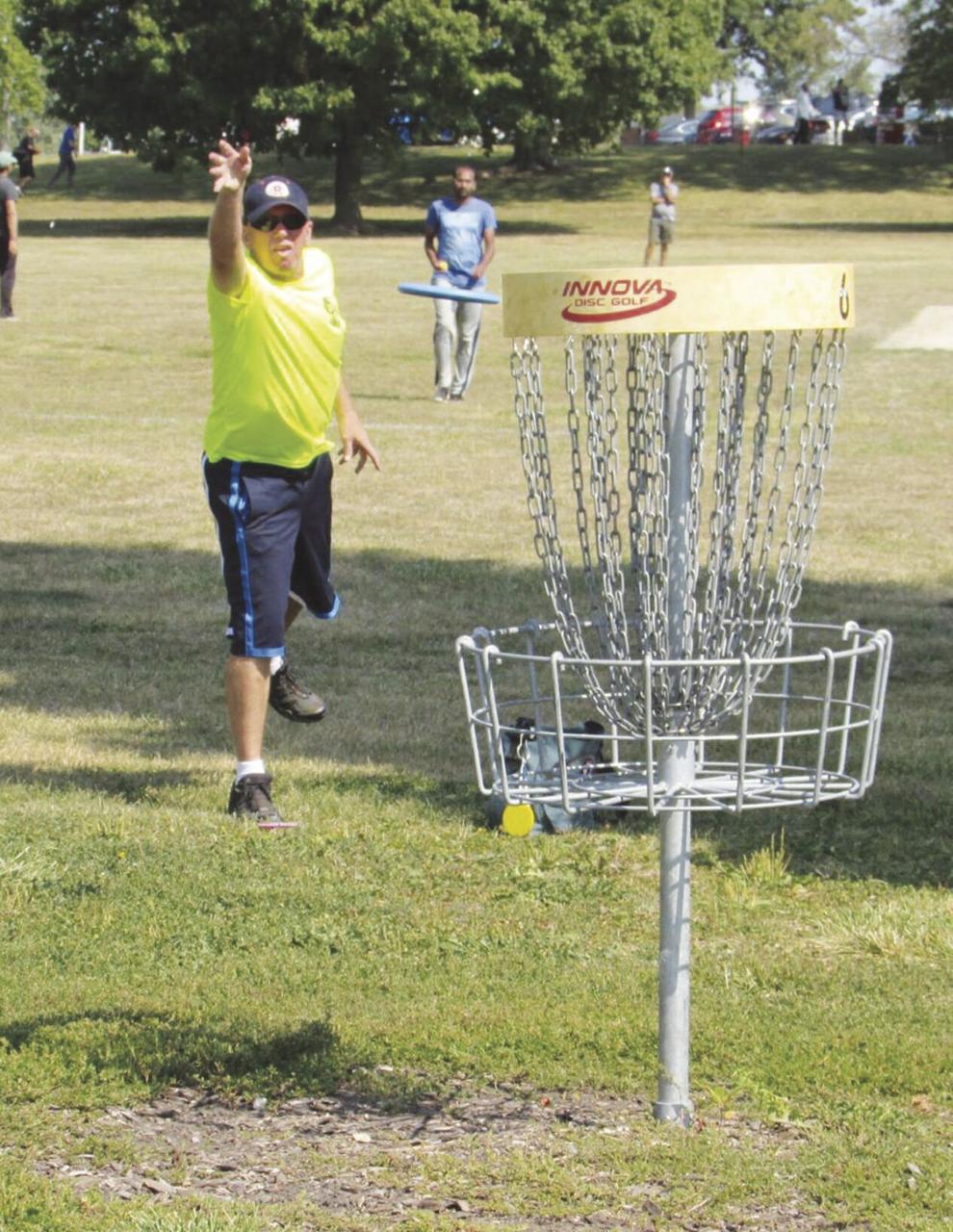 "The first time I actually shot at disc golf baskets and actually knew what the game was, was 1986, I was 23, I think," Wallis said. "That was at Bradley Park in Peoria. And I've been going ever since. That was my first course."
The disc golf course had been installed about six months prior, but Wallis had grown up across the street from Bradley Park and was familiar with the layout.
"I know that park like the back of my hand," he said. "You can describe a tree, and I can tell you where it is. I love that park. I love walking through that park."
That night after playing his first round of disc golf, Wallis told his wife, "I hope you like this, too, because I am going to do it the rest of my life."
He kept his word.
Wallis has played 381 different courses in 17 states and traveled extensively throughout the United States.
"I have friends now from all over the world," he said. "I've friends in Europe. I've got friends in Australia. I've got a couple friends in Japan. And I would have never been able to do that without this sport."
Not only is Wallis known as the face of disc golf, especially in central Illinois, he has designed 28 disc golf courses and has partnered with the Visit Champaign County (Business Bureau) to help prepare the Champaign-Urbana area for a bid to host the 2023 United States Women's Disc Golf Championships.
Wallis got started designing disc golf course while growing up in Peoria. He helped to run tournaments for the Peoria Frisbee Club, which at the time was one of the premier clubs in the country. Once, while running a tournament, the park did not have any portable baskets, so Wallis took a bunch of portable baskets he had and designed a course.
"With a temporary course, it's not that big of a deal if you screw it up, because it's not going to be there the next day," he said. "It was a one-time thing. But it gave me the practice and experience that I use today as I design courses."
Wallis compared designing a course to an artist.
"The land is my canvas, and I just go with what's there," he said. "There is no specific formula that a good designer uses, I don't think. You do what the land tells you what to do."
His 28th disc golf course design he just finished is at Ellsworth Park in Danville.
"For a smaller course, even though Danville is not open yet, I think it's going to be a great course for just nine holes," he said. "Too bad it wasn't bigger. I love it. It has a good variety and different shot selections, and you get to throw over the Vermilion River."
His favorite course he has designed is Village Park in Forsyth.
"It's got a lot of variety to it," Wallis said. "There're some short technical holes. There're some long open holes. There's this huge hole that's almost 900 feet that plays over water for a good lot of it. I just think it just has a good variety to it. And again, the land allowed me to do that."
Tournament hosting bid
To bring more tourists to the Champaign County area, Wallis is working with Visit Champaign County.
"What we want to do is bring in a professional Disc Golf Association major event here," Wallis said. "The one we are really pushing for would be the United States Women's Disc Golf Championships."
To be able to bid on hosting the Women's Disc Golf Championships, Champaign would need three good quality courses.
Champaign currently has Dodds Disc Golf Course at Dodds Park.
"I'm trying to get a couple other courses in this area so we can do that," Wallis said. "It's still the beginning stages. You have to put in bids for it. The next one that would become available would be 2023."
Because of COVID-19, the 2020 disc golf events were postponed until 2021, which has pushed back scheduling.
COVID-19
Like other sports, disc golf shut down during the start of the pandemic. One large tournament in Texas was suspended between rounds.
But because states recently have opened to allow more activities, disc golf has shown a large increase in participation.
For many, disc golf has been a great way to get out of the house, easily social distance, get exercise and compete when many other options are off the table.
"When they started opening up to do stuff and decided disc golf was not a huge risk," Wallis said, "the sport took off. There have been so many new players locally, nationally and around the world. The manufacturers cannot keep up with making disc right now."
Wallis, who used to participate in around 20 tournaments a year, now plays three or four times a month in local leagues and in about five tournaments per year. He is also on staff or volunteers at five to 10 tournaments a year, including the world championships.
After a long pause thinking about how much money he has spent on disc golf travel, lodging and equipment, Wallis finally said, "I never thought about putting a dollar amount on it, but that's probably a good thing. Just in equipment, I'm thinking I have spent several thousand of dollars. And then if you add in tournament fees and gas to get to some of these tournaments, oh, I don't know. I might have $10,000 into it."
For beginners, though, disc golf can be inexpensive to play. It also is easy to social distance while playing.
"You only need one disc to play, and most of the courses are free," Wallis said. "It's a game that anybody without a whole lot of practice can start playing it. You don't need a lot of skills to enjoy it. It's just fun. It's such a fun game."
Maybe more than anything though, Wallis just loves watching a disc fly.
"Making it do what you want it to do, it's just one of the greatest feelings," he said. "I want the disc to do this, and if you can make it do that, it's great. I love it. The saying in disc golf is, 'When a ball dreams, it dreams it's going to be a disc.'"