Beat writer Scott Richey, with insight from those that know, tackles where Illinois stands heading into 2020-21 season
1. What is Illinois'national ceiling if both Ayo Dosunmu and Kofi Cockburn return?
The NBA draft decisions yet to be made by Dosunmu and Cockburn are the sticking point for trying to figure out how Illinois might fare in the 2020-21 season. Getting an All-Big Ten First Team guard like Dosunmu back would obviously help the Illini's chances. The same is true for Cockburn — the 2020 Big Ten Freshman of the Year.
"Returning personnel is the biggest key to having success in college basketball," CBS Sports' Jon Rothstein said, referencing recent national championship teams like Virginia, Villanova, North Carolina and Villanova again.
"If both return, Illinois is going to start the season in the top 10," Rothstein continued. "Ayo showed he could perform in clutch situations. Kofi was just tremendous as a freshman with his productivity in a league that had elite post players. (Dosunmu) has the chance to be mentioned with the Dee Browns, with the Deron Willams (and) with the Kendall Gills as player who has an opportunity to take Illinois deep into the NCAA tournament. I know there was always the thought this was going to be his last season in college, but the world is different."
How Illinois fares in 2020-21 would be significantly different if Dosunmu and Cockburn both opted to stay in the NBA draft. Rothstein called that scenario "a major hit." If it's just one of them returning — a situation that seems more likely to be just Cockburn instead of just Dosunmu — Illinois' ceiling is higher.
"If you're going to see only Kofi come back, you'll see a team that should be an NCAA tournament team," Rothstein said. "If you're looking at a scenario where we see both these players come back, you'll see the best Illinois team since that John Groce team in his first season when they won the game against Cody Zeller and Co. That was a team that won Maui with Brandon Paul and D.J. Richardson.
"Ayo will instantly emerge in that type of role next year," Rothstein said. "We all know if (Iowa's) Luka Garza comes back to school, he'll be the Big Ten preseason Player of the Year and national preseason Player of the Year, but Ayo will stand to hold the title as the best guard in the Big Ten."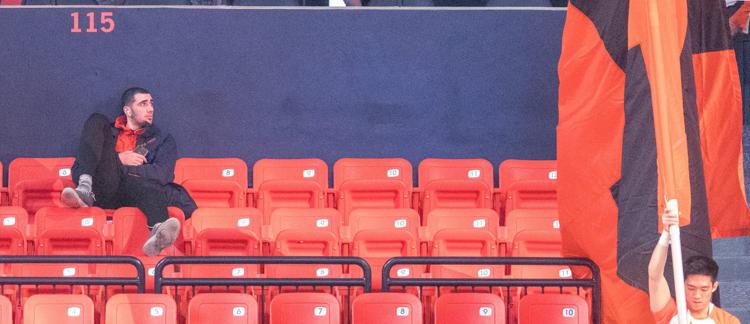 2. Is Illinois a Big Ten title contender again?
Another question that also depends on the status of Ayo Dosunmu and Kofi Cockburn. Even without those two, however, Illinois will return a fairly experienced team in 2020-21 with the addition of some talented newcomers.
"I think we have a good chance even with the current roster, and I say the current roster and that's not counting Kofi or Ayo," Illinois Hall of Famer turned Illini radio analyst Deon Thomas said. "I think that Illinois is deep enough. I think you've had guys that are in the program long enough that they know what (coach Brad Underwood) wants and how he wants it. Any time you have experience coming back, that gives you a leg up."
Illinois finished a game back of co-champions Michigan State, Maryland and Wisconsin during the 2019-20 season. It was a quick turnaround after a bottom four finish in the conference a season prior and marked the first time the Illini had truly challenged for the Big Ten title since the 2005-06 season. Illinois tied for second in 2008-09, but Michigan State ran away with the championship that season. The Illini were just a single game behind Big Ten champs Ohio State in 2005-06, with the 2004-05 Illinois team the last one to win the Big Ten title outright.
"I've had to be a part of turning around a program, and it's extremely difficult," Thomas said. He coached for six seasons, including at Illinois-Chicago, after his playing career and before he got into broadcasting and took a job with Illinois as associate director of development for the I Fund.
"I think they are ahead of the curve and where typically you would be when it comes to a rebuild," Thomas continued. "With what they did last year, if you get one or both of those guys back, it has to put you as one of the odds-on favorites to win. It's great to be able to have this conversation again."
3. Where does the 2020-21 schedule stand?
Illinois' 2019-20 schedule didn't come together easily. It was released in late August last year with one date still left to fill. Piecing the 2020-21 schedule together has been an easier affair for Illinois basketball director of operations Joey Biggs. As in, essentially done last November easy.
The nature of Illinois' 2020-21 schedule lent itself to the ease at which it filled out. The Illini were locked into games in both the Big Ten/ACC Challenge and Gavitt Tipoff Games with the Big East. Four more related to the Emerald Coast Classic, Braggin' Rights with Missouri, the return game to State Farm Center with Arizona and a 20-game Big Ten schedule left Biggs with few holes to fill.
"I've got one more contract to get in for a regular-season game, but I anticipate it getting done," Biggs said. "It was one everybody had verbally agreed to."
Finding a reasonable counter to what could be a brutal stretch in late November into early December was Biggs' challenge for the 2020-21 schedule. Illinois will play Florida and then either Iowa State or Oregon in the Emerald Coast Classic in Niceville, Fla., at the end of November, return home (likely) to play a good opponent in the Big Ten/ACC Challenge, jump into Big Ten play with the two early games and then face Arizona at home.
"We felt like the Arizona game was great not just for us because it's a great challenge, but great for our fans," Biggs said. "There's great history there. … We didn't want to get ourselves in a situation — and I don't think this will happen because we're in a different spot with our program — but we got too far out there the second year we were here. I think we've got some good balance. It could be a blessing. If for some reason we get everybody back, I don't think we'll be fearful and it will be a good test for us and an opportunity to challenge our guys."
Basketball might not ever rival football when it comes to future scheduling. Illinois football has at least one game already on the books out to the 2035 season. That said, Biggs said he'd like to think the advance work he did on the 2020-21 basketball schedule could become more typical.
A potential plan could see Illinois schedule more series like the one they will complete with Arizona this winter. A prominent neutral site game in an area Illinois recruits is also an option.
"(The Emerald Coast Classic) was the last one that was done before we got here," Biggs said about games and events scheduled before the current Illinois staff arrived. "We're going to try and move forward and get things where we feel good about it and be strategic about what exempt events we play in and also be strategic about playing in places we recruit."
4. What will the fan experience be like at State Farm Center?
Another one of those "too soon to tell" type questions. The changing dynamic — sometimes daily — presented by the ongoing COVID-19 pandemic makes trying to set plans for the start of the college basketball season in November rather difficult.
The Orange Krush, though, has at least started to discuss what basketball fandom might look like in four-plus months.
Their pregame activities — particularly the food provided — are likely out. Simply the number of members they expect to be allowed through the doors at State Farm Center is also likely to face a significant drop because of the pandemic.
"State Farm Center can be a really intense atmosphere," said Luca Ripani, the Orange Krush communications chair and a sophomore political science major from Hinsdale. "It will just be less because it will be 20 percent capacity — if that. The student section that's the closest to the game is going to be way reduced capacity. It's going to be interesting to see if this team will be able to perform as well as we expect them to because they're going to have way less of a home-court advantage — if any. It could be empty."
The juxtaposition between the last Illinois game held at State Farm Center and the next could be stark. The Illini ended the 2019-20 regular season with a 78-76 home win against Iowa, securing a double bye in the Big Ten tournament. The sellout crowd of 15,544 was on fire, with the Krush leading the charge per usual with some extra posters made just to take some playful jabs at Iowa coach Fran McCaffery.
"That was one of my favorite moments," Ripani said. "Knowing it's going to go from that to almost no one — if it happens at all — it's going to be so jarring. ... Even in the nonconfenece games that were small, there was still a pretty crazy atmosphere because Illinois has a really passionate and devoted fan base no matter if the team is 21-10 or 12-21. To know that's going to be severely reduced is going to be disheartening."
Even if no set plans are in place given they could change multiple times between now and November, Ripani said the Orange Krush is already working with the Illinois ticket office to figure out how the season might play out in terms of fan attendance.
Two ideas that have been discussed so far for the Krush include a lottery for the likely reduced number of tickets or a loyalty system based on previous attendance of events.
The health and safety of everyone involved remains paramount.
"Obviously we want as many people there as we can and want to provide the best atmosphere, but what's more important to that is making sure everyone is safe," Ripani said. "If having a full stadium is an option or a full Krush section is an option but not the most safe thing, we're going to go with most safe thing."
5. Which player might have a breakout season?
Benjamin Bosmans-Verdonk arrived on the Illinois campus last summer absolutely looking the part of a college basketball player.
The 6-foot-8, 235-pound forward was the type of athlete that had been in short supply — and sorely needed — for most of the Brad Underwood era. Think Leron Black, but an inch taller and already comfortable as an incoming freshman extending his game to the perimeter.
Dealing with the Lamar Stevens types in the Big Ten for Illinois has often been left to guys like Aaron Jordan and Da'Monte Williams. A modern power forward with the physicality to match a Stevens type and athleticism to work them on the offensive end? Exactly what the basketball doctor ordered.
But Bosmans-Verdonk soon found himself on the sideline. He arrived hampered by a stress fracture in his leg last summer.
Then he got healthy, showed the briefest flash of his potential early in the 2019-20 season and then missed the final 19 games of the year with a foot injury.
"He was hurt when he got here, he came back and he played and it wasn't right," Underwood said. "We never really saw him healthy at all. I'm excited to see him healthy. He's an extremely tough young man. He played with a stress fracture when he did play and did practice. I know we saw him do some really positive things, and he was hurt.
"I'm excited to see him really healthy. He had limited activity, so getting back into shape the rest of this summer and the offseason will be very important for him. We do know this. No one's going to work any harder than Ben does."
6. How will Trent Frazier's Illinois career end?
Frazier played his way into Illinois' starting lineup midway through his freshman season. The Illini often needed the 6-foot-1 lefty guard to carry a heavy offensive load in a season where scoring often came at a premium.
Frazier's role changed when Ayo Dosunmu arrived in Champaign. The 2018-19 season saw the two guards working to figure out how they could best play together. It remained a work in progress until this past season.
Frazier poured more energy into becoming one of Illinois' best on-ball defenders and took a backseat offensively. The switch to Frazier running the point opened up Dosunmu's game off the ball. That Illinois went from 12 wins in their first season together to 21 in year two wasn't just a happy coincidence.
"I thought last year Trent made a lot of adjustments to allow Ayo's game to really shine," said Doug Altenberger, the former Illinois guard turned Illini radio analyst. "There's a lot of things that go on playing point guard. You need to sacrifice sort of yourself for the betterment of the team. Trent did that. There's no question.
"I just feel like coming into this year, here's a guy that knows the offense, knows what's expected of guys. He's going to be a leader — especially for these younger guys that are coming in when they go through the ups and downs. I really feel like that's where he and where the coaching staff expects him to shine.
"I really feel like Trent really understands what the coaching staff wants. I've never seen him in practice take a series off or whatever. Being his senior year — you know this is your last season — and I expect him to really shine in that leadership role. That's really how you win in college basketball."
A bounce back on the offensive end for Frazier wouldn't surprise Altenberger. While Frazier had his least efficient offensive season in 2019-20 by shooting career lows both overall at 32.7 percent and from three-point range at 30.9 percent, the fact he's a career 35.7 percent three-point shooter and hit at 40.6 percent as a sophomore is telling for Altenberger. Plus, Frazier can score. His 1,119 career points — tied for 41st in program history with Bill Burwell — bear those numbers out.
"I think as fans we have a tendency to hone in on certain things," Altenberger said. "With him, it's how is he shooting the basketball? Early in his career he showed the ability to score consistently behind that three-point line. … Trent's freshman year he showed just some unbelievable games where he was dominant. It needed to be done, and he did it."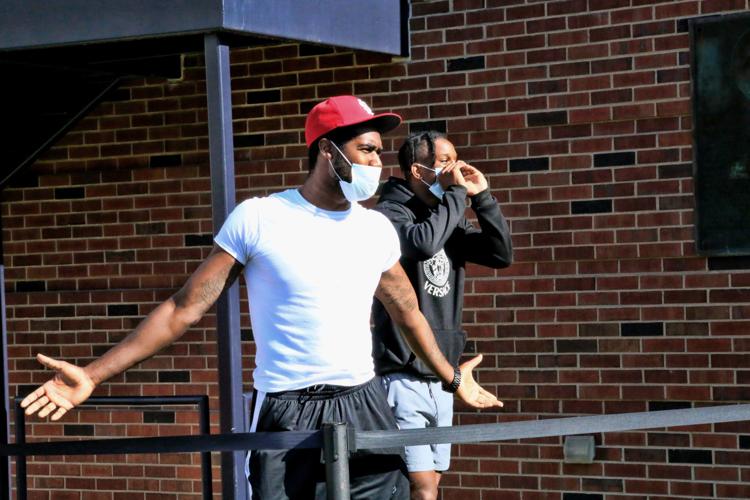 7. Can Da'Monte Williams be a three-point threat?
No Illini shot the ball quite as efficient from three-point range in the final nine games of the 2019-20 season than Da'Monte Williams.
Remarkable considering the 6-foot-3 guard had made just four total three-pointers in the previous 22 games and started the new year missing 10 straight.
The home stretch, though? Williams was on fire.
He never attempted more than three in any one of those last nine games, but made 9 of 17. That would be 52.9 percent.
"It has been," said David Williams, a Peoria Manual assistant coach who has worked with the Illini guard, but isn't related to him, for nearly a decade. "I think sometimes when you only take one three per game it's hard to really get in that rhythm. You look at a lot of games and he's 0 for 1 or 0 for 2, and that kills your percentage. We all know he's better than a 20 percent three-point shooter."
David Williams probably knows Da'Monte Williams' game as well as any other coach. Knows the type of offensive skill set that the now Illinois senior has put on the back burner to become the Illini's do-everything glue guy.
"I stay on him about it," David Williams said. "Confidence is a big thing, but credit to (Illinois coach Brad Underwood) and those guys. They had confidence in Da'Monte knocking shots down when other people were probably thinking, 'Why is he playing?' I look for a great senior season out of him this year."
David Williams spent time in the past three-plus months working again with both Da'Monte Williams and incoming Illinois freshman Adam Miller. Both Peoria natives will head into the 2020-21 season in prime form.
"(Illinois strength and conditioning coach Adam Fletcher) does a great job with those guys' bodies," David Williams said. "Da'Monte took his shirt off and was unbelievably ripped up. He really shot the ball well. He had a little more of his bounce back to him. I had to get on him about hanging on the rim. Him and Adam, they both looked really, really sharp."

8. Where will Illinois' attention be the second weekend of March?
The IHSA shifted its boys' basketball calendar for the 2020-21 season so its state tournaments — all four now held in a single long weekend — wouldn't conflict with the first two rounds of the NCAA tournament. That change, however, could create a bit of a conundrum for the Illinois men's basketball coaching staff.
The state tournament is back in Champaign after a 25-year stint in Peoria. The games will be played at State Farm Center, just a short walk across Fourth Street from the Illini coaches' offices at Ubben Basketball Complex.
But next March, Brad Underwood and Co. could actually be in a position where they'd rather not be home with the state tournaments underway. Moving all four of them to the same Thursday-Saturday format also put them in direct conflict with the Big Ten tournament, which will be back in Chicago in 2021. Being readily available in Champaign to potentially watch any prospects in person would mean an early Big Ten tournament exit for the Illini.
"It's going to work out that way some years that it's just not feasible for us to be there," Underwood said about the conflict with the state tournaments. "It may be one of those situations we keep a coach back depending on when we play or I jump back for a game depending on what's going on at the time."
The Big Ten tournament taking place in Chicago or Indianapolis would provide the Illinois coaching staff some flexibility in being in two places at once. Even if the Illini coaches can't be at every state tournament game, though, Underwood still values the impact Champaign — and by extension the University of Illinois — hosting the state tournaments provides his program.
"They all watch games on television," Underwood said. "To see that court and see all those banners hanging up, that's special. … I still think there's a great value in playing on the court in a competitive game than just the visit. I think the thing that excites me is you start seeing young kids and families and dads bringing their sons over. Those kids want to grow up and be a high school basketball player with an opportunity to come play in the State Farm Center."
9. How will Illinois be feeling on Selection Sunday?
The cancellation of the 2020 NCAA tournament robbed Illinois of its Selection Sunday moment this March — the first time the Illini would have heard their name called since 2013.
So the tourney drought continues.
Illinois was, for all intents and purposes, an NCAA tournament team. But it's a tree-falling-in-the-forest type of situation. If there was no NCAA tournament and an automatic bid wasn't coming, was a team actually in?
Fast forward to March 2021. At this juncture, Illinois could well see its NCAA tournament drought officially end. Like most related to the 2020-21 Illini season, plenty hinges on the NBA draft decisions still be made by Ayo Dosunmu and Kofi Cockburn. The entire narrative of Illinois' season could be defined by as much. But so far? The Illini are in.
Few bracketologists are making regular summer updates. Jerry Palm's early 2021 projection for CBS was last updated in early April, but he had Illinois as a No. 11 seed playing what could be a feisty Texas team. University of Illinois professor Sheldon Jacobson had that flipped, with the Illini in as a No. 6 seed playing Syracuse (and maybe Alan Griffin should he get a waiver).
Only ESPN's Joe Lunardi is regularly updating his bracketology efforts, with the latest coming Wednesday. Dust off your cowboy hat because Lunardi's got Illinois as a No. 9 seed playing LSU in Dallas in the opening round.
Only nine more months to go to find out if any of them are right.
10. Who is the next can't-miss prospect from Illinois?
Illinois spent a good portion of the last decade watching some of the state's top high school talent head elsewhere for their college basketball careers. The Illini wound up the runner-up option. A lot.
Illinois landing Ayo Dosunmu in the Class of 2018 altered that trend. Following that up with Adam Miller in the Class of 2020 was another step forward. While some of the state's best 2021 prospects have chosen other options — Fenwick's Bryce Hopkins to Louisville and Simeon's Isaiah Barnes to Michigan — the Illini could hit again in 2022.
The next can't-miss prospect from Illinois? It's Tinley Park junior AJ Casey.
"He kind of screams everything you're looking for in a prospect from the physical dimension and physical attributes he has," said City/Suburban Hoops Report's Joe Henricksen, who has covered high school basketball and recruiting in Illinois for more than two decades.
"He's long and athletic at (6-foot-8)," Henricksen continued. "He's a hybrid kind of guy that can play the 3 and the 4. The versatility, he's turned that into some production now after his sophomore year putting up great numbers. He can shoot and can handle it, and at 6-8 with his wingspan and athleticism and versatility he's the prototype high-major recruit."
Casey averaged 22 points, 10.2 rebounds, 3.2 assists and 3.1 blocks this past season as a sophomore at Tinley Park after transferring from Simeon. The 6-8, 200-pound forward is a consensus four-star recruit and ranks as high as No. 21 in the Class of 2022 per Rivals.
"He's the real deal," Henricksen said. "He came in with a ton of pub, a ton of fanfare and played a very small role at Simeon as a freshman for a very good team, but you could just see all the tools and the ability and that basketball body. To be honest, his size, position (and) his basketball body is something we haven't seen a ton of in recent years. There's very few agile, athletic, versatile players at that size we've seen."
Scott Richey is a reporter covering college basketball at The News-Gazette. His email is srichey@news-gazette.com, and you can follow him on Twitter (@srrichey).