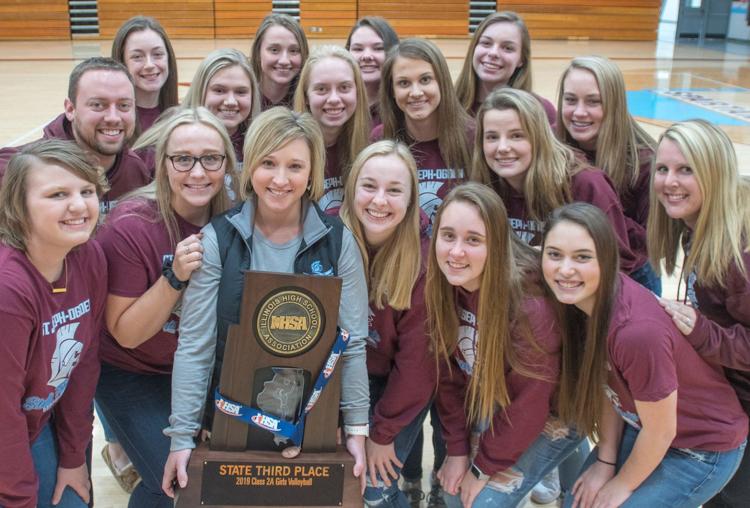 COACH OF THE YEAR: St. Joseph-Ogden's Abby McDonald
Why she's Coach of the Year: McDonald oversaw the only area program to qualify for the state tournament as the Spartans landed in third place among Class 2A programs and finished 37-5.
Season highlights: "Probably what stands out to me the most is our match against Chicago Christian (in a Class 2A super-sectional). The first set, they handled us very well and somewhat easily. They were outsizing us, not just with their physical capabilities, but they were outpowering us in pretty much every aspect of the game. That's not something we'd done all season, not for a really long time, if at all. For them to come back in the second set and play with a sense of poise and keep their composure, really fight for that set as close as it was (was great). I think, going into the third set, there's a lot of unknown. But the way they came out with so much confidence in themselves and the fact they were believing in what we were talking to them about on the sidelines, as a coach, maybe in my career, I don't think I've ever been part of something quite so spectacular and something that I'm definitely proud of them for."
A few of my favorites: A sporting event I need tickets to see is the Cubs in the World Series. ... If I wasn't a coach, I would be a mom. That's what I get to do in the couple months that I have off. It's something that I enjoy. ... My favorite motivational tactic is getting to know your team. Each year, it's something different. Each team is different. So this year, our approach was different than what it's been the past couple seasons with these kids. I think the biggest thing is getting to know your kids and getting to know what it is that motivates them, and just getting them to buy in to your beliefs. ... My favorite subject to study when I was in school was reading. ... My favorite athletes are the kids that have gone through our program, past and present. ... My favorite TV show is "This Is Us." ... If I could have dinner with any two people from any time period, I would pick my grandparents.
What I enjoy most about coaching: "Getting to know the kids, not just on the court but off the court, and being able to be a small part of their life while they're in high school, but also still having those connections once they leave here."
Honor Roll: Past News-Gazette All-Area volleyball Coaches of the Year
YEAR    COACH    SCHOOL
2019    Abby McDonald    St. Joseph-Ogden
2018    Stan Bergman    St. Thomas More
2017    Stan Bergman    St. Thomas More
2016    Abby McDonald    St. Joseph-Ogden
2015    Josh Landon    Cissna Park
2014    Josh Landon    Cissna Park
2013    Abby McDonald    St. Joseph-Ogden
2012    Stan Bergman    Centennial
2011    Stan Bergman    Centennial