AP Top 25 poll: 1 vote for Illinois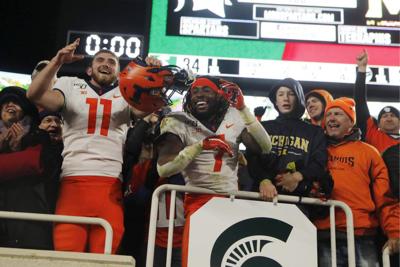 Illinois received a vote in this week's AP Top 25, but it didn't come from hometown writer Bob Asmussen.
Asmussen, a member of the AP voting panel for years, said "if the Illini beat the Hawkeyes in Iowa City on Nov. 23, they will have a strong chance to be on my ballot. I currently have no four-loss teams in my Top 25."
The voter who listed Illinois on his ballot - at No 25: Michael Vega of the Boston Globe.
Here's how Asmussen voted:
1. LSU
2. Ohio State
3. Clemson
4. Alabama
5. Georgia
6. Oregon
7. Utah
8. Oklahoma
9. Minnesota
10. Baylor
11. Penn State
12. Auburn
13. Florida
14. Michigan
15. Cincinnati
17. Notre Dame
17. Wisconsin
18. Boise State
19. Memphis
20. SMU
21. Indiana
22. Texas
23. Navy
24. Iowa
25. Louisiana Tech
The AP poll
The Top 25 teams in The Associated Press college football poll, with first-place votes in parentheses, records through Nov. 9, total points based on 25 points for a first-place vote through one point for a 25th-place vote, and previous ranking:
Record Pts Pv
1. LSU (54) 9-0 1542 1
2. Ohio St. (5) 9-0 1480 3
3. Clemson (3) 10-0 1441 4
4. Alabama 8-1 1312 2
5. Georgia 8-1 1267 6
6. Oregon 8-1 1224 7
7. Minnesota 9-0 1164 13
8. Utah 8-1 1099 8
9. Penn St. 8-1 1003 5
10. Oklahoma 8-1 1000 9
11. Florida 8-2 934 10
12. Baylor 9-0 932 11
13. Auburn 7-2 871 12
14. Michigan 7-2 744 14
15. Wisconsin 7-2 657 16
16. Notre Dame 7-2 593 15
17. Cincinnati 8-1 567 17
18. Memphis 8-1 510 19
19. Boise St. 8-1 371 21
20. SMU 9-1 346 23
21. Navy 7-1 228 25
22. Texas 6-3 199 NR
23. Iowa 6-3 197 18
24. Indiana 7-2 108 NR
25. Oklahoma St. 6-3 77 NR
Others receiving votes: Appalachian St. 73, Kansas St. 67, Texas A&M 42, Wake Forest 38, Louisiana Tech 25, Virginia 12, San Diego St. 7, Iowa St. 4, Virginia Tech 4, Washington 3, Pittsburgh 2, UCF 2, Air Force 2, North Dakota St. 1, Southern Cal 1, Illinois 1.M