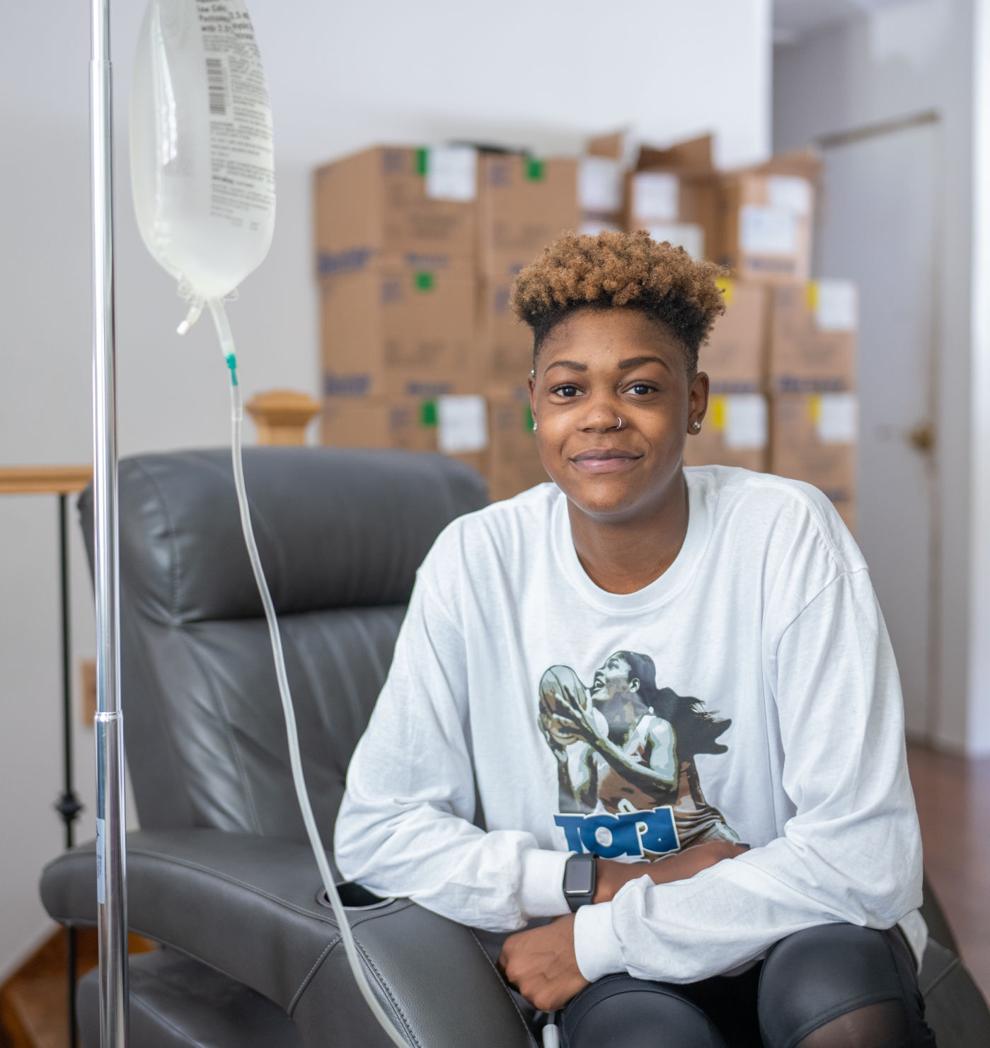 CHAMPAIGN — Tori McCoy walked off the court in Champaign Central's new gym on Monday and smiled, a sight that had become a rarity over the last few years.
"I enjoyed it," she said after the first day of her middle school girls' basketball camp. "I'm a little worn out, because I'm not used to standing for two hours."
McCoy looks every bit the lean, powerful 6-foot-5 athlete who was ranked as high as the No. 2 recruit in the country while playing for St. Thomas More. She can still casually reach up and flick the net with her feet on the ground, and her movements look fluid as she shows kids how to post up at the elbow, spin and dribble their way to a layup.
Since her days as a star recruit, though, life has changed in unimaginable ways.
Her days of dominating on the court are far behind her, along with her dreams of playing in the Final Four and hearing her name called in the WNBA draft. While she didn't know it at the time, those lifelong pursuits ended in 2017, when she was diagnosed with focal segmental glomerulosclerosis, a rare kidney disease that forces her to hook herself up to a dialysis machine multiple times a week. Now, she simply dreams of receiving a kidney transplant.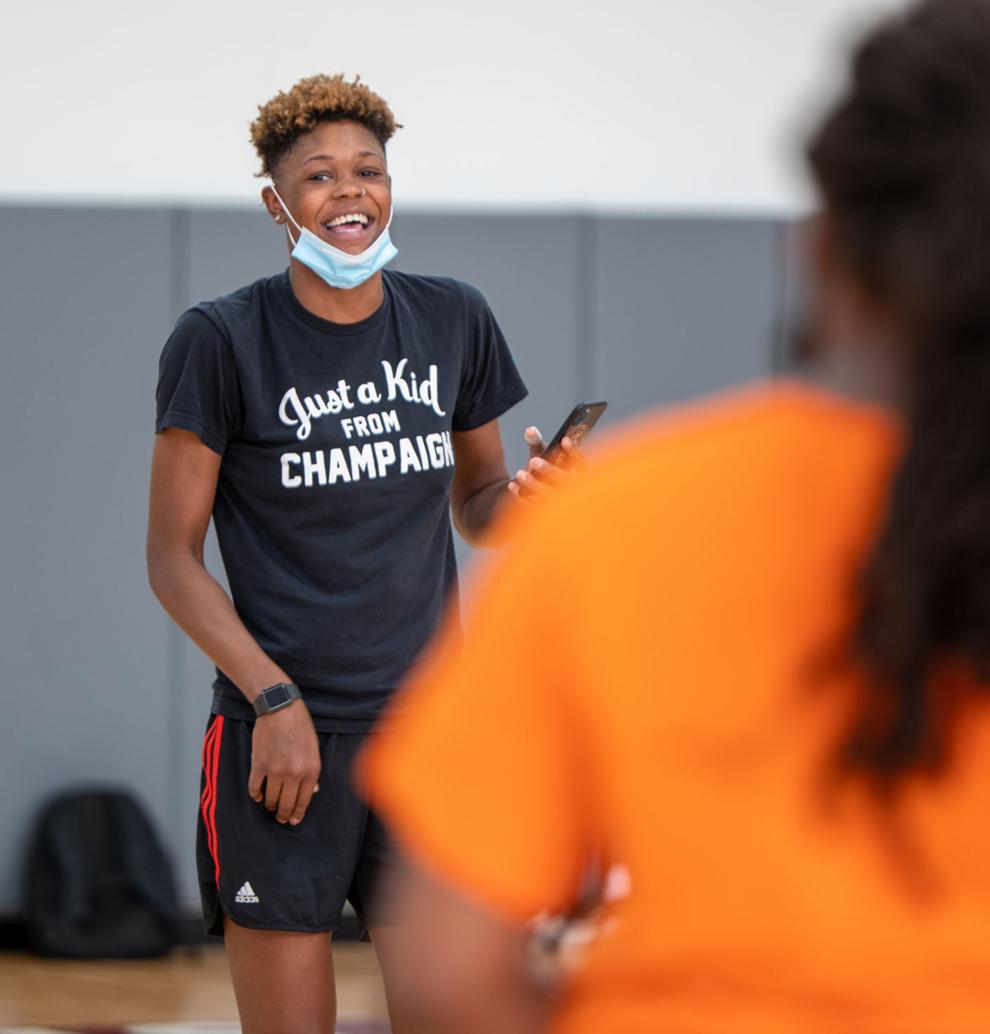 Then she lost one of her biggest supporters. In May 2020, her father, Tim, was diagnosed with a rare form of soft- tissue cancer. The cancer spread to his lungs, and he died in December.
Tim McCoy was inextricably tied to his daughter's basketball career, coaching her as a young kid and coaching youth basketball with her when she was in high school.
With her playing days behind her, Tori McCoy thought her days of finding happiness with the sport were also gone.
"Just being around basketball made me very depressed," she said, "so I didn't want anything to do with it."
A call from new Centennial girls' basketball coach Tamara Butler earlier this summer, though, began to change her mind.
Butler wanted to know if she was interested in taking on a role as an assistant coach. McCoy accepted, but she was still uncertain. Then, she went to an open gym earlier this month.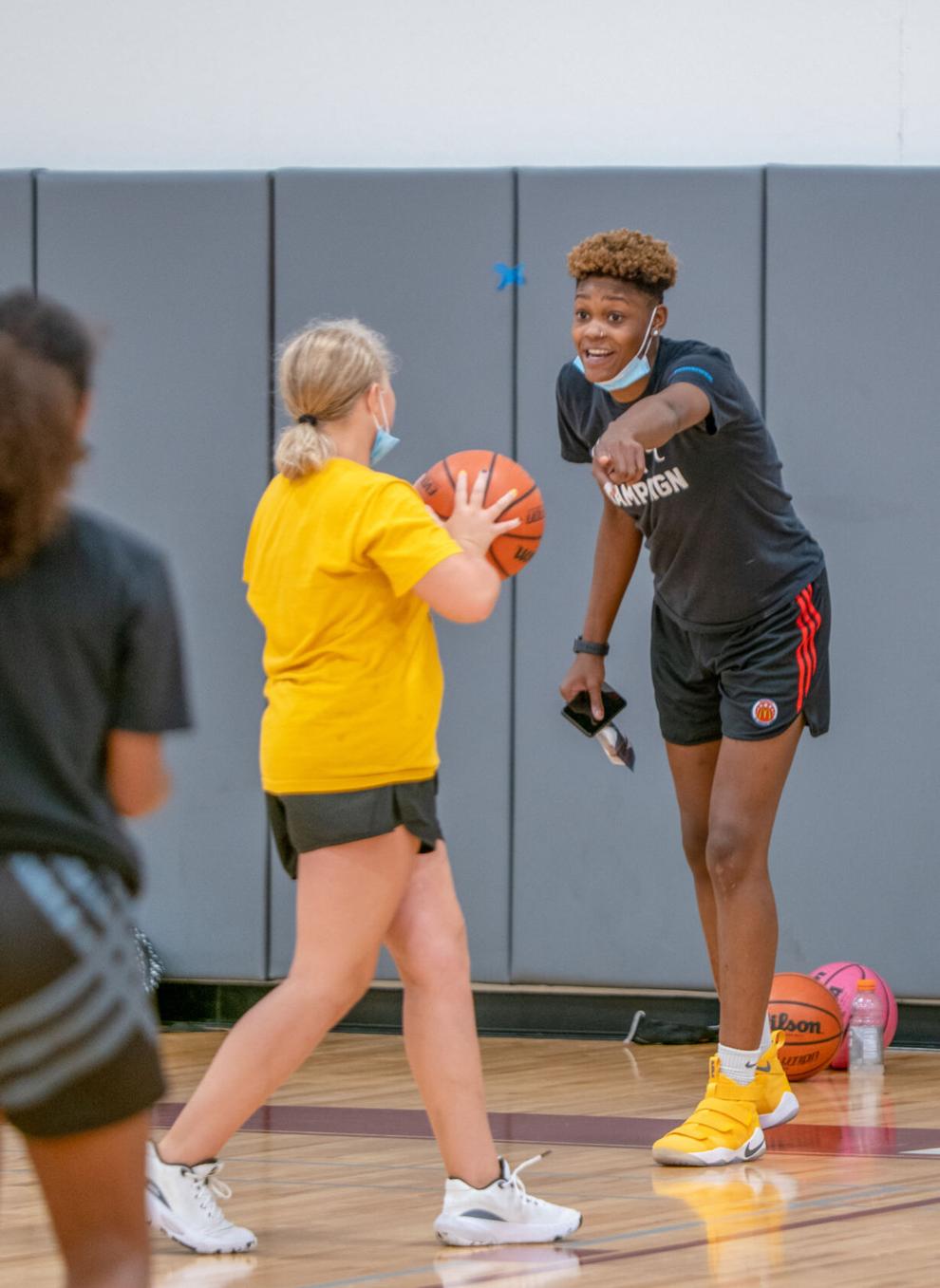 It was the first time she had set foot on a basketball court since she returned to Champaign in 2019, and her mother saw a change in her mood immediately as she watched from the sideline.
"You just see the smile," Kim Butts-McCoy said. "It was like the court was her kingdom. She was like the queen of the court, so you could just tell that it just came back. The light was just like, 'Ding, ding, ding. I'm back.' The girls, every time she says something, they just held onto every word she was saying. It was cool."
✽ ✽ ✽ ✽ ✽
McCoy's final competitive basketball game came on March 24, 2017, in Ohio State's 99-76 loss to Notre Dame. McCoy, named as Champaign-Urbana's second-ever McDonald's All-American the year before, scored eight points and grabbed two rebounds to close out a freshman season that she described as "miserable," because of the team's culture.
Brighter days seemed to be ahead when she transferred to Marquette. But early in the season, which she was sitting out due to transfer rules, everything changed.
At first, she thought she had a bad cold. Then, she was told she had the flu. During a practice, though, she began throwing up. That's when she went to the hospital, where she was told that her kidneys were working at only about 15 percent capacity, and that she'd likely need a kidney transplant.
During an extended stay in the hospital, McCoy began regular dialysis treatments, which she continues to this day. She returned to practice at the beginning of the following season, but she said the school's head trainer wouldn't clear her to play in games despite having her doctor's blessing to do so.
"I was killing" in practice), she said. "I missed it, because I had been away from it for so long, and when I was able to come back, I thought I had to prove myself, you know? Every time I would ask (if I could play in games), they would say, 'No, we're not going to let you.' That's basically why I went into my depressed mode and isolated myself. … I didn't want to be around it anymore."
McCoy generally shut herself in her apartment. Coaches would pick her up and take her to dialysis appointments, teammates would drop by to lift her spirits, and she'd occasionally attend a game or watch one on TV, but being close to the game without being able to the play simply sank her into a dark state.
"Basketball was who I was," she said. "You couldn't say 'Tori McCoy' without, 'Oh, she's this basketball player.'
"Once I stopped playing basketball, I kind of just isolated myself from that sport. I didn't think that was who I was at that point. Really, I was just a kidney patient. That's all I identified myself as, because that was all I was doing."
During the summer of 2019, McCoy thought she had secured a new kidney, announcing that she was simply waiting on a date for the transplant. Then her potential donor got pregnant, and McCoy's hopes were dashed. With her relatively rare B-negative blood type, McCoy is still searching for a kidney donor two years later.
She left Milwaukee to come home to Champaign in 2019, giving up all hope that she'd return to the court as a player.
For a short time, she worked at CIRCLE Academy at Cunningham Children's Home, but her three-hour, thrice-weekly dialysis appointments exhausted her so much that she decided she could no longer work a full-time job.
A few weeks ago, McCoy underwent minor surgery that allows her to do at-home dialysis, which gave her flexibility in her schedule. That opened up the possibility that she'd be able to coach.
And now, she's back in the game.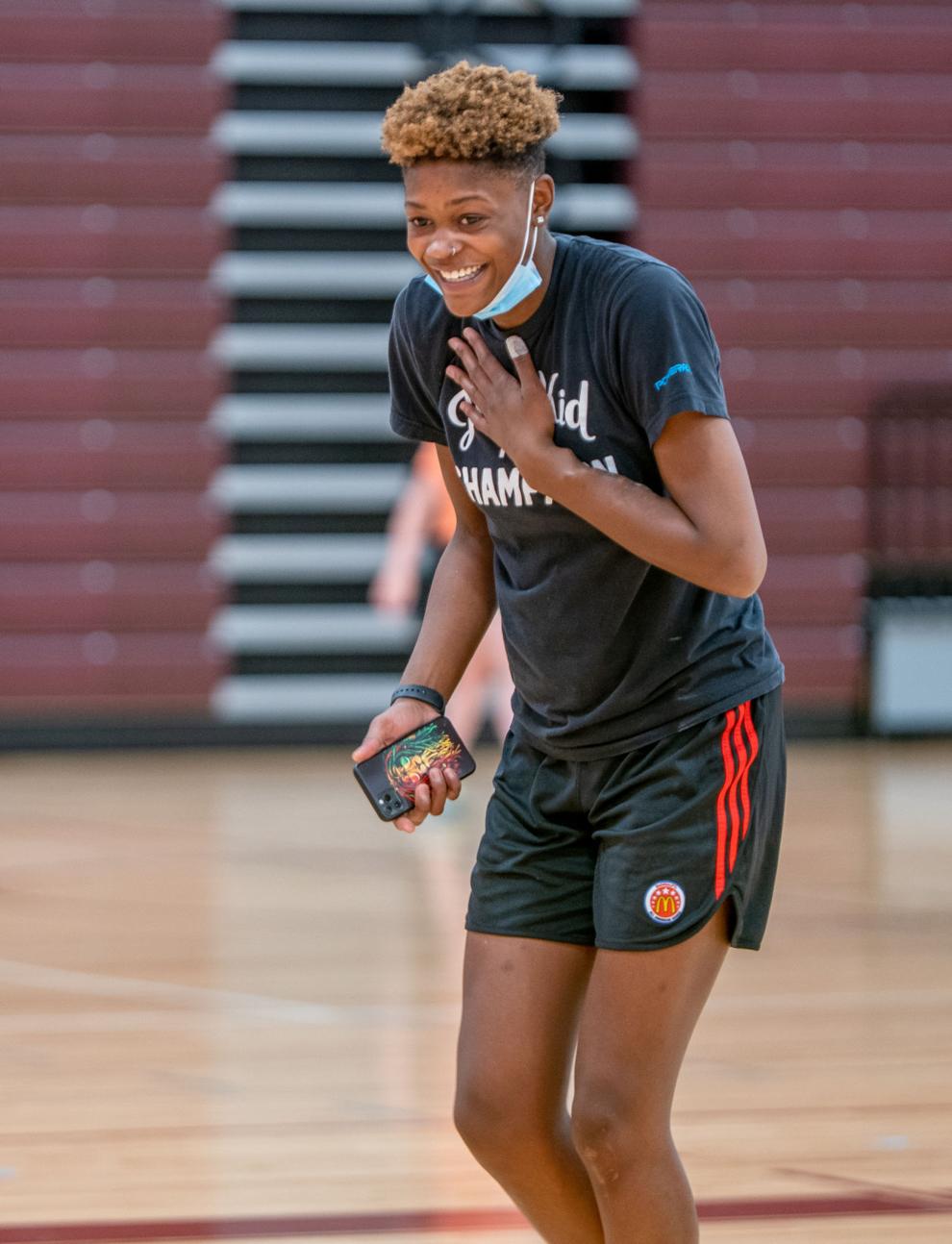 ✽ ✽ ✽ ✽ ✽
McCoy was nervous Monday as she pulled out her phone to go over the drills she'd planned for the middle school girls. After all, McCoy is a natural introvert, and this was the first time she'd lead any kind of practice by herself.
Adapting the drills and skills she learned from high school, AAU and college coaches over the years to a group of middle school girls was a challenge. As she instructed them through increasingly difficult dribbling drills, the girls gasped and moaned, although most had smiles on their faces.
"It was awkward," she said. "But toward the end, it started to feel more natural. I feel energized by it."
As practice went along, McCoy began to smile more and more, joking with the kids as she taught them how to throw a chest pass.
As she watched her daughter from outside the gym, Kim Butts-McCoy could see flashes of her late husband in the way her daughter motivated kids with a smile on her face.
"She gets a lot of it from him," she said. "Sitting there and hearing her talk, it's all him. She's him up and down. The more experience she gets coaching, the more you'll see it. She may not have that loud, boisterous voice, but she's her dad all day long."
Tim McCoy had a penchant for working with kids in his days as a youth basketball and Pop Warner coach and as a mentor for Haven Focused, where he was a case manager mentoring at-risk youth.
His daughter sees herself in the same vein. She hopes to promote girls' athletics moving forward, which she'll do as a coach for Jefferson Middle School and Centennial this fall and winter. She also hopes to hold more camps, where she can expose girls to the game she's loved for most of her life.
She's still searching for a kidney, trying to find a donor while signing up for transplant lists. Her family set up a Facebook page to canvass and keep people updated, and they printed shirts that say "Tori McCoy needs a kidney" and "I only need one."
But with basketball back in her life, her identity has returned.
"It was like heaven all over again for me," her mother said after the first day of camp finished. "Seeing her, for the last three years, not doing anything with basketball, it wasn't her. So, to see her out there, teaching these girls, being in her comfort zone, this is her realm of things right here."