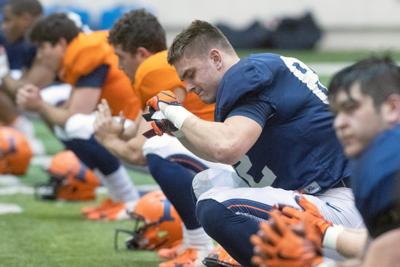 CHAMPAIGN — I almost didn't recognize Luke Ford on Tuesday morning.
The Illinois tight end came off the practice field wearing a blue No. 86. Instead of his usual 82.
Why 86? That's the same number as Nebraska tight end Jack Stoll. This week during workouts, Ford is playing Stoll on the scout team.
"I'll wear whatever jersey I have to," Ford said, "to make the team better."
For 2019, Ford is a practice week warrior and a gameday cheerleader.
"It's definitely weird," the Carterville product said. "I've got to stay focused throughout the whole thing."
The state's top high school prospect in the Class of 2018 is sitting out the season after transferring from Georgia. When he returns to the field in 2020, Ford will have three years of eligibility. He plans to make the most of it.
But, there is work to do now.
"My goal is to just take it week by week and make the defense better and get them ready for the game," Ford said.
When was the last time Ford didn't play during the football season? Well, never.
"You've got to roll with the punches and do what I need to do," Ford said.
He is getting better each day. Ford sees it. And so does his coach, Lovie Smith.
"Lifting, getting bigger, faster, stronger, doing what I can to try to get my teammates around me better," Ford said. "Trying to be great every day."
The idea for the scout team is to provide a look. Ford understands his job. And the 6-foot-6, 260-pound tight end has the talent to execute it.
"I'm just going out there and butting heads with them, catching balls and doing the best I can," Ford said.
Smith's defense goes against Ford in practice.
"As much as you possibly help and not play on Saturdays is exactly what Luke is doing," Smith said. "He's had a lot of games. And every day he comes out in practice, that's a game for him. That's the way he prepares. That's the way he plays. That's the way he competes."
Working against the No. 1 defense each day will pay off for Ford in the future.
"It's kind of training camp year-round for him," Smith said.
On gameday, Ford is easy to spot. He's the guy waving the towel and trying to get fans fired up. Ford is into it.
"That's how Luke Ford has been since he got on campus," Smith said.
Against Eastern Michigan this past Saturday, Ford and injured teammate Stanley Green took turns holding a sign that read: "Get Loud."
"I'm cheering on my friends, and I'm excited when they make good plays," Ford said. "It makes me feel like I'm out there with them. I just feed off their energy, and I try to hype up everybody. I try to rally the troops and be a leader out there."
The guys at his position are off to a good start. Daniel Barker is second on the team in receiving yards (136) and touchdowns (two).
"I think we're having a decent year so far," Ford said. "There's potential to get more balls for the tight ends. Coach Rod Smith knows what he's doing."
Tweaks needed
Ford knew he might be bound to the bench when he made the move to Illinois. Forever, transfers had to miss a season before getting back on the field. It was part of the deal.
But the NCAA in recent years has turned much more player-friendly when they transfer. Guy after guy has been declared immediately eligible. Including Ford's former teammate at Georgia, quarterback Justin Fields.
He is now starring at Ohio State, throwing and running for 13 touchdowns in the first three games for the sixth-ranked Buckeyes.
To his credit, Ford isn't worrying about the status of other players.
"It's just control what I can control," Ford said. "I'm not going to get mad over it."
Smith questions why Ford can't play right away and others can.
"Most people that were denied wonder the same thing," Smith said. "With any process like that, maybe a little bit more transparency on exactly how. But to me, I'm OK with a guy sitting out. It seems like everyone should. But we don't know all the reasons why one guy is denied and one guy is approved. But we're past that. That is a discussion for another time."
Start the countdown
Ford doesn't know how many days are left until he gets back on the field.
OK, it's 353 before the Illini open the 2020 season at home against Illinois State.
That's a long time away for Ford. He's got plenty to keep him occupied.
Like academics. He is studying communications.
"School's good," Ford said. "I have a lot more time to focus on that. I put a lot more efforts into my studies. Not only am I trying to be great on the field, but I'm putting just as much effort in off the field trying to get that UI degree. That's huge."
Ford is currently taking a public speaking course. The friendly Ford has good rapport with reporters. But talking in front of a room of strangers is different.
"I get nervous," Ford said.
Georgia, home on his mind
Ford keeps in touch with his former Georgia teammates.
"I text with those guys all the time," Ford said.
The third-ranked Bulldogs host No. 7 Notre Dame on Saturday night at Sanford Stadium.
Someday, Ford wants to see the games at Illinois have an SEC-like atmosphere.
"I definitely think we can turn this place into an SEC-type stadium," Ford said. "I don't want to be able to hear my thoughts it will be so loud. That's just how it is there. At Georgia, they've got 90,000 inside, 40,000 outside tailgating. If we do that here, we will feed off that energy."
The players at places like Georgia and Ohio State get a lift from the fans.
"You play better with that big of a crowd there," Ford said.
Ford has his own rooting section at Illinois games. His family members travel to Memorial Stadium each Saturday.
"They've been having a good time," Ford said. "My family has been supportive the whole time. Having them here and so close to home helps me deal with this whole thing better. I talk to my dad (Tim) with three phone calls a day. He's always got my back. Same with my mom and my brother."
Ford's grandpa has been dealing with a serious illness, a major reason why Ford decided to transfer to Illinois and hopefully get on the field in 2019.
"He's hanging in there," Ford said. "Tough guy."
Bob Asmussen can be reached at 217-351-5233 or by email at asmussen@news-gazette.com.