Asmussen | Good news about Ayo, but Illini have work to do to right ship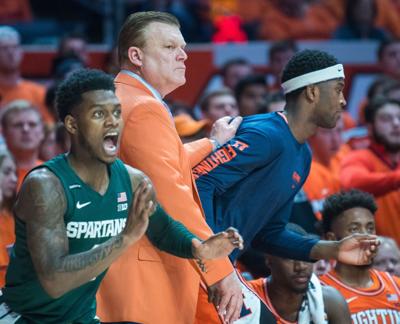 CHAMPAIGN — Sigh of relief.
A big one.
What looked like a potential season-ending injury for Illinois star Ayo Dosunmu wasn't as bad as first feared.
Dosunmu slipped to the court in the closing seconds of Tuesday night's 70-69 home loss to Michigan State and had to be helped to the locker room at State Farm Center.
Illinois coach Brad Underwood didn't offer much detail after the game.
But Wednesday, an MRI revealed no structural damage. That wipes away the worst fears for Illinois fans, who took to talk radio and social media earlier on Wednesday to air their concerns.
Without Dosunmu, the NCAA tournament chances for Illinois would have been hurt. A lot.
Now, there is hope for the team and fans that he will play again this season.
Other than the impressive pregame wave of orange glow sticks, everything else Tuesday night for the Illinois basketball team was mostly a disaster.
A 20-point deficit early in the second half against Michigan State. A furious comeback, so reminiscent of the Illini football team's rally from 25 down at Spartan Stadium three months ago that clinched a bowl berth for Lovie Smith's program.
But then a late lead wiped out by Xavier Tillman's rebound dunk. A chance to win in the closing seconds that slipped away. Literally.
The way Dosunmu's leg bent underneath him did not look good. In person or on TV.
And even with Wednesday afternoon's late announcement by Underwood that Illinois received "positive news" in regards to Dosunmu's health, it's unclear if the talented 6-foot-5 sophomore will play this Saturday at Rutgers. Or when he'll suit up next.
Which clouds the immediate future for a team skidding. Three losses in a row. All against NCAA tournament bound teams. With more, potentially, on the way, starting Saturday in Piscataway, N.J.
The Rutgers Athletic Center — affectionately known as The RAC or the Trapezoid of Doom — hasn't treated opposing teams kind this season, with coach Steve Pikiell's Scarlet Knights compiling a 16-0 record on their home court.
Then, after returning to Champaign late Saturday night, the Illini will depart on Monday for a Tuesday night game back east at Penn State.
One of the most surprising stories in college basketball, Penn State is ranked No. 13 this week. Patrick Chambers has built the program into a basketball school.
No need to use the curtains anymore inside Bryce Jordan Center. All the seats are needed. The Nittany Lions will be flying high after Tuesday's win at Purdue. By the time the game rolls around against Illinois, Penn State might be in the Top 10. And they've owned the Illini recently, winning the last six games in the series.
James Franklin's football team has on-campus competition.
Did you see it coming?
Two weeks ago, Illinois was playing better than any team in the Big Ten. It won seven league games in a row, including road victories against Wisconsin, Purdue and Michigan.
Bracket watchers speculated the Illini could even get one of those cushy top 16 seeds, keeping the team close to home like in 2005 when it played NCAA tournament games in Indianapolis, Rosemont and St. Louis, with a heavy contingent of Illinois fans present all the way to the national championship game.
Illinois missed a golden opportunity to make it eight in a row two Sundays ago, letting Iowa slip away in the closing minutes at Carver-Hawkeye Arena. But that loss didn't temper the renewed enthusiasm for Illinois basketball.
The locals started to buy in, filling State Farm Center for games against Minnesota, Maryland and Michigan State. Illinois dominated the start of the game against the Terps last Friday night. But the ninth-ranked team rallied for a convincing victory.
There was no sense of panic in C-U. Mostly because Maryland appears to be the class of the Big Ten. For Tuesday night's Orange Out, the home folks stuffed the place again.
The team's performance in the opening half was a letdown, exasperated fans screaming after every wayward shot (there were a bunch of them) and sloppy turnover.
The five starters went a combined 4 of 23 from the field in the first 20 minutes. Not winning basketball.
Tough road ahead
Two home losses in a row, though they came against one ranked opponent and another just outside the top 25, hurts Illinois' NCAA tournament position. If the team drops the next two on the road, it will stretch the losing streak to five.
Which will create must-wins late in the season against Nebraska, Northwestern, Indiana and Iowa. What looked like a "We've got this" Selection Sunday for the Illini might actually turn into a nail-biter. Especially if Dosunmu is out for a significant amount of time.
Underwood's team has made huge strides in his third season. After two rough years, he knew it would be better. Illinois hasn't been to the NCAA tournament in seven years. At a school that celebrated returning legend Deron Williams on Tuesday night, that is way too long.
The team is still in a better situation than most would have thought going into the season. Now we will see if it can close it out.
And if the school needs to order some more orange glow sticks.