In his 30th year on the Illinois football beat, AP Top 25 voter Bob Asmussen is on call 24/7. Submit your questions BY CLICKING HERE and he'll chase down answers.
Officially, no score was kept during the Big Ten media kickoff.
But to me, there was a clear-cut winner during the two-day gabfest at the Hilton Chicago: new Maryland coach Mike Locksley.
The former Illinois offensive coordinator was funny and frank. It was easy to see why Maryland brought him back to run its program.
Each coach gets 15 minutes on the main stage. Some — no names here — drone on for several minutes before taking questions.
Locksley promised to avoid "giving an informercial for Maryland."
It had already been a long afternoon, and Locksley was the fifth to talk.
He told a story and got the reporters' attention.
"At my house, we have these wood plaques, and they're hung up in our kitchen in chronological order, and these plaques represent all the different places I've coached," he said. "And at the top of the 11 plaques, I think it is now, it says, 'Home is wherever football takes us.'
"Well, just recently I added my third Maryland plaque at the bottom, and I hope it's the last plaque that I add to my home."
There is plenty of work to do. And Locksley is starting by building relationships between the players and coaches.
"If you ever raised kids, you know this: When all the kids in your neighborhood are hanging at your house, you've got a pretty good home," Locksley said. "And what I've found since we've taken over, our players are always around our offices, they're always upstairs and with our coaching staff. And that to me tells me that we've really moved in the right direction."
Making a mark
I have always been a Locksley fan. It goes back to the first time we met, after Ron Zook hired him as Illinois' offensive coordinator.
Locksley wasn't Zook's original choice to be O.C. At first, Larry Fedora was the pick.
But Fedora was gone in a flash, taking more money for the same job at Oklahoma State.
Locksley didn't whine about having to wait. He simply put his head down and went to work, helping Zook build a team that played in the 2008 Rose Bowl. It's been a while for Illinois fans, but that's the big game they play every Jan. 1 in Pasadena, Calif.
Illinois wouldn't have made its fifth appearance without Locksley's efforts on the field and in recruiting.
My guess is it will go the same way in College Park, a place Locksley knows well. He has been on the staff twice before, including six games as interim head coach in 2015 after Randy Edsall was fired.
Maryland didn't keep Locksley that time. But the school fixed its mistake, hiring him on Dec. 4 to replace interim coach Matt Canada.
Locksley grew up in Washington, D.C., and is a lifelong Maryland fan.
Why love the Terps?
He rattled off the names of Terrapins greats: Boomer Esiason, Frank Reich, Neil O'Donnell, Stan Gelbaugh, Vernon Davis, Shawne Merriman, LaMont Jordan and E.J. Henderson.
"That's the Maryland that I know, and I know a lot of people outside of that DMV area don't understand, but we have a history and tradition of great success, and it's a great university," Locksley said.
Good answer. One that will go over well with fans and school leaders.
Taking over a struggling program is never easy. Right away, Locksley had to deal with players considering transfers.
When he first got the job, Locksley met with each player for about 15 minutes.
"I called it speed dating," Locksley said.
It must have worked. The Terrapins lost just a couple of players in the transfer portal.
And they landed a guy who might help with a quick turnaround. In February, former Virginia Tech starting quarterback Josh Jackson announced his plans to join Locksley's program.
Gaining fans
I'm not the only one who thinks hiring Locksley was a smart decision for the Terrapins.
"I like him," said Dennis Dodd, longtime college football writer for CBSSports.com. "He wants to be there. He believes in the recruiting around there. He's one of the best recruiters in the country. They will be good offensively. I think they hit an absolute home run."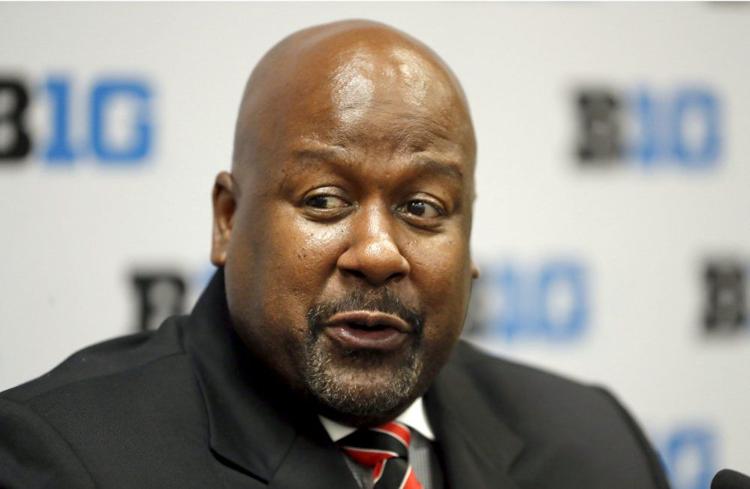 In the spring and summer, Locksley did his part to promote Maryland football. Now, he turns to the field, which is always a Locksley strength.
"We're at the point in our program where my energies and attention need to be focused on developing us a football team," he said.
Locksley's former boss, Alabama legend Nick Saban, knows how important he was to the Crimson Tide.
"Let's not forget, he was the guy behind Tua (Tagovailoa)," Dodd said.
Locksley learned plenty from Saban. And doesn't mind sharing. Or borrowing.
"I love the term, 'success leaves clues,' and 'don't waste a failure,' and I'm going to take all the clues learned at Alabama, implement them, have our players learn the behaviors and habits to be not result-oriented but to be process-oriented," Locksley said. "And if we can focus on learning and having those types of habits and behaviors, I see Maryland being able to reach the success that we all want."
Point, Locksley.
Bob Asmussen can be reached at 217-351-5233 or by email at asmussen@news-gazette.com.