Asmussen | No easy answers for Illinois offense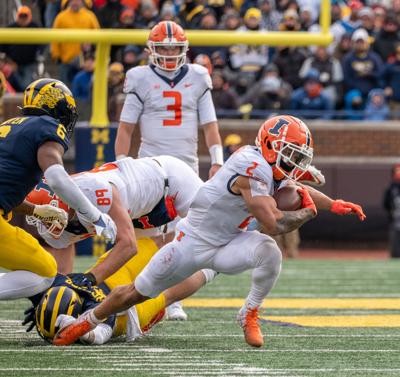 CHAMPAIGN — Early in the season, the Illinois football team's offense didn't draw much negative attention.
For the most part, the unit seemed to be doing its job, topping 30 points three times in its first six games.
The low point for the offense came in a 9-6 win against Iowa on Oct. 8, though that was explained away by the performance of the Hawkeyes' defense, which ranks sixth nationally in yards allowed.
The Iowa game was followed by consecutive 26-point efforts in Illinois wins against Minnesota and Nebraska. Not exactly a scoring outburst, but good enough. And that was the bottom line. The offense in the first eight weeks helped the team earn seven wins.
After eight games, the team ranked No, 58 nationally in total offense and No. 85 in scoring.
The last three weeks, the offense hasn't played well enough.
Illinois was held to 15, 24 and 17 points in losses to Michigan State, Purdue and Michigan. What once seemed like a team headed to the Big Ten title game now is a long shot to reach Indianapolis, needing Nebraska to beat Iowa on Friday and then for Indiana to beat Purdue along with the Illini winning at Northwestern.
And the blame, for the most part, falls on the offense.
Statistically, the offense hasn't cratered, but the numbers are going in the wrong direction. The team is No. 64 in yards per game and No. 93 in points per game. Not a neighborhood where a lot of winning teams reside.
It is still a move up from 2021, when the offense ranked No. 112 in yards and No. 115 in scoring.
Looking for answersFirst-year Illinois offensive coordinator Barry Lunney Jr. had his weekly meeting with the media Monday afternoon at Memorial Stadium. Many of the questions were some version of "What's wrong?" Especially on Saturday at Michigan.
"We weren't consistent enough through the course of the game to do enough to help us win the game," the former Texas San Antonio offensive coordinator said. "It wasn't one play or one particular series. It was a cumulative effect."
The Michigan defense entered the game ranked No. 1 nationally in yards allowed. Lunney was quick to credit the unbeaten Wolverines.
"We needed to play a really clean game and we certainly, at times, did that," Lunney said. "Then it just reared its head at inopportune times that ultimately affected the outcome of the game."
Lunney and the staff talked to the players Sunday about some of issues on offense.
"I think we have enough talent. We have enough grit and toughness that when we do things the way we're capable of doing them, we can move the ball and score points on whoever we play," Lunney said. "But when we don't, the margin for error is pretty slim. When I don't put them in good position at times with play calls and we don't execute the way we're capable of, then I think you see the results of punting and being three and out. There's a real fine line there."
Lunney doesn't question the effort he's seeing from the players.
"We play hard and our guy's give-a-care meters are really strong," Lunney said. "They compete. They do what we ask them. I'm pleased with all those things, the way they take coaching and try to apply it."
Catching onLate in the game against Michigan, Illinois missed a chance to retain possession when it went three-and-out with fewer than three minutes left in the fourth quarter. Needless to say, it was a big moment with Illinois leading 17-16 only to see Michigan kick a game-winning field goal with nine seconds left for a 19-17 win after three runs by Chase Brown, along with a holding penalty, brought out Illini punter Hugh Robertson.
"The best thing for the team is to get the first down," Lunney said. "You certainly didn't want to chunk the ball three times and have three incompletions in a row. You always look back through those situations and say, 'What could we have done differently?"
At the start of the season, Lunney's offense was new to Illinois opponents. That was an advantage that might be fading.
"That's kind of gone away," Lunney said. "On the flip side, there was an element of surprise for us. We weren't sure what we were going to see because we didn't know what people were preparing for us."
While Lunney and the offensive staff are focused solely this week on Saturday's 2:30 p.m. kickoff at Northwestern, they will have a chance to tweak the offense before the team's bowl game.
"It always gives you a little bit of time, mixed in with recruiting, to pause and figure out are there some things that you can that is unique for the bowl game," Lunney said. "A lot of it depends on who you play and what they present. You always see new wrinkles at bowl time."
Staying putIt is clear that coach Bret Bielema and the Illinois administration are happy with Lunney. Earlier in the month, the school gave Lunney a contract extension and a sizable raise.
It continues a Bielema-Lunney relationship that extends back to their earlier time together at Arkansas.
"Obviously, it meant a lot," Lunney said, "He's been good to me over the years. I''m not talking about from a contract standpoint, but just the way he has helped mentor me and guide me and empower me. He's obviously somebody I really enjoy working for."
When Lunney was approached about a contract extension, he appreciated the commitment from Illinois.
"This is where I want to be," he said, "and this is where they want me to be and help build this program on a consistent basis and a yearly basis."