Illinois football
Asmussen | Time is now for Lovie to act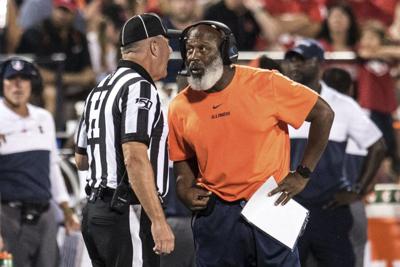 The $4 million question for Illinois football will be answered in the next eight weeks. Starting Saturday at Minnesota.
In a perfect world for the school, Lovie Smith and his team will beat the host Gophers, putting together a late-season run that ends with a bowl invitation.
It is possible.
The team is nine points short of a 4-0 start. If that happened, few would be talking about the future of the coaching staff.
But a home loss to a Mid-American Conference team (Eastern Michigan) and a missed opportunity against a former power (Nebraska) increased the chatter.
In the latest rankings on coacheshotseat.com, Smith is listed No. 2, right behind Tennessee's Jeremy Pruitt, who got on the wrong side of his fans with an opening loss to Georgia State.
Smith doesn't have any blowout losses this season. But there have been some in the past, including giving up 63 points in 2018 against Penn State, Maryland and Iowa.
A bigger concern might be the lack of compelling wins during Smith's three-plus seasons. He is 4-24 in the Big Ten, with two of the victories against Rutgers.
The remaining schedule looks daunting, with games against Michigan, Wisconsin, Michigan State and Iowa. They are a combined 15-2. And Minnesota is 4-0.
In his corner
Fans and media can complain all they want about the lack of success at Illinois. But the decision on Smith's future comes down to one guy: Josh Whitman.
The Illinois athletic director wants Smith to be his coach. In 2020 and beyond.
Whitman made an early splash at Illinois, dismissing Bill Cubit and hiring Smith, who had recently been fired by the Tampa Bay Buccaneers, during a whirlwind three-day period in March 2016.
It was a decisive move that brought positive, national attention to the Illinois program. It offered hope for a better future, with bowl bids and packed houses.
The fans bought in ... for a bit. They filled Memorial Stadium to see North Carolina in 2016. Since then, the stands haven't had more than 48,000 for a game.
It's a big drop from the Mike White era and also when compared to Ron Turner's and Ron Zook's time in charge.
The next two games against Michigan and Wisconsin figure to draw bigger crowds. But a portion of the fans will be rooting for the visitors.
Home games later in the season with Rutgers and Northwestern won't be big sellers.
The bottom line
Whitman showed his support for Smith the day after last season ended, giving him a two-year contract extension. At his same $4 million salary.
The details of the deal show Illinois didn't add much in the way of liability.
If Smith is dismissed after this season, the school will have to pay him an additional $4 million. The following seasons are financially friendly to the institution. The school will pay Smith $2 million if it parts ways with him after 2020 and $1 million if it happens after 2021 or '22.
If a change is made, the school will be on the hook for payoffs to the rest of the staff. According to contracts obtained from Illinois, the 10 full-time assistants, plus strength coach Lou Hernandez, will be owed $3.546 million. Their contracts run through Jan. 31, 2021.
Money is always a factor when considering coaching hirings or firings. At Illinois, it won't be the driving force.
Plenty of questions are there for the school administrators: Do you really want to pay someone not to work? Should they give it another year or two? Can they afford not to act? How does the fandom feel?
The school knows a lot about Smith. The 61-year-old, nondrinking grandpa won't embarrass the university. He is nice and professional.
He meets his media and fan obligations. But the quiet Texan isn't likely to lead a pep rally down Green Street. Not his style.
In my three-plus decades covering Illinois athletics, the school has leaned toward giving its coaches extra time.
No argument from me. Turning over your football staff every four or five years is a guaranteed path to failure. The school needs to take into account the situation the coach inherited.
Smith took over a 5-7 team from Cubit and hasn't been able to match the number. Away from the college game for two decades when he came to C-U, Smith had some hiring mistakes early on.
With the addition of Rod Smith as offensive coordinator in 2018 and the return of Mike Bellamy before this season, Smith made solid fixes.
Recruiting has been a mixed bag. The coaching staff found some gems and landed a few high-profile names (Isaiah Williams, Marquez Beason and Shammond Cooper this season). But the Illini haven't reached the recruiting level of Ron Zook's staff, which brought in big-time talent from near and far.
It was a different time, of course. That doesn't change the never-ending need for talent.
Illinois sits 76th in 2020 recruiting, according to Rivals.com. That number figures to improve as players are added to the class, which currently numbers eight.
Smith has taken advantage of a new player source: the transfer portal. He treats the recent phenomenon like an NFL waiver wire, plucking under-used guys to fill glaring needs.
There is still recruiting involved with the transfers, but it doesn't take as much digging. College film is out there on most of the guys.
Smart decision by Smith to take advantage of the portal and another check mark in the "keep him" box.
What's going to happen to Smith? I will have a better idea Saturday night at about 6 p.m.
And we will all know for sure in eight weeks.
Bob Asmussen can be reached at 217-351-5233 or by email at asmussen@news-gazette.com.