Asmussen | Well, now I have seen it all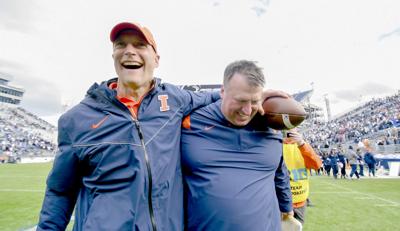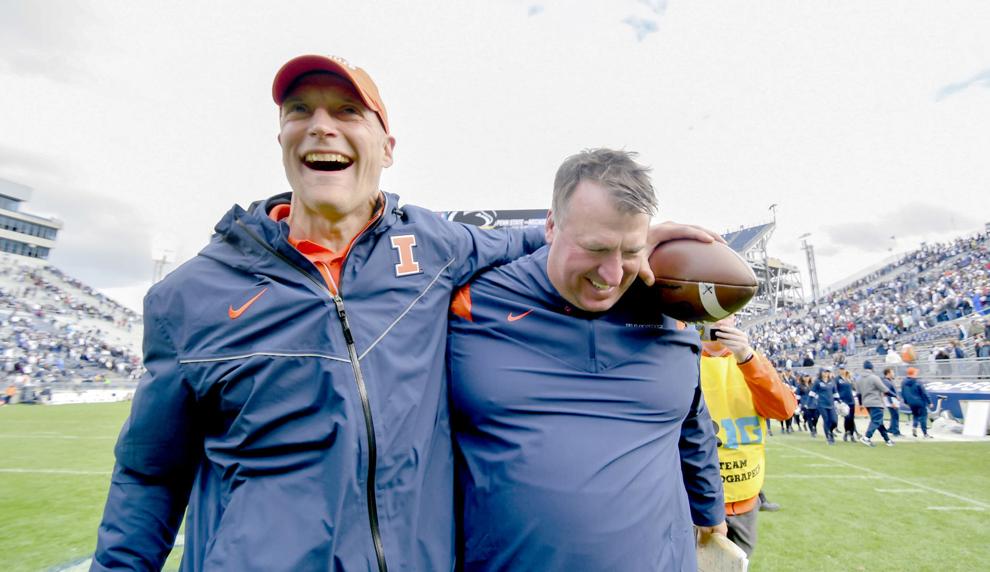 Imagine deciding a baseball game with a one-pitch home run derby.
Or basketball with a free-throw shooting contest (give me Steph Curry, please).
College football came up with a ridiculous equivalent: the one-try, two-point conversion. Only after two regular overtimes.
Confusing? You betcha.
A great format for the Illinois football team on Saturday afternoon? Absolutely.
Eight games into Bret Bielema's first season, Illinois used nine (or was it 10?) overtimes to stun No. 7 Penn State 20-18 in a game those who watched it and experienced it won't soon forget.
At Beaver Stadium, too, of all places. Most of the 105,001 fans in attendance went home unhappy at a venue where Illinois was 1-10 before Saturday.
Now, they're 2-10 after a memorable games. For many reasons.
The extra sessions lasted for what seemed to be an eternity. ABC's broadcast team of Bob Wischusen and Dan Orlovsky joked about staying until Sunday.
Thankfully, it didn't take that long.
The overtime rule was changed before the 2021 season. The idea is to cut into the amount of physical contact for the players and therefore reduce injuries. A worthy goal.
The problem: It is not really football. More like a trick-shot competition. Perhaps the game should go back to allowing games to end in ties. Nobody will like that, I guess, but keep thinking about it.
In the past, the two-point conversion rule went into play after the fifth overtime.
Of course, as football fans know, converting a two-point play is never easy. That's why coaches kick the ball after most touchdowns instead of going for the bonus point.
Illinois and Penn State tried all sorts of ways to go the 3 needed yards. They threw. They ran. They even tried a shovel pass. But mostly, they failed.
Until Casey Washington grabbed Brandon Peters' pass to end it. And set off an Illini celebration that you might have heard as the team flew back to C-U.
Shining moment
Now, Bielema has a signature win against a Top 10 team and a story to tell his two young daughters: "Remember the day in State College ..."
The game was looking to be another Illinois near-miss against the Nittany Lions. Like the 1994 game in Champaign. Or the 10-7 loss in 2011 at State College that's more known as Joe Paterno's farewell.
Not this time. Thanks to the new rules and an inspired performance by the defense, plus determined efforts by running backs Chase Brown and Josh McCray, Illinois ended Penn State's College Football Playoff dreams.
Though they had already lost to Iowa, the Nittany Lions controlled their own destiny in the Big Ten East, with games remaining against Ohio State, Michigan and Michigan State. Win out, giddy fans figured, and they'd be in.
Illinois spoiled the plan.
Didn't see it coming
In my 33 years covering Illinois football, Saturday's victory was certainly the most unusual. And unexpected.
Bielema's team entered as heavy underdogs, with the oddsmakers looking correct as Penn State took a 10-0 lead midway through the first half.
Most predictions during Saturday's pregame shows had Penn State winning in a walk. Nobody, as far as you know, predicted an overtime victory. Especially one that lasted a record nine.
The week started with controversy for Bielema, who talked openly about his roster and caught some grief for it.
Just a hunch that will all be pushed to the background after Saturday's win — the biggest at Illinois since Lovie Smith beat Wisconsin in 2019 and the best on the road since 2007 at Ohio State.