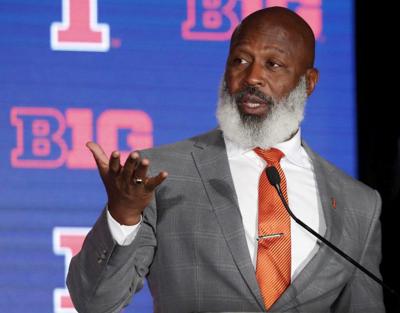 In his 30th year on the Illinois football beat, AP Top 25 voter Bob Asmussen is on call 24/7. Submit your questions BY CLICKING HERE and he'll chase down answers.
As Lovie Smith answered questions during Thursday's Big Ten media kickoff, Illinois athletic director Josh Whitman stood and listened in the back of the Hilton Chicago ballroom.
When Smith moved to his post-press conference gaggle in an adjacent hall, Whitman again watched from nearby.
Whitman has said it over and over — and showed it in person Thursday — he's got his coach's back.
While the rest of college football ponders Smith's place on the hot seat, Whitman offers support. And a reminder.
"It's a big season," he said. "We all understand that. Every season is big in college football at this level."
Whitman said he is confident in the progress the team has made.
But at some point, sooner rather than later, hope needs to turn into wins.
Nine victories in three seasons isn't enough. Not when the team won 11 games in the two years before Smith arrived.
Whitman took a chance in 2016. The fans are waiting for the payoff.
"We had a lot of road in front of us," Whitman said. "We knew that.
"We have every expectation that success will come this year."
The first three years of the Smith era have been rough. The record has gone backward. Attendance has dropped. Illinois was picked last in the Big Ten West in a recent poll of conference sportswriters. None of 34 voters ranked the Illini higher than seventh.
That's trouble.
The on-field product has clearly had an impact on the crowds. Not in good way.
There will be beer sold in the stands, which figures to help some. And there are other plans in the works to boost the bottom line.
"We have a whole set of fan experience adjustments that we've tried to implement this year," Whitman said.
Announcements are coming. Stay tuned.
"Illinois football is an experience," Whitman said. "We want people to come down and spend the day with us, be a part of the Memorial Stadium environment. Not just for the game, but for the entire afternoon.
"We want to create that next generation of Illini fans."
Talent search
The 2020 Illinois recruiting class is a bit on the thin side. Just three commits so far in what will be a smallish group.
Is Whitman worried?
"What I really care a lot about is winning football games, so we'll see as time progresses how the team starts to develop and what that yields on the field," Whitman said. "I get much more concerned about that than I do about recruiting rankings, than I do about particular commitments.
"For me, it's about kicking the ball off Aug. 31 and seeing how we go out there and compete."
Learning curve
When Smith was hired, he had been away from college football for more than two decades.
Those who thought it would be a smooth transition don't understand the complexities of the game.
Whitman has seen growth from his coach.
"Sure, and I think that's true for anybody," Whitman said. "You would hope that anybody over the course of three-plus years is going to continue to grow and develop. That's something I have tremendous respect for with Lovie. He's somebody who has obviously achieved at the highest level. For him to come into Champaign and to continue to be interested in self-improvement, growth and development, I think is a testament to who he is as a professional, as a person."
Smith is adding more duties this season, taking over as defensive coordinator.
"Lovie's one of the great minds in football," Whitman said. "He has been for decades. To have him running our defense without any middleman so to speak can only be a good thing."
Back in the day
At the time Smith was hired, there was a strong buzz in the community. Illinois had just landed a coach who took the Chicago Bears to the Super Bowl.
The buzz has faded. Now, it's more of a but ...
Not everywhere.
"I can't speak to what's going on in the public," Whitman said. "The reality as I travel with Lovie and go to different places — he's still Lovie Smith. You can't walk down a hallway, you can't walk through an airport, without every person in that place knowing who he is and wanting to be around him. He's a national presence. He's a national name.
"I have no doubt that's the reason we're in the conversations we're in for some of these recruits. I attribute a lot of that to who Lovie is and his reputation within the game of football."
Future plans
The Smith Center will open soon, completing a needed piece for Illinois football.
What's next on Whitman's to-do list?
"Certainly, the east and south sides of the stadium are things that continue to be a topic of conversation for us," he said, "It's an easier (said) than done situation, an incredibly expensive undertaking. It's something that we're studying, taking a good look at.
"We recognize that our fans on the east and south have stayed with us a long time. We want them to have a comparable experience to our fans on the west and the north. We're thinking creatively about how we can approach that."
Bob Asmussen can be reached at 217-351-5233 or by email at asmussen@news-gazette.com.