Abi Tapuaiga | Judah Christian volleyball
Why she's Athlete of the Week: The junior opposite hitter, along with junior outside hitter Maggie Pritts, has proven invaluable for the Tribe in their 3-1 start to the season. Tapuaiga notched six kills in a loss to Blue Ridge but followed with a nine-kill, three-ace effort in a win versus Arthur Christian School and seven more kills in a victory against Uni High.
From Tapuaiga: "So far the season's been going really great. I'm glad that we've been able to have a season, and that's a huge blessing. I definitely think there's been a whole lot of teamwork and all the stuff that goes into that, and we have a great coach (Caesar Talili) who's really been helping us with all the setbacks that we've had so far this season."
She needs tickets to see … any movie at the movie theater. I'm glad we can do that again with friends.
One movie she could watch over and over is … any Marvel movie at all. All of them are really good ones.
If she could choose one superpower, it would be … healing, so you can take care of injuries.
The social media platform she uses most is … Facebook. I'm not really on social media that much, because I feel that it can cause drama.
Her favorite volleyball memory is … last year, when we made it to the regional championships. Even though we lost, it was a really great experience going that far.
Her most embarrassing volleyball memory is … any time I've tried to dive and did it non-gracefully.
Before a match … I try to eat a granola bar and maybe take a quick nap to get rested.
After a match … I definitely eat an actual meal. I'm always hungry after a long game.
In five years, she sees herself … maybe out of college — but definitely having gone to college — and maybe even meeting someone.
Honorable mention: Mira Chopra, Champaign Central volleyball; Jessica Freehill, Gibson City-Melvin-Sibley volleyball; Makayla Klann, Paxton-Buckley-Loda volleyball; Caley Mowrey, Milford volleyball; Gracie Shaffer, Blue Ridge volleyball.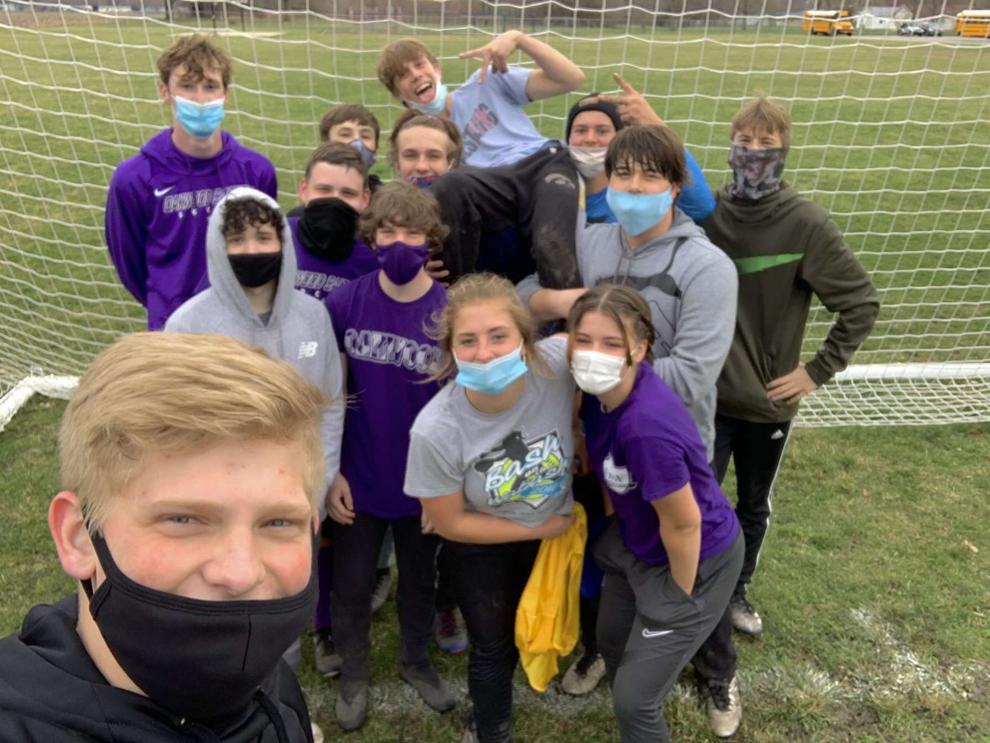 Sam Howie | Oakwood/Salt Fork soccer
Why he's Athlete of the Week: The senior cobbled together a pair of strong offensive efforts, helping the Comets extend their win streak to three in the process. Howie netted a hat trick during a 3-1 success against Hoopeston Area, and he produced two goals and an assist during a win against a Bismarck-Henning/Rossville-Alvin team that defeated O/SF on March 9.
From Howie: "We're off to a really good start right now. We're all clicking very well because we've all been playing together for a couple years now. ... That (win over BHRA) felt huge. We have lost to Bismarck for, I think, three years in a row since Drew (Reifsteck) was there. To get that revenge back and get us a shot for the conference title was huge."
He needs tickets to see … a World Cup final. The atmosphere of a World Cup final would be huge. There's nothing that can compare to every nation looking at one game, and every single goal and every single pass means something.
One movie he could watch over and over is … "Remember the Titans." It combines comedy and an amazing plot. It's a very good movie, in my opinion, because they look back at race, and it's very well put together.
If he could choose one superpower, it would be … to fly. You wouldn't have to worry about gas or a car. You could just fly anywhere you want to.
The social media platform he uses most is … Snapchat. You can get all your friends on there. You can have group chats, send funny pictures to each other and talk to everybody at once. It's the easiest, for sure.
His biggest pet peeve is … Styrofoam rubbing together.
His favorite soccer memory is … freshman year, we played Bismarck in one of the last games of our season and Coach (Eric Fenton) put me in for probably 20 minutes. The ball got crossed, and I was at the far post to tap it in. That clinched our conference title.
Before a match … I'll eat a couple hours before, and then right after that I'll take a nap. And then by the time I wake up, it's usually about time to head to the field.
After a match … I just go home and spend some time with family and reflect on the game.
In five years, he sees himself … as some type of personal trainer or still playing soccer at a semi-pro/pro level.
Honorable mention: Seth Barnes, Fisher/Gibson City-Melvin-Sibley soccer; Mason Behrens, St. Joseph-Ogden soccer; Adonai Bumba, St. Thomas More football; Kaden Feagin, Arthur-Lovington-Atwood-Hammond football; Eli Warren, Mahomet-Seymour soccer.