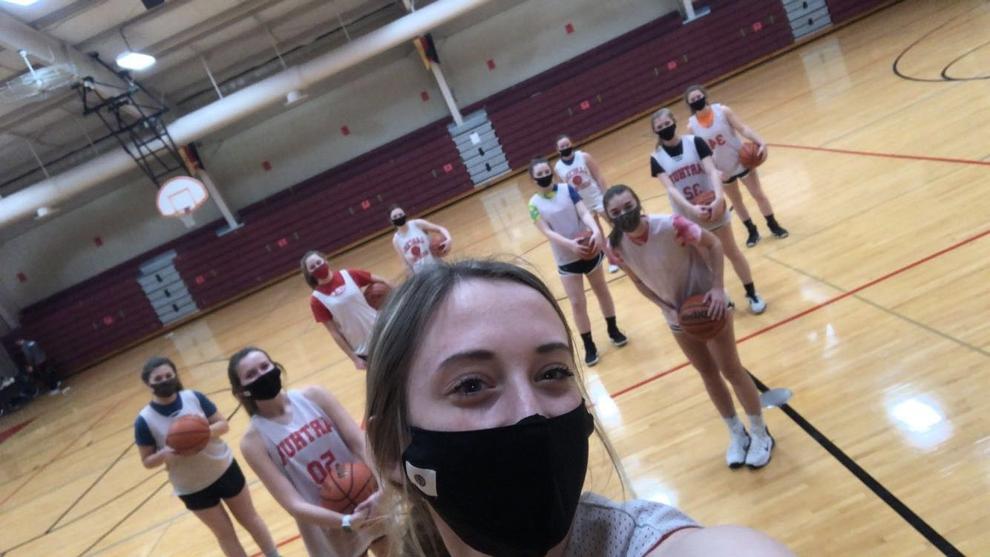 Alexa Miller | Arthur-Lovington-Atwood-Hammond girls' basketball
Why she's Athlete of the Week: The junior did a little bit of everything in a trio of Knights victories. Miller put up 17 points, five assists, five steals and four rebounds against Warrensburg-Latham, came up one steal short of a triple-double with 19 points, 10 rebounds and nine steals versus Cumberland and added 13 points against Okaw Valley.
From Miller: "I'm pretty happy with myself. I feel like we've come out ready to go because we weren't sure if we could get a season, and now that we are I'm just ready to go full tilt, all out. I feel like I've come pretty far as a player."
She needs tickets to see … Cody Johnson. I've become really obsessed with him.
One movie she could watch over and over is … "Footloose." I like the music and the dancing that is in the movie.
If she could choose one superpower, it would be … to be invisible. Sometimes it's just nice to be everywhere without people knowing.
The social media platform she uses most is … Snapchat, just to keep up with my friends and talk to each other.
Her biggest pet peeve is … when people chew with their mouths open.
Her favorite basketball memory is … last year, my teammate and close friend (Mallory Nichols) made to the sectional three-point shootout. So our assistant coach took the school van and took me, her and another teammate.
Her most embarrassing basketball memory is … my freshman year, we were on defense in a 2-3 and I stuck my foot out to deflect the ball, and the ball came back up and hit me in the face.
Before a game … I come home and put my AirPods in and listen to music. I try to get some homework done and get hyped up for the game.
After a game … I get dinner, come home with my family and talk about the game and watch game film.
In five years, she sees herself … either in college or fresh out of college with something to do with sports medicine.
Honorable mention: Tayler Barry, Tri-County basketball; Mallory Cyrulik, Clinton basketball; Marissa Russo, Tuscola basketball; Savannah Orgeron, Mahomet-Seymour basketball; Callie Warlow, LeRoy basketball.
Aidan Williams | Champaign Central boys' swimming and diving
Why he's Athlete of the Week: The sophomore racked up victories galore as the Maroons knocked off five opponents in three meets. Williams won the 100-yard backstroke and was part of winning 200 medley and 200 freestyle relays against Peoria and Peoria Manual, captured the 100 free and 100 breaststroke titles versus Urbana and added triumphs in the 50 free and 100 backstroke as Central knocked off Danville and Peoria Richwoods.
From Williams: "I just came into the season having a good attitude, encouraging my teammates. ... (I'm feeling best about) the 50 freestyle and the 100 back. I've just been swimming them for my whole life, and they've always been my best two events. ... I just hope to continue to get PRs and improve in all my races."
He needs tickets to see ... the Olympics to see everyone swim, because that would be a cool and amazing experience.
One TV show he could watch over and over is ... "House, M.D." My dad loves to watch it, so I do.
If he could choose one superpower, it would be ... unlimited stamina, so I could get better splits in all my races.
The social media platform he uses most is ... Snapchat. I love to communicate with my friends on that one.
His biggest pet peeve is ... when people are late.
His favorite swimming memory is ... last year, going to state with all my teammates. I didn't compete, but I still had a great time watching all my teammates swim and just hanging out.
His most embarrassing swimming memory is ... whenever my goggles or cap fall off in the water.
Before a meet ... I listen to music on the bus. I talk with my team, encourage them, try to set some times for them.
After a meet ... I go home, play some video games with my friends, do some homework and get a good night of sleep.
In five years, I ... would love to go to trade school after high school and become a welder or electrician, but who knows where swimming will take me. So we'll see.
Honorable mention: Carson Brozenec, Fisher basketball; Ben Cresap, Monticello basketball; Brett Giese, Paxton-Buckley-Loda basketball; Nate Hoskins and Tevin Smith, Danville basketball; Garrett Taylor, Salt Fork basketball.