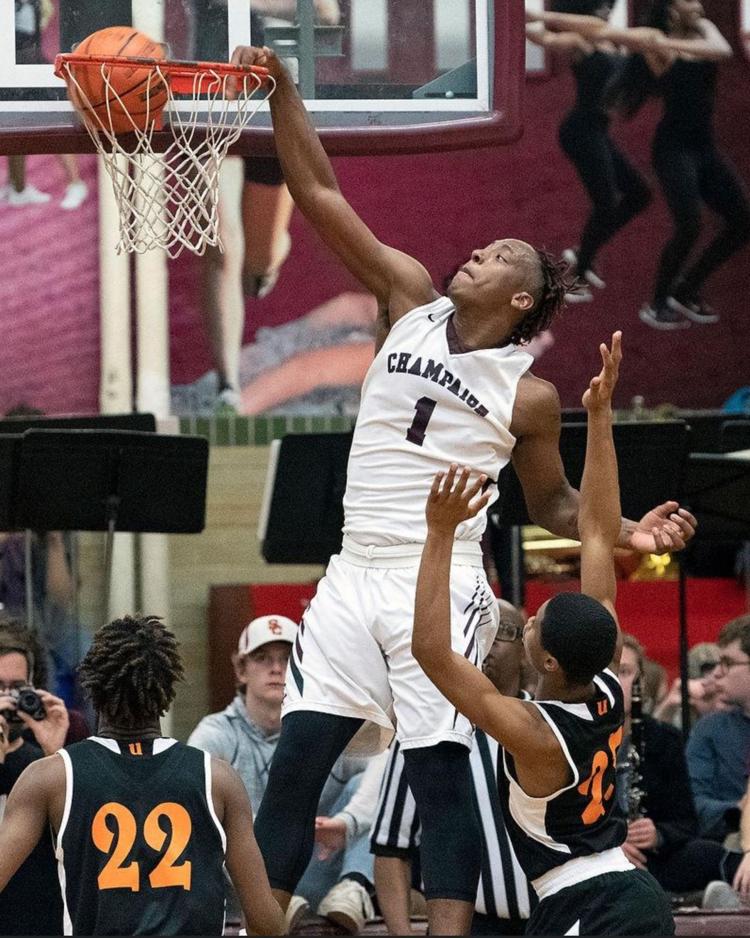 CHAMPAIGN — Khailieo Terry is accustomed to throwing down big dunks against Centennial.
In just his second high school boys' basketball matchup versus the Chargers — on Jan. 30, 2018 — the then-Champaign Central freshman took a lob pass from cousin A'Kieon Gill and converted a backboard-shaking alley-oop via a two-handed slam.
For his final year of prep hoops, Terry now will try to perform similar feats against the Maroons. While wearing Centennial blue.
Multiple sources have told The News-Gazette that Terry transferred to his former crosstown rival ahead of this school year, and new Chargers athletic director Kaleb Carter confirmed this Wednesday. Carter also said Terry is cleared to compete for his new squad.
The 6-foot-4 Terry is a two-time News-Gazette All-Area boys' basketball first-team selection. Though more recognized — at least on social media — for his dunking prowess, Terry was utilized as a point guard last season by Central coach Jeff Finke.
The result, despite Terry missing the campaign's first nine games, was Terry averaging 16.7 points, 6.8 rebounds and 3.4 assists as a junior. Terry also shot 63.2 percent from the field.
The Maroons graduated seven seniors from their 2019-2020 roster, including fellow All-Area first-team pick Pryce Punkay. Central went 16-16 in a season that ended during the Class 3A regional semifinals, ending a run of four consecutive regional titles.
Terry's final game as Centennial's opponent saw him score just four points on Feb. 18 as the Maroons dropped a 46-41 decision on the Chargers' home floor.
Centennial coach Tim Lavin has multiple key losses to account for as well. Among the six outgoing players from his 2019-2020 roster are typical starters Axel Laby — a former N-G All-Area second-team selection who operated largely in the paint — Termarion Howard and Kvion Lott. The Chargers most recently compiled a 17-14 ledger and, like Central, ended their run in the Class 3A regional semifinal round.
The 2020-21 boys' basketball season is scheduled to run Nov. 16 through Feb. 13, a layout designed in response to the COVID-19 pandemic. The first meeting between Centennial and Central is set for Dec. 15 in the Chargers' gym.