Best of the best: Top 100 college basketball teams for the 2021-22 season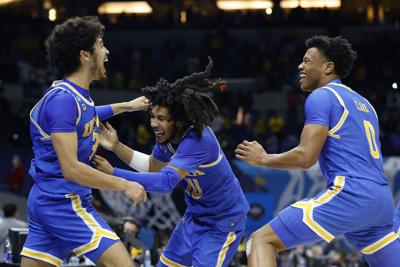 1. UCLA
The Bruins didn't exactly set the college basketball world on fire throughout the 2020-21 season. And they certainly backed their way into a First Four berth in the NCAA tournament after losing their final three regular-season games and Pac-12 tournament opener. Then came five straight wins.
Only a wild overtime loss to Gonzaga in the Final Four kept UCLA from playing for a national title. The best part? Mick Cronin's entire rotation returns for another shot at cutting down the nets.
2. Gonzaga
The Zags are strong candidates for the top spot in the AP preseason poll, so the expectations are sky high again coming off a 31-1 season and appearances in the 2021 and 2017 national championship games. If they can stay healthy and the highest-ranked recruiting class in school history is as advertised, the Zags are positioned for another run at the program's first national title.
— Jim Meehan, The Spokesman-Review
3. Texas
New Texas coach Chris Beard faces an interesting quandary going into the 2021-22 season. The Longhorns certainly don't lack for talent. How Beard is able to piece his new team together, though, remains the question. Seven transfers make up nearly half the roster. Individually, they were all standouts at their previous programs. Together? It could go either very right or very wrong this season.
4. Kansas
The expectations are the same in Lawrence every year, no matter who's on the roster — to get to a Final Four. But this year, that goal seems to be even greater simply because of the fact that this is such a deep and experienced group. For guys like Ochai Agbaji and David McCormack, who were both on the No. 1-ranked team that had its title chances erased by COVID-19, this could be their last shot at making a deep tournament run. For the rest of the roster, which features 10 newcomers and a handful of impact transfers beyond Remy Martin, the whole reason they came to KU was to chase championships. The whole key will be how well KU coach Bill Self can get the old to mesh with the new.
— Matt Tait, Lawrence World Journal
5. Illinois
Ayo Dosunmu is gone. Drafted by his hometown Chicago Bulls. That's significant given all he did for the Illini throughout his career and in the past two seasons in particular. Who steps into Dosunmu's "closer" role is still to be determined. But this Illinois team has a national-title contender makeup with a star center in Kofi Cockburn, a potential breakout candidate in sophomore guard Andre Curbelo and perhaps the deepest roster Brad Underwood's had in Champaign.
6. Kentucky
John Calipari didn't bail entirely on recruiting five-star prospects. TyTy Washington and Daimion Collins continued that tradition. But after a nightmarish 9-16 season a year ago, the Kentucky coach paired his high-level high-school recruiting with some transfer portal wins. Oscar Tshiebwe (West Virginia), Kellan Grady (Davidson) and CJ Frederick (Iowa) add a veteran presence and all will likely factor into any success the Wildcats have this year.
7. Purdue
There's an argument to be made that Purdue coach Matt Painter will have his most talented team in 2021-22. Big man Trevion Williams is a known commodity after three seasons. Sophomore guard Jaden Ivey is one of the rising stars in the Big Ten. And the rest of the Boilermakers' rotation is back after earning a top-four seed in last season's NCAA tournament. It's not a bad place to start.
8. Michigan
The progress Michigan has made in just two seasons with Juwan Howard as coach is notable. The Wolverines went from .500 in the Big Ten in Howard's first year to conference champions last season. (Yes, Illinois fans, the title currently rests in Ann Arbor, Mich.). What Howard can get out of a freshmen-heavy rotation in 2021-22 will be interesting.
9. Baylor
The bar is set high for the Bears. Winning a national championship will do that. The transition from title winner to title defender, though, isn't always easy. Role players a year ago have to take on more responsibility. Incoming transfers and freshmen change the equation, too. This season will test Scott Drew's basketball math, because Baylor still has the variables to succeed.
10. Villanova
With Jermaine Samuels — a starter the past two seasons — joining Collin Gillespie for a fifth year, the Wildcats have all but one starter returning, so the expectations are high. With a veteran team, Villanova has what it takes to make a long NCAA run, but one issue early in the season could be rebounding. The Wildcats lost Jeremiah Robinson-Earl, their top scorer and rebounder last season, to the NBA and Samuels and 6-foot-9 Eric Dixon, a reserve big man last year, both need to step up under the boards.
— Joe Juliano, Philadelphia Inquirer
11. Duke
Even after stumbling to 13-11 and missing the NCAA tournament last season, Duke will start the year in the top 10 and carry Final Four expectations. Paolo Banchero is a big reason, along with 7-foot center Mark Williams and 6-6 wing AJ Griffin. Oh, and it's Coach K's swan song, so he's hyper-focused on going out with one more big run in March.
— Stephen Wiseman, Durham Herald Sun
12. Alabama
There's clearly a new standard after last season's SEC title and Sweet 16 run. Nate Oats has a new culture built around this program that's been stuck in the middle of the SEC for decades. The SEC figures to be more competitive this season, but that taste of success has the locals thinking big things again for this March.
— Michael Casagrande, AL.com
13. Memphis
There's no doubting Memphis coach Penny Hardaway's ability on the recruiting trail. He's entering his fourth season as the Tigers' coach, and he already has two No. 1 recruiting classes. The first was briefly led by James Wiseman and went 21-10 and didn't make the NCAA tournament. None of Hardaway's teams have. Will this five-star laden group be different?
14. Arkansas
Eric Musselman was one of the early adopters of using transfers to build programs. His Nevada teams ultimately thrived with that roster building approach. So it shouldn't be a surprise that three of Arkansas' top-three players are transfers. After losing Moses Moody to the NBA and two other senior starters, the Razorbacks can reload with Chris Lykes (Miami), Au'Diese Toney (Pitt) and Stanley Umude (South Dakota).
15. North Carolina
Roy Williams left the cabinet fairly well stocked for new North Carolina coach Hubert Davis, who knows that as well as anybody given he spent the last nine seasons on the Tar Heels' staff. How things change under Davis will be interesting — particularly when it comes to big man usage. Transfers Dawson Garcia (Marquette) and Brady Manek (Oklahoma) are more modern bigs Williams didn't always utilize.
16. Ohio State
Ohio State had one of the top offenses in the country last season led by two-time N-G All-State Player of the Year E.J. Liddell. The return of three starters — Liddell included — plus the addition of transfer guard Cedric Russell (Louisiana) should mean a steady offense again. Defensively? That's where the Buckeyes need work, and Penn State transfer guard Jamari Wheeler might be the key.
17. Houston
Last year's run to the Final Four was the culmination of something Houston coach Kelvin Sampson had been building to since his first Cougars team went 13-19 in 2014-15. Losing Quentin Grimes and DeJon Jarreau makes maintaining that level of play a challenge, but Sampson has enough to compete at the top of the AAC again this season.
18. Tennessee
Tennessee had two of the most intriguing freshmen in the country in 2020-21 and a top-five defense. It was enough for a fourth-place finish in the SEC, far from contending, and a first-round exit in the NCAA tournament. Scoring matters, too, and the Vols didn't do it consistently enough. Several returning veterans, a key transfer in Justin Powell (Auburn) and a five-star freshman in Kennedy Chandler might be enough to get Tennessee back in the SEC title mix.
19. Oregon
Oregon coach Dana Altman didn't go too deep on his rotation last season. That creates some questions leading into 2021-22 considering three starters and three key reserves are all gone. Point guard Will Richarsdon returns — that's important — but the Ducks are going to be relying heavily on newcomers like Quincy Guerrier (Syracuse), De'Vion Harmon (Oklahoma) and Jacob Young (Rutgers).
20. St. Bonaventure
Expectations for Bona are the highest they've been since its Final Four season in 1970 with the great Bob Lanier. And there's a legitimate reason for that. Bona returns all five starters, including three all-conference players, from a team that went 16-5 in the pandemic-shortened season, won both the A-10 regular season and tournament titles and earned a No. 9 seed in the NCAA tournament — its highest since the NCAA started seeding teams in 1978 — where it fell in the first round to LSU.
The Bonnies have the talent and now potentially the bench support — plus one of the country's most underrated coaches in Mark Schmidt — for something special. If they can stay healthy and handle the incredible buzz surrounding this team, which Schmidt squads have always done a pretty job of, there's no reason this can't be a truly historic season in Olean.
— J.P. Butler, Olean Times Herald
21. Auburn
The Tigers suffered a fairly serious blow when junior wing Allen Flanigan went down in early September with an Achilles injury. Flanagan was one of the most improved scorers in the SEC last season, and his absence, which could extend as long as 14 weeks, puts more pressure on sophomore guard K.D. Johnson and freshman big man Jabari Smith to right the Auburn ship after a 13-14 season last year.
22. Indiana
Mike Woodson had the Indiana ties. They were just from decades ago, which made his replacing Archie Miller as the Hoosiers' coach after a long NBA coaching career a somewhat peculiar move. All he's done since is convince Trayce Jackson-Davis to return and surround his best player with a better collection of shooters than he's ever had. Not a bad start.
23. Texas Tech
The expectation is this is a second NCAA tournament weekend team. Mark Adams and his staff did a good job of recruiting to what they wanted on defense — length, speed, size and athleticism — to create deflections, which may lead to quick transition offense and points. Having Kevin McCullar and Terrence Shannon Jr. return was huge, but getting transfers in Kevin Obanor (Oral Roberts) and Bryson Williams (UTEP) will be huge factors in the paint when the Red Raiders need to impose their will during Big 12 play.
— Carlos Silva Jr., Lubbock Avalanche-Journal/Amarillo Globe-News
24. Florida State
Don't sleep on a Leonard Hamilton-coached team. Ever. All the Seminoles have done in most of his 19-year tenure in Tallahassee, Fla., is win. That includes three Sweet 16 appearances in the last four seasons (and one that extended into the Elite Eight). Add in the increasing number of Florida State players in the NBA, and it's best to assume the Seminoles will be successful.
25. Connecticut
The program is on the rise as it enters its fourth season under coach Dan Hurley. The Huskies took a significant step forward last season by placing third in the Big East and qualifying for the NCAA tournament for the first time since 2016. UConn has the talent and depth to contend for the Big East championship this season and earn a postseason bid.
— Gavin Keefe, New London Day
26. Michigan State
Last season was a bit of an anomaly for the Spartans. Namely because it stood as the second-worst — at least from a wins and losses standpoint — in coach Tom Izzo's quarter century in East Lansing, Mich. Sneaking into the NCAA tournament for a First Four loss isn't the Michigan State way. The Spartans might be a little light on superstar power, but their roster looks like it could shape up to be a gritty bunch.
27. BYU
Any attempt by BYU to challenge Gonzaga at the top of the West Coast Conference — and it's a bit of a long shot anyway — begins and ends with super-senior guard Alex Barcello. If he's not playing at near All-American level, the Cougars won't be reaching their full potential. A potential breakout sophomore season by 6-8 forward Caleb Lohner wouldn't hurt either.
28. Mississippi State
The Bulldogs hit big on the transfer market this offseason, landing a quartet of high-major players to surround leading scorer Iverson Molinar. Garrison Brooks (North Carolina) and D.J. Jeffries (Memphis) will help shore up Mississippi's State frontcourt, while Rocket Watts (Michigan State) and Shakeel Moore (N.C. State) give the Bulldogs more backcourt options.
29. Colorado State
Just two teams have won the Mountain West Conference title the last eight years. Colorado State isn't one of them. But the Rams might be championship material in 2021-22 with eight of their top-nine players returning from last season's 20-win team. That includes the top three scorers in guards David Roddy, Isaiah Stevens and Danville native Kendle Moore.
30. Maryland
Mark Turgeon has won 221 games and made the NCAA tournament five times during his tenure at Maryland. Six if you count the canceled 2020 event, where the Terrapins shared the Big Ten title and were a lock. It still hasn't been enough to keep Maryland fans all that happy. Two key pickups in the transfer portal — Fatts Russell (Rhode Island) and Qudus Wahab (Georgetown) — should keep the good, but apparently not good enough times, rolling in College Park, Md.
31. Wichita State
After winning the regular-season AAC title and reaching the NCAA Tournament, Wichita State has high expectations with a team that returns six of its top eight players, including Travis Etienne, the AAC Co-Player of the Year, on top of a recruiting class that should fill the holes. The Shockers believe their ceiling will be a top-25 team that can defend their conference title and return to March Madness — this time with a higher seed. From the outside looking in, WSU should have a stronger team this season — even if that doesn't mean winning the AAC title again. Anything but returning to the NCAA tournament in what is expected to be the final collegiate seasons for Etienne, Dexter Dennis and Morris Udeze would be a disappointment for this group.
— Taylor Eldridge, Wichita Eagle
32. Virginia
Death. Taxes. Virginia playing effective, yet brutal to watch, deliberate offense. Life's inevitabilities. It's tough to imagine anything different from Tony Bennett and the Cavaliers, and this season won't be that. Who leads the way will be a bit different. Kihei Clark is back to the run the point, but Jayden Gardner (East Carolina) and Armaan Franklin (Indiana) give Virginia some intriguing new offensive options.
33. Virginia Tech
Keve Aluma's decision to return to Virginia Tech for another season certainly raised the Hokies' ceiling. The 6-9 forward was one of the better players in the ACC last season and gives Virginia Tech coach Mike Young a dependable post option. Aluma will need some help, though, and former Wofford standout Storm Murphy could be just the guy as a career 42 percent three-point shooter.
34. Oklahoma State
The Cowboys went all in on Cade Cunningham in the 2020-21 season. It worked. The five-star freshman was Oklahoma State's leading scorer and ranked second in rebounding and assists. Now, he plays for the Detroit Pistons. It will have to be success-by-committee in Stillwater, Okla., this season with returning starters Avery Anderson, Isaac Likekele and Kalib Boone.
35. LSU
LSU is the only SEC team to get a double bye for the SEC tournament each of the past three seasons, and it would be a shock if they aren't around the third, fourth, fifth spots this season. They return only four players from last year's team (Darius Days, forwards Mwani Wilkinson and Shareef O'Neal and guard Eric Gaines).
But they picked up three experienced transfers in Xavier Pinson (Missouri), Adam Miller (Illinois) and Tari Eason (Cincinnati) and had the nation's No. 6 recruiting class led by 6-11 center Efton Reid, a five-star recruit. Basically, nine of their 13 scholarship players have never played a minute for LSU. Still, it would be a shock if they didn't make the NCAA second round or Sweet 16.
— Sheldon Mickles, Baton Rouge Advocate
36. Xavier
Travis Steele's first Xavier team was also his best, but even that group — led by future NBA guard Naji Marshall — finished in the middle of the Big East standings and failed to make the NCAA tournament. The Musketeers have a shot at bettering that this season, with super-senior point guard Paul Scruggs and junior big man Zach Freemantle giving Xavier one of the better 1-2 combos in the league.
37. Syracuse
This Syracuse team is giving off some real disregard them now, but watch them make a Sweet 16 run in March vibes. The Orange certainly aren't lacking for guys who are confident in their abilities as scorers with the Boeheim brothers Buddy and Jimmy and Joe Girard III. The most intriguing new addition, though, might be Villanova transfer Cole Swider. Fresh start for a delayed breakout?
38. Louisville
What Louisville obviously needed this offseason was more reason for the NCAA to dig a little deeper into just how the Cardinals operate. That's sarcasm. It's the last thing the Cardinals needed, but fired assistant coach Dino Gaudio's blackmail attempt on Chris Mack opened that door even wider. Maybe another winning season — easily obtainable — will provide distraction.
39. West Virginia
Bob Huggins relying on a pair of scrappy, veteran guards? Sounds like peak West Virginia basketball. That will have to be the case this season in Morgantown, W.Va., even if it's just a duo after Deuce McBride left for the NBA. As Taz Sherman and Sean McNeil go in 2021-22, so will the Mountaineers.
40. Oklahoma
New coach Porter Moser had some work to do this offseason after what would have been his two best players transferred. Moser's answer was also the portal. Returning role players Umoja Gibson and Elijah Harkless will be asked to do more, but they'll be supported by big men Ethan Chargois (SMU) and Tanner Groves (Eastern Washington) and guard Jordan Goldwire (Duke).
41. Southern California
The Trojans are going to have to make do with just one Mobley in their frontcourt in 2021-22. Last year's All-American Evan Mobley now plays for the Cleveland Cavaliers, but older brother Isaiah Mobley is back to take on the bigger role his younger brother vacated for Andy Enfield's program. Memphis transfer guard Boogie Ellis also provides some much-needed backcourt depth.
42. Notre Dame
Some Irish fans were actually calling for coach Mike Brey's job last season after Notre Dame went 11-15 and finished 11th in the ACC. Not much patience for a guy that's won 448 games in 21 seasons in South Bend, Ind. There's a good chance things should get back to the Brey normal in 2021-22 with the team's top-three scorers returning and Yale transfer Paul Atkinson on board to fill Juwan Durham's spot in the post.
43. Arizona
I've covered the basketball program for 30 years now, just to put it context. I think this team will respond to Tommy Lloyd's style of play. It will be less halfcourt offense (Sean Miller's trademark) and more free flowing. Up-tempo will be the desired form of play, and the players will enjoy playing it. This team will be better than people think and very likely more fun to watch given the style of play. Depending on the NCAA sanctions, if any come in the next few months, this team could very likely make the NCAA tournament. It's talented enough.
— Steve Rivera, AllSportsTucson.com
44. Seton Hall
The Pirates should be in position to bounce back after their just better than .500 season a year ago. Doing so probably includes a shift to more guard-focused production given Sandro Mamukelashvili's departure. Super-senior seasons for Myles Cale and Bryce Aiken, Jared Rhoden's return after being the team's second-leading scorer and the addition of Kadary Richmond (Syracuse) makes for an intriguing backcourt.
45. Florida
Mike White might have turned to some combination of Tyree Appleby and Noah Locke to replace point guard Tre Mann this season. Except Locke transferred to Louisville. So the somewhat new-look Gators will have to lean on Appleby even more while hoping Penn State transfer Myreon Jones can be just as effective in Gainesville, Fla., as he was in State College, Pa., the last two seasons.
46. St. John's
It took former St. John's coach (and star) Chris Mullin four seasons to get to his breakthrough season. The Red Storm made the NCAA tournament in 2019, but he still resigned. Mike Anderson might get his breakthrough a year earlier, with Julian Champagnie and Posh Alexander giving St. John's one of the more intriguing duos in the Big East.
47. Belmont
The Ohio Valley Conference is probably of two minds with Belmont soon to join the mass exodus from the conference. With the Bruins gone, maybe somebody else will win the league. Of course, Belmont leaving also rips some credibility from the OVC. The Bruins aren't gone yet, though, and save for a Morehead State upset, they'll be looking at a fourth straight conference championship.
48. Richmond
Richmond hasn't advanced to the NCAA tournament since making the Sweet 16 in 2011, and this is the season for a return based on experience. The Spiders return two sixth-year seniors — 6-10 Grant Golden and 6-4 Nick Sherod — along with fifth-year players Jacob Gilyard and 6-7 Nathan Cayo. The 5-9 Gilyard is 27 steals away from the NCAA career record.
— John O'Connor, Richmond Times-Dispatch
49. Drake
All Drake coach Darian DeVries has done is win in his first three seasons in Des Moines, Iowa. The Bulldogs emerged as a Missouri Valley Conference title contender in 2020-21, won 26 games and reached the NCAA tournament for the first time since 2008. Multiple key players returning should mean more of the same this winter.
50. San Diego State
The biggest challenge this season for the Aztecs will be replacing its top-three leading scorers from last year's 23-win, Mountain West championship team. A good start to tackling that challenge was adding California transfer Matt Bradley, who scored 18 points per game last season and is a career 40 percent three-point shooter.
51. Saint Mary's
A seventh-place finish in the West Coast Conference last season was certainly out of character for the Gaels. It was, in fact, the worst WCC finish for Saint Mary's in Randy Bennett's first 20 seasons as coach. Odds are good, then, the Gaels get back on track in 2021-22 with literally their entire team returning.
52. UCF
The Knights essentially had four double-digit scorers in 2020-21 if freshman wing Isaiah Adams' 9.9 points per game was rounded up. All four of them return, led by super-senior guard Darius Perry. That should be enough for a top-four finish in the AAC, but whether that yields a second NCAA tournament appearance in coach Johnny Dawkins' sixth season is to be determined.
53. Rutgers
How Rutgers is able to handle losing two starters — guard Jacob Young and center Myles Johnson — could dictate if the Scarlet Knights continue their progression from Big Ten afterthought to dangerous conference team. Rutgers' ceiling gets higher if veteran guard Ron Harper Jr. is able to repeat his exploits from early in 2020-21 for an entire season.
54. Creighton
Creighton had its Marcus Zegarowski replacement all lined up. Then TyTy Washington put together a ridiculous senior season and wound up at Kentucky instead. That means the Bluejays will hand the keys to their offense to redshirt freshman Rati Andronikashvili and his repaired left ACL. Remember the name. The Georgian point guard was one of the top European prospects that chose the college route in the 2020 class.
55. Washington State
Washington State turned to Kyle Smith a couple years ago to breathe new life into the program after he did the same at Columbia and San Francisco. The early returns have been positive. To be fair, anything would have been better than the Ernie Kent era. Year three for Smith and the Cougars might be a breakthrough opportunity even after losing top scorer Isaac Bonton.
56. VCU
The post-Bones Hyland era at VCU could be tricky for Mike Rhoades and the Rams. Hyland did some of everything for VCU last season — particularly as a scorer — and replacing him won't be a straightforward task. How guards like Adrian Baldwin, Jimmy Clark and KeShawn Curry adjust to bigger roles will be key in maintaining the expected level of success.
57. Arizona State
Guard after guard after guard departed Arizona State after the 2020-21 season. Josh Christopher was the only one that ended up in the NBA. The rest found new college basketball homes. Landing Toledo transfer Marreon Jackson and getting Marcus Bagley back after some NBA draft water testing should mean Bobby Hurley's Sun Devils don't fade into obscurity.
58. Loyola Chicago
The Ramblers went with continuity when they made Drew Valentine the youngest D-I coach in the country with a promotion following Porter Moser leaving for Oklahoma. Cameron Krutwig and his good/bad mustache might be gone, too, but Valentine returns several key players for a team that's cemented itself atop the Missouri Valley Conference.
59. Nevada
Nevada coach Steve Alford didn't have to make a ton of offseason moves. The one he did make, though, could be crucial in pushing the Wolf Pack from middle of the Mountain West into league championship contention. Robert Morris transfer AJ Bramah almost wound up at Arizona State, but the double-double machine ultimately picked Nevada and will give the Wolf Pack a solid option alongside scoring guards Grant Sherfield and Desmond Cambridge.
60. Saint Louis
The early part of the season will be an adjustment period for Saint Louisafter losing both Jordan Goodwin and Hasahn French, but the Billikens still have some pieces to compete in the A-10. Leading scorer Javonte Perkins is back. So is point guard Yuri Collins. Throw in transfers Jordan Nesbitt (Memphis) and Francis Okoro (Oregon), and SLU coach Travis Fordmight have something.
61. Iowa
Luka Garza. Gone. Joe Wieskamp. Gone. Jordan Bohannon? Back for roughly his 12th season in Iowa City. The super super senior will have to tap into his scoring ability a little more in 2021-22 as the Hawkeyes rebuild. What Iowa is really counting on, however, is one of those breakout sophomore seasons. Keegan Murray could surprise some people this year.
62. Wisconsin
The rest of the Big Ten fan bases probably groaned when Brad Davison announced he'd be back for a super-senior season for the Badgers. A fan favorite outside of Madison, Wis., he is not. Wisconsin will need his veteran presence, though, as it goes through a bit of a rebuild following an offseason marred with off-the-court distractions.
63. Providence
Nate Watson's return gives Providence one of the better super seniors in the country. Veteran guard A.J. Reeves could slide right in as David Duke's replacement to give the Friars a tough inside-out combo. They need it. Their nightmare of a mascot wasn't the only scary thing about last season, as they went .500 and toiled again in the middle of the Big East pack.
64. Colorado
The Buffaloes might yield their status as top program in the state to their rivals in Fort Collins, Colo. Colorado State projects as the better team, but Colorado still has an intriguing big man in Evan Battey. The real question for Tad Boyle and Co. will be how the Buffaloes replace point guard McKinley Wright IV. Not an easy task.
65. Boise State
Fun fact, Part I: R.J. Keene, son of former Illinois guard Richard Keene, is a freshman at Boise State. Fun fact, Part II: That makes the younger Keene a bit unique. Broncos coach Leon Rice hasn't shied away from building his roster through the transfer portal. His top-five players all started their careers elsewhere, after all.
66. Utah State
Playing without 7-footer Neemias Queta anchoring the post at both ends of the court will be Utah State's biggest challenge in 2021-22. New coach Ryan Odom brought 6-10 forward Brandon Horvath with him from UMBC, but the Aggies will probably lean a bit more on their guards this season.
67. Northwestern
Chris Collins bought himself a healthy dose of goodwill by leading the Wildcats to the 2017 NCAA tournament. He's needed it, as Northwestern has gotten progressively worse since that magical season. A mostly intact rotation — led by guards Chase Audige and Boo Buie — could be the start of at least a small resurgence in Evanston. Small being the operative word.
68. Nebraska
Could this be the year Nebraska climbs out of what's been its semi-permanent spot in the Big Ten basement? Just maybe. The Cornhuskers added a pair of intriguing guards in Alonzo Verge Jr. (Arizona State) and Keisei Tominaga (Ranger College) in addition to five-star freshman Bryce McGowens. That should help solve some of Nebraska's serious offensive woes from last year's 7-20 season.
69. Missouri State
Loyola Chicago and Drake will be the obstacles in Missouri State's path to the top of the Missouri Valley Conference. But it's not an insurmountable challenge. Particularly with Isiaih Mosley and Gaige Prim returning after combining to average 36.5 points, 15.4 rebounds and 6.1 assists in 2020-21.
70. Buffalo
Buffalo should surge into MAC favorites territory given some attrition at Toledo, as well as the fact that the Bulls return leading scorer Jeenathan Williams, double-double force Josh Mballa and starting point guard Ronaldo Segu. Moving up one spot after last year's runner-up MAC finish isn't out of the question.
71. San Francisco
I think the expectations for the Dons would be to finish in the top half of the West Coast Conference, with a chance to finish second if everything goes well. The Dons' strength is in their backcourt, as Jamaree Bouyea (17.3 ppg last season) and Khalil Shabazz (15 ppg) both possess speed, the ability to hit from beyond the arc and experience. The main question for USF is: Can it get improved play inside? Perhaps Yauhen Massalski, a 6-10 transfer from the University of San Diego, and Patrick Tape, a 6-9 forward who spent three seasons at Columbia and played sparingly for Duke last season, can help in that regard.
— Steve Kroner, San Francisco Chronicle
72. Ohio
What will the post-Jason Preston era look like at Ohio? The do-everything guard literally did that the past couple seasons, including in last year's NCAA tournament run. Now, he's in the NBA. Finding someone else to get the ball to big men Ben Vander Plas and Dwight Wilson III will be key.
73. UAB
Andy Kennedy had quite the debut season as UAB coach, guiding the Blazers to 22 wins and a runner-up finish in the West division of Conference USA. Kennedy's no stranger to winning, of course, after nine 20-win seasons at Mississippi. Odds are good he's got another one in him at UAB, with the team's top-three scorers returning and point guard Jordan Walker transferring in from Tulane at a position of real need.
74. Loyola Marymount
Not a bad debut for Loyola Marymount coach Stan Johnson in 2020-21. It didn't exactly harken back to the Lions' glory days with Hank Gathers and Bo Kimble, but the third-place finish in the West Coast Conference standings was Marymount's best since 2005-06. Four returning starters, including leading scorer Eli Scott, should keep the semi-good times rolling.
75. Georgia Tech
No word yet if Georgia Tech coach Josh Pastner will have any COVID-19 inspired piñatas for his team this season. Or if he'll rock the face shield for old time's sake. Here's hoping he does, as the Yellow Jackets try to figure out life without Moses Wright and Jose Alvarado. Paging, Michael Devoe. It's your turn to shine.
76. Stanford
Time for another five-star experiment in Palo Alto, Calif. The first didn't necessarily work all that well — at least for the Cardinal. Ziaire Williams wound up a first-round draft pick, but Stanford finished 14-13 and seventh in the Pac-12. The Cardinal get another shot at it in 2021-22 with Texan power forward Harrison Ingram.
77. North Carolina State
Injuries threw up multiple roadblocks for N.C. State last season. The resulting ninth-place finish in the ACC tied for the program's worst in coach Kevin Keatts' first four seasons. While Devon Daniels opted against as super-senior season after his torn ACL, veteran guard Thomas Allen will return after his own season-ending ankle injury to give the Wolfpack another option in the backcourt with Jericole Hellems and Cam Hayes.
78. Mississippi
A top-25 defense carried Ole Miss last season. Efficient offensively, the Rebels were not. Junior guard Luis Rodriguez spearheaded that defensive effort and returns in 2021-22. So do fellow guards Jarkel Joiner and Matthew Murrell, who had better defensive metrics than offensive. Transfer big man Nysier Brooks should help that cause, too, if he plays like he did at Cincinnati instead of how he fared at Miami last season.
79. Murray State
Tying for fifth in the Ohio Valley Conference last season was a precipitous drop for the Racers, who finished second the previous two seasons and won the league in 2017-18. Murray State will still trail Belmont this season but should be in line for a surge back up the standings. Four starters return, and swapping out Chico Carter (now at South Carolina) for Davidson transfer Carter Collins could be an upgrade.
80. SMU
Kendric Davis was one of the better all-around guards in the country last season, averaging 19 points, 7.6 assists and 4.2 rebounds for SMU. That didn't stop the Mustangs from having a fairly average season. Davis' return, plus some help from transfer guards Marcus Weathers (Sam Houston State) and Zach Nutall (Duquesne), should at least help SMU hold on to its spot in the top half of the AAC.
81. Butler
Gordon Hayward and Brad Stevens aren't walking through that door. Butler was at its absolute best a decade ago with those two involved. Now? Bulldogs coach Lavall Jordan would probably be happy getting back into the middle of the Big East after finishing second to last in 2020-21. He'll lean on the guard trio of of Jair Bolden, Chuck Harris and Aaron Thompson to do it.
82. Colgate
The cream of the Patriot League crop flirted with a major upset in last year's NCAA tournament before Arkansas pulled away late. Boasting one of the more efficient offenses in the country in 2020-21 — top five in three-point shooting and turnover rate — the Raiders return their Nos. 2-7 scorers for this season.
83. Clemson
Clemson got the job done on the defensive end of the court in 2020-21 as it tied for fifth in the ACC. The Tigers are going to have to lean in on that again this season after losing leading scorer Aamir Simms. Al-Amir Dawes could provide some offensive relief, but backcourt mate Nick Honor leading the Clemsondefense is how Clemson strings together another winning season.
84. UC Santa Barbara
The Gauchos had a distinct advantage in the Big West last season. Nobody could stop veteran guard JaQuori McLaughlin. That advantage is now gone with McLaughlin holding a two-way contract with the Dallas Mavericks, but UCSB still has two formidable big men in Amadou Sow and Miles Norris and some backcourt options to fill McLaughlin's rather important role.
85. Northern Iowa
A healthy AJ Green is a difference-maker for Northern Iowa. The 6-6 guard proved that in 2019-20 when he averaged 19.7 points, three rebounds and three assists and the Panthers won 25 games and took home the MVC title. A repeat is probably off the table if his surgically-repaired hips slow him down.
86. Miami
Miami, like almost every school, lost some players to the transfer portal, but were able to sign new players to fill those spots. The expectations are that the team will be better than last year, when UM finished 10-17 overall and 4-15 in the ACC. The team was hampered by injuries, and especially costly was Chris Lykes' ankle injury that kept him out most of the year. The team should have more players healthy this season, and Isaiah Wong and Kam McGusty, who tested NBA waters, both chose to come back.
— Michelle Kaufman, Miami Herald
87. Liberty
The Flames did more than win the Atlantic Sun title last season. They also knocked off some power conference schools along the way and nearly upset Oklahoma State in the first round of the NCAA tournament. Expectations remain high with A-Sun Player of the YearDarius McGhee and two other starters returning.
88. Oregon State
The Beavers busted a lot of brackets last March with their run to the Elite Eight. Turning that late-season success into more will depend on how Oregon State handles replacing point guard/leading scorer Ethan Thompson. Look out for junior-college transfer DaShawn Davis, who averaged 17.1 points, 9.6 assists, 6.5 rebounds and 2.8 steals last year at Trinity Valley (Texas).
89. New Mexico State
Expectations are undoubtedly high for the Aggies. Chris Jans has compiled hands-down the most talented roster he's had since he arrived in Las Cruces, N.M., and fans are itching to return to the NCAA tournament after missing it last season. Expecting a 25-win season and undefeated conference campaign isn't unreasonable, and I believe the Aggies will finish with between 23 and 25 wins. Teddy Allen is undoubtedly the biggest addition to the roster after transferring from Nebraska, and he is more than talented enough to make 2021-22 a special season.
— Stephen Wagner, Las Cruces Sun-News
90. Western Kentucky
The Hilltoppers have played in the last three Conference USA championship games and come up just short in each. If WKU wants to have a special season this year, it will most likely need its new players to step up. The Hilltoppers lost nine players from last year's roster, including three starters in Taveion Hollingsworth, Carson Williams and Charles Bassey from the 21-8 team that won C-USA's regular-season East division title. WKU returns just three players that saw significant action last year with Josh Anderson, Dayvion McKnight and Luke Frampton. The Hilltoppers brought in (eight newcomers) ... and head coach Rick Stansbury said early on, the focus is on establishing the WKU culture with his new players.
— Jared MacDonald, Bowling Green Daily News
91. TCU
A 9-2 start to the 2020-21 season devolved into an awful finish for TCU with losses in 12 of its final 15 games. Moving on this season without RJ Nembhard complicates things further for the Horned Frogs, but point guard Mike Miles returns after a standout freshman season. Add in Texas A&M transfer Emanuel Miller, and there might be something brewing.
92. Cincinnati
Wes Miller turned a floundering UNC Greensboro program into a consistent winner in his decade with the Spartans. Cincinnati could use some help now, too. The Bearcats just finished a messy, not overly successful two-year stint with John Brannen at the helm. Miller was brought on to get the historically solid program back on track.
93. Oral Roberts
Having the nation's top scorer will certainly help the Golden Eagles' cause in 2021-22. But point guard Max Abmas lost his running mate when Kevin Obanor transferred to Texas Tech. Abmas alone can do plenty of damage at the offensive end, but Oral Roberts' ceiling is much lower this year.
94. Rhode Island
Turns out now-former Rhode Island guard Fatts Russell was the player to be named later in last year's offseason move that saw the Rams land Maryland forwards Makhel Mitchell and Makhi Mitchell. The Rhode Island rotation is littered with transfers. How coach David Cox handles a piecemeal-built roster will go a long way in determining the Rams' success.
95. DePaul
The end of the second Dave Leitao era at DePaul ended with an absolute thud. Just five wins — his third single-digit win season in six years — and the Blue Demons' worst record since Joey Meyer's 3-23 finale in 1996-97. But the cupboard isn't bare for new coach Tony Stubblefield, and it all starts with senior guard Javon Freeman-Liberty, who is a legitimate offensive weapon.
96. Vanderbilt
The Commodores have one of the top scorers in the SEC in junior guard Scotty Pippen Jr. They just didn't have much around Pippen last season when they went 9-16 and finished last in the conference. Maybe adding transfers Rodney Chatman (Dayton) and Liam Robbins (Minnesota) will be the quick fix.
97. Kansas State
A 9-20 record last season was both Bruce Weber's worst as a coach and worse than any of the last nine Kansas State coaches managed dating back to Tex Winter's run in Manhattan, Kan.,from 1953-68. The Wildcats turned it over frequently and weren't all that inclined to make the shots they attempted. The expectation is for a bounceback effort in 2021-22 with leading scorers Mike McGuirl and Nijel Pack both returning.
98. Iona
Few teams were hit as hard by COVID-19 as Iona, which didn't play a single game between Dec. 24 and Feb. 11 last season. But the Gaels got hot in the MAAC tournament, won it and reached the NCAA tournament in Rick Pitino's first season as coach. Pitino faces a bit of rebuild in 2021-22, but three decent transfers in should keep Iona competitive.
99. UC Riverside
The Highlanders could be the foil to UC Santa Barbara's shot at repeat Big West titles. UCR has the big man to counter UCSB's Amadou Sow — swapping Australian7-footer Jock Perry for New Zealander 7-footer Callum McRae — to go with a collection of capable shooters in the backcourt.
100. Grand Canyon
Bryce Drew might have hit the low-major jackpot when it came to exploiting the transfer portal. The Grand Canyon coach had some work to do to rebuild the Antelopes after they reached their first NCAA tournament last season and promptly lost their two best players, but a quartet of high-major transfers could do the trick. Loads of potential, at least.
Scott Richey is a reporter covering college basketball at The News-Gazette. His email is srichey@news-gazette.com, and you can follow him on Twitter (@srrichey).