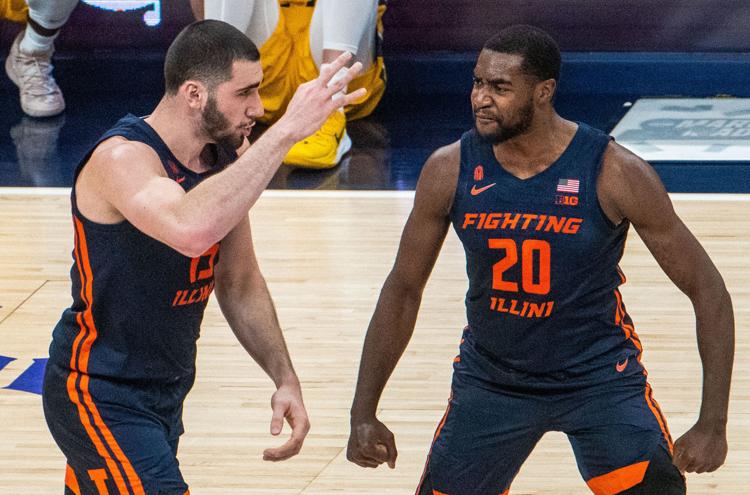 INDIANAPOLIS — Even Illinois' late Tuesday arrival in Indianapolis couldn't mitigate having a long day to get through before a 10 p.m. local Wednesday tip against Baylor.
So Illini coach Brad Underwood stuck to his semi-regular routine. Sitting around in the hotel wasn't going to cut it. Plenty of time to burn before heading to Bankers Life Fieldhouse for the game meant he could get a couple walks in.
It was on Underwood's return from his second walk that he came across Giorgi Bezhanishvili in the lobby of Illinois' team hotel. The junior forward was keyed up ahead of the fifth-ranked Illini's matchup against the second-ranked Bears.
"He was talking about how uptight he was and he was nervous and had butterflies and how much he loved that," Underwood said. "He loves these big games and those moments. I knew he was ready. I think any good player gets excited for these games and has some butterflies."
It was a good thing Bezhanishvili was ready.
Because the Illini needed him. Illinois' supposed advantage against Baylor was going to be in the post. The Bears didn't have a physical match for 7-foot, 285-pound Illini center Kofi Cockburn. That became moot, of course, when foul trouble sidelined Cockburn at the midway point of the first half.
Bezhanishvili stepped in. His 13 first-half points kept Illinois in the game. They just weren't enough to forestall an eventual 82-69 Baylor victory.
"I just had to step up," Bezhanishvili said. "Obviously, Kofi's a great player. He's not going to have a lot of nights like this. When he does, other players have to step up, and it was me (Wednesday). I just came out ready, stayed ready and stepped up for him. He's not going to have a lot of nights like this. I promise that."
It was a vintage performance for Bezhanishvili, reminiscent of his breakout freshman season. The 6-9 Georgian big man flashed the same type of confidence Wednesday night as he did two years ago sharing team MVP honors with Ayo Dosunmu and breaking Deon Thomas' single-game freshman scoring record.
Bezhanishvili knocked down the only three-pointer he attempted, calmly stepped into another mid-range jumper and finished 7 of 10 from the field overall in his 15-point performance.
"I just didn't think about it," Bezhanishvili said about hitting a couple jump shots. "I just went out there and played my heart out. It kind of just happened. I was not thinking, 'Oh, I'm a shooter.' I was just flowing in the game."
Flowing in the game turned into a throwback-type performance for the Illinois junior.
"Giorgi was outstanding," Underwood said. "That's the old Giorgi that we all know and love. In a game where Kofi was really a non-factor because of early fouls, Giorgi gave us a nice lift.
"That's what really good teammates do. I've been saying this all along. Kofi's a tremendous player. We might have the best backup."
That was Bezhanishvili's role at the end of the 2019-20 season and through most of this season as well. Underwood had to keep them separated — and playing against each other in practice — because of sophomore center Jermaine Hamlin's limited early availability coming back from a hand injury.
Underwood played Bezhanishvili and Cockburn more together at the end of last Friday's game against Ohio and did the same Wednesday night against Baylor.
"I think every time Giorgi catches the ball in the post he's going to score," Underwood said. "I like having that option. … His focus was incredible. We got him the ball. We kept trying to get him the ball in the first half. When he caught it, it was either a foul or it was a bucket, and defensively he played great as well. I'm excited about moving forward with Giorgi."
Bezhanishvili was essentially the only option in the Illinois frontcourt, though, against Baylor. Cockburn played just seven minutes in the first half before picking up his second foul with 11 minutes to play before the break. A quick third foul to start the second half sent him right back to the bench, and the Kingston, Jamaica, native missed out on a double-double for the first time in four games this season by finishing with just seven points and four rebounds.
"Keeping him out of foul trouble will help," Underwood said. "It's really that simple. Sometimes it's really, really hard when you've sat so long. The positive thing was Giorgi played so well I didn't need to bring him back in. I was prepared to bring him back in with two (fouls), but Giorgi was fantastic and I was able to keep him on the bench."
Scott Richey is a reporter covering college basketball at The News-Gazette. His email is srichey@news-gazette.com, and you can follow him on Twitter (@srrichey).