CHICAGO — This year's Big Ten media day was Jim Delany's 31st. It was also the last for the Big Ten commissioner, who will retire in January. He didn't mince words when discussing something he considered a regret of his longtime career in college athletics.
Changes made during the 1970s, he said, have created problems today, and he noted both the loss of the four-year scholarship and $15 a month for laundry. Then came the more notable hammer when he paired the loss of freshman ineligibility with his other two points.
"I think that's really expedited everything and hasn't
★ ★ ★
allowed for the full socialization — cultural and academic — for students," Delany said. "I raised that issue about five years ago, and to be honest with you, there was not much of a reaction. It was more of a thud. So I would say some of those areas are issues that have concerned me, and I think have concerned a few others, but really not enough to kind of move that forward."Delany also touched on an idea he broached during last year's Big Ten media day that would require football teams to create an injury or availability report each week.
"It doesn't look like that's going to get done," Delany said. "The NCAA picked up on it, studied it, and at the end of the day, for a variety of reasons — and you can ask them what those reasons are — I pushed it pretty hard.
"Publicly I pushed it pretty hard. Internally, I worked with the groups that were studying it, but for their own reasons they have decided not to do that."
★ ★ ★
Illinois was picked to finish last in the Big Ten West in the annual preseason media poll released earlier this week. That the Illini finished the 2018 season ranked 127th of 129 FBS teams in total defense certainly didn't help their resumé ahead of this coming season.
Lovie Smith readily acknowledged Thursday — perhaps as candidly as he has since the 2018 season ended — just how bad his defense was last fall.
"Last year offensively, we did some good things," he said. "We had a new offensive attack that we brought in led by Rod Smith. Guys had career years, especially Reggie Corbin. So offensively I felt like we did enough to win more football games. Defensively we did not. We were one of the worst defenses in college football. We're embracing that, and we've — a long time ago, right after the season — we went to work to correct that."
Smith listed off defense's deficiencies from 2018. The Illini gave up too many big plays. The signature of his scheme is run defense and takeaways, and they didn't do enough of either a year ago.
"I just feel like we have a better understanding of what we're going to do and the individual improvements that we needed to make, we have made," Smith said. "Our depth is better also. A lot of what happened to us is when you lose some of your front-line players, the drop-off is — there's too much of a drop. We're in a better position with that. Even losing a player like Bobby (Roundtree), we have an excellent recruiting class coming in of defensive linemen."
★ ★ ★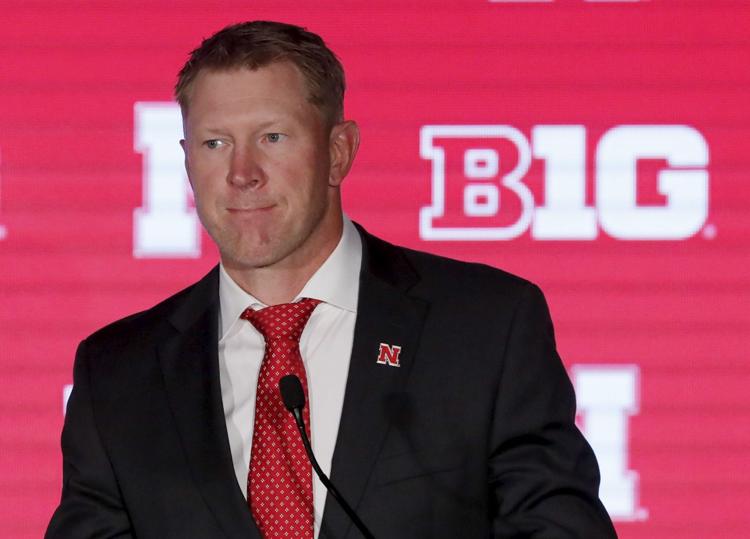 Smith actually headed to the podium early on Thursday afternoon, taking Nebraska coach Scott Frost's place as the first coach on the dais.
The Cornhuskers were delayed getting to Chicago, with weather forcing their charter plane to land in Peoria in the morning. They ultimately flew into Gary, Ind., once the weather cleared enough and then bussed to downtown Chicago.
"Sorry we're a little bit late," Frost said when he got to the podium. "Our plane got diverted. We're here now. Spent a little time at a hotel in Gurnee selling shower curtain rings, and we finally made it."
That last line, of course, being a nod to "Planes, Trains and Automobiles."
★ ★ ★
Few coaches anoint a starting quarterback at media day unless it's a no-brainer.
Like Nebraska bringing sophomore Adrian Martinez as one of its player representatives and Iowa set to do the same Friday with Nate Stanley. Last season, in fact, Purdue coach Jeff Brohm brought both David Blough and Elijah Sindelar before they battled for the starting spot in training camp.
Michigan State coach Mark Dantonio, though, was quick to say Brian Lewerke was his No. 1 even after Lewerke dealt with injuries last season and was replaced by Rocky Lombardi (who also returns).
"Brian Lewerke, if you look back at his sophomore year, he's the only player in Michigan State history that passed for over 2,500 (yards), ran for over 500, so he was an extremely productive player as a sophomore," Dantonio said. "Got hit a little bit with the injury bug midway through the season, but I think his confidence is back. He certainly is back and healthy. He's bigger and stronger, he's faster, and he comes into his senior year with a tremendous amount of game experience.
"With that being said, Rocky Lombardi, our other quarterback, who played a little bit in and out this past year and started some games, is also back and he'll be a redshirt sophomore. So he brings another sense of experience, as well, which is a good option, as well. They'll compete to some degree, but right now Brian is our number one quarterback, and I expect great things from him and I expect him to return to his sophomore status, and (I'm) very excited to watch him play."
★ ★ ★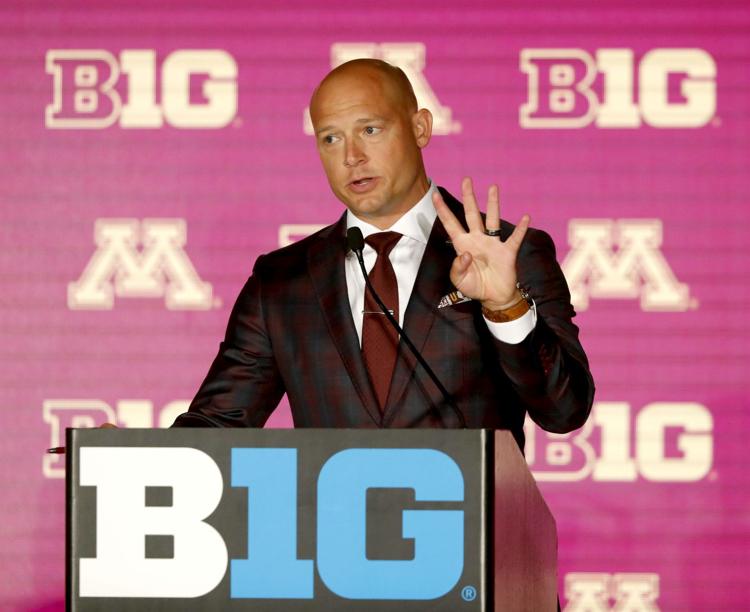 P.J. Fleck grew up in Sugar Grove. Attended Kaneland High School and then Northern Illinois. Got his coaching start with the Huskies, too.
That the Minnesota coach has tapped Illinois as a key part of his recruiting base isn't an accident.
"This is a huge, huge recruiting state for us, recruiting city for us," Fleck said. "I know what type of players you get out of the state of Illinois, the type of players you get out of the city of Chicago, and that's what we want to build our culture around. We've had a lot of success here, plan on having a lot of success here in the future, but it's always nice to come back to the state that you're from, the city that you're from, and have some recruiting success."
Minnesota currently has nine Illinois natives on its roster. That includes the Nos. 4 and 11 prospects from Illinois in the 2019 class in St. Charles North defensive back Tyler Nubin and Washington offensive tackle J.J. Guedet, respectively.
★ ★ ★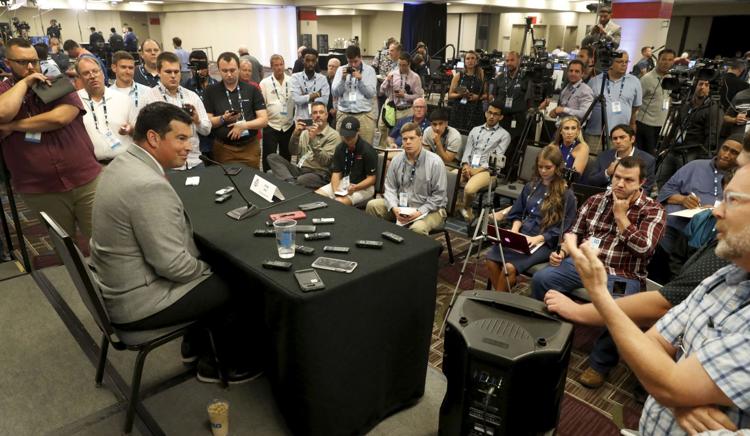 Urban Meyer might not be the Ohio State coach anymore, but he's still employed by the university and he's still working with the Buckeyes' head coaches. Count on Meyer assistant turned Ohio State coach Ryan Day to continue to tap his former boss as a resource.
"I'd be crazy if I didn't," Day said. "He's been unbelievable in terms of understanding when to be there, when to step away. He's taken multiple phone calls from me just looking for advice on how to handle certain things.
"And that would have been the case if I was anywhere else because of our relationship. But being at Ohio State and being right across the street, he's an unbelievable resource and he's been a huge help, and he's going to continue to do that throughout the fall."