Big Ten men's basketball power poll | Hoosiers state on top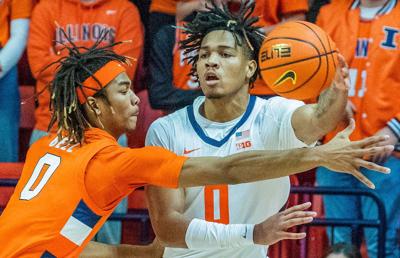 The Big Ten has shed most concerns about what losing all of last year's star power might mean for the conference. As conference play starts Friday night with Illinois visiting Maryland for an 8 p.m. tip, the league has posted a combined 78-23
record with multiple notable victories. That's given Illini beat writer Scott Richey the foundation for his first Big Ten power rankings of the 2022-23 season:
1. Purdue (7-0)
The Boilermakers faced two questions heading into the season. How would Zach Edey fare playing more than 19 minutes per game, and who would step up at point guard? So far, Edey is the only player in the country averaging at least 22 points and 11 rebounds, and freshmen guards Fletcher Loyer and Braden Smith are the only other double-digit scorers on the roster.
2. Indiana (7-0)
Wednesday night's Big Ten/ACC Challenge victory against North Carolina was significant for the Hoosiers. While the Tar Heels might be in full-plummet mode as the first month of the season wraps, beating the reigning national runner-up by 12 is still a better standard for "best win" than eking out a two-point win against Xavier in the second week of the season.
3. Illinois (6-1)
Illinois has unlocked the best version of Terrence Shannon Jr., who has gone from a cog in the Texas Tech machine to the Illini's go-to player. Shannon is rising on NBA draft boards not just for his level of production (19.9 points, 6.3 rebounds and 3.6 assists per game), but for the efficiency at which he's doing it coupled with a sharp increase in his defensive metrics.
4. Maryland (7-0)
First-year coach Kevin Willard, to date, has already solidified his position. He signed three players out of the DMV last month and has the Terrapins ranked again in the AP Top 25. Willard has gotten the best out of returning forwards Donta Scott, Julian Reese and Hakim Hart and hit twice in the portal with transfer guards Jahmir Young and Donald Carey.
5. Iowa (6-1)
Keegan who? Twin brother Kris Murray just put up a monster game with 31 points, 20 rebounds, four assists and two blocks in Iowa's Big Ten/ACC Challenge victory against Georgia Tech and is averaging 21 points and 10.6 rebounds on the season. The Hawkeyes will be primed for Big Ten play, though, after facing Duke and Iowa State next week before Wisconsin.
6. Ohio State (5-2)
The Buckeyes lost a bit of luster from their OK trip to Hawaii for the Maui Invitational — and will probably fall out of the AP Top 25 next week — after Kyle Filipowski and Duke pieced together an 81-72 victory Wednesday at Cameron Indoor Stadium. There's no real star on this Ohio State team, but Brice Sensabaugh is making a strong early case for Big Ten Freshman of the Year.
7. Wisconsin (5-2)
Nothing new about the Badgers other than some personnel. They're still the same grind-it-out, scoring-60-points-is-just-fine team. Greg Gard is just continuing the tradition, and it works. Wisconsin pushed reigning NCAA champion Kansas to overtime before losing in the Battle 4 Atlantis and notched a couple of key wins against Dayton and Southern California.
8. Michigan State (5-3)
Depth was always going to be a concern when the Spartans entered the season with just 10 scholarship players. Literally zero margin should an injury hit. Let alone two, which is where Michigan State currently stands with Malik Hall and Jaden Akins battling foot injuries. At least the Spartans are through the tough part of their nonconference schedule.
9. Penn State (6-2)
The Nittany Lions have only lost a two-point game to Virginia Tech and in double overtime to Clemson. Second-year coach Micah Shrewsberry has them competing. Wins against Butler, Furman and Colorado State might not move the needle a ton, but they're solid. Just like do-everything guard Jalen Pickett, who's averaging 16.1 points, 7.6 assists and 6.6 rebounds.
10. Michigan (5-2)
Should Juwan Howard and Co. be concerned about a defense that ranks outside the top 100 in efficiency and the fact the Wolverines nearly lost to a pair of teams from the MAC? Uhh ... yeah. Hunter Dickinson is doing Hunter Dickinson things (including predicting a win against Arizona State before getting rolled), but the supporting cast is really just Jett Howard.
10. Rutgers (5-2)
Rutgers got Caleb McConnell back from a knee injury last week. That's vital. The reigning Big Ten Defensive Player of the Year's presence is extra important this season for the somewhat new-look Scarlet Knights. But Rutgers' best win to date was by eight points against UMass-Lowell, and facing Indiana and Ohio State to start Big Ten play is brutal.
12. Nebraska (5-3)
The Cornhuskers got real egalitarian from an offensive standpoint with five players averaging between 10.1 and 11.8 points when veteran forward Derrick Walker missed the first five games of the season. Walker's return has him putting up 15 points and 10 rebounds per game, but they'll need everybody at peak performance with Creighton, Indiana and Purdue up next.
13. Northwestern (5-2)
Getting run at home by a lousy Pittsburgh team this week in a 29-point Big Ten/ACC Challenge loss? Concerning. Nearly beating Auburn, taking down Darius McGhee and Liberty and furthering the demise of Georgetown basketball? Actually promising for a Northwestern team that coach Chris Collins kind of desperately needs to start winning.
14. Minnesota (4-3)
The last thing Minnesota needed was for preseason All-Big Ten forward Jamison Battle to miss the first four games of the season following late October foot surgery and then have some struggles upon his return. The Gophers were already at a talent deficit, and Battle not a full strength has only exacerbated that issue. Dawson Garcia and Ta'Lon Cooper can't do it all.
Scott Richey is a reporter covering college basketball at The News-Gazette. His email is srichey@news-gazette.com, and you can follow him on Twitter (@srrichey).