Bob's buzzer-beaters: Frazier to the rescue — again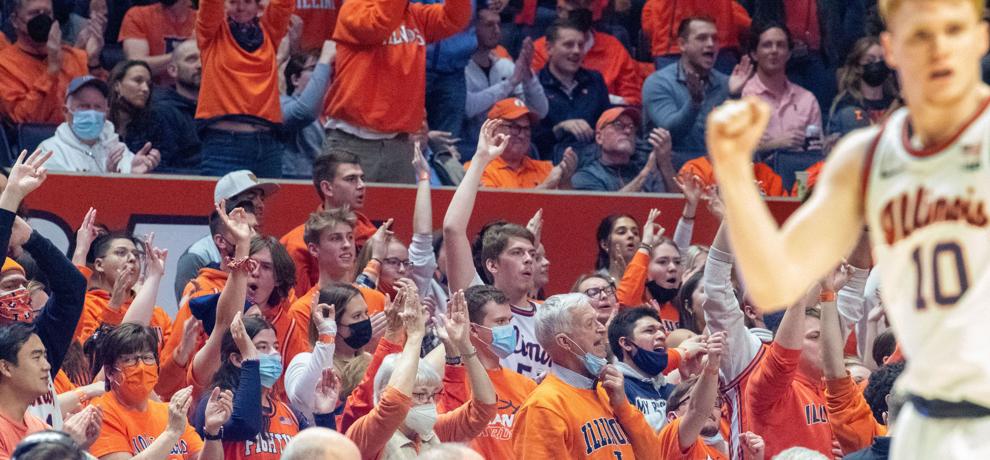 After Illinois basketball games this season, News-Gazette columnist Bob Asmussen weighs in with instant reaction.
Here are his thoughts following Illinois' workmanlike 68-53 victory over Michigan late Friday night at the State Farm Center:
1
Newly-minted No. 25 Illinois was ripe for an upset. Trent Frazier wouldn't allow it. The super senior, with his parents in the crowd, helped an at-times struggling team survive with a late barrage. The kind he has been delivering a lot lately. Six wins in a row, all by double figures, makes Illinois one of the hottest teams in the country. And feeling a lot better than it did after the last loss to Arizona. Keep it going against Purdue on the Martin Luther King Jr. holiday and a spot in the Top 10 will be just around the corner.
2
I didn't forget about Kofi Cockburn, which at this point would be impossible. The man/mountain had another double-double. And he seems to getting better as the game goes on. After missing his first two free throws early, he made the final five. Plus he had another assist. Remember, Kofi is receiving constant attention from the opponent, which must be annoying.
#Illini center Kofi Cockburn on Hunter Dickinson missing tonight's game: "My mindset remains the same no matter who I'm playing."

"I always go out there and try to destroy them and dominate them. That's the narrative I'm trying to set. It doesn't matter who it is."

— Gavin Good (@itsallG_O_O_D) January 15, 2022
3
Booooooo. Oh, never mind. About 45 minutes before the opening tip, word started circulating that Michigan big man/agitator Hunter Dickinson wouldn't be available. So much for the Illini fans letting him have it every time he touched the ball.
4
When the Michigan lineup was announced, the biggest reaction was for coach Juwan Howard, who was loudly jeered. There is a history between Howard and the Illinois program. The Chicago native strongly considered playing in Champaign-Urbana before ending up with the Wolverines. You'd have to say the decision worked well for Howard, who spent 19 years in the NBA and now has his dream job at his alma mater.
5
This was the first game since Ayo Dosunmu's No. 11 was honored. Nice to look up in the rafters and see the jersey next to Dee Brown, Deron Williams, Luther Head, etc.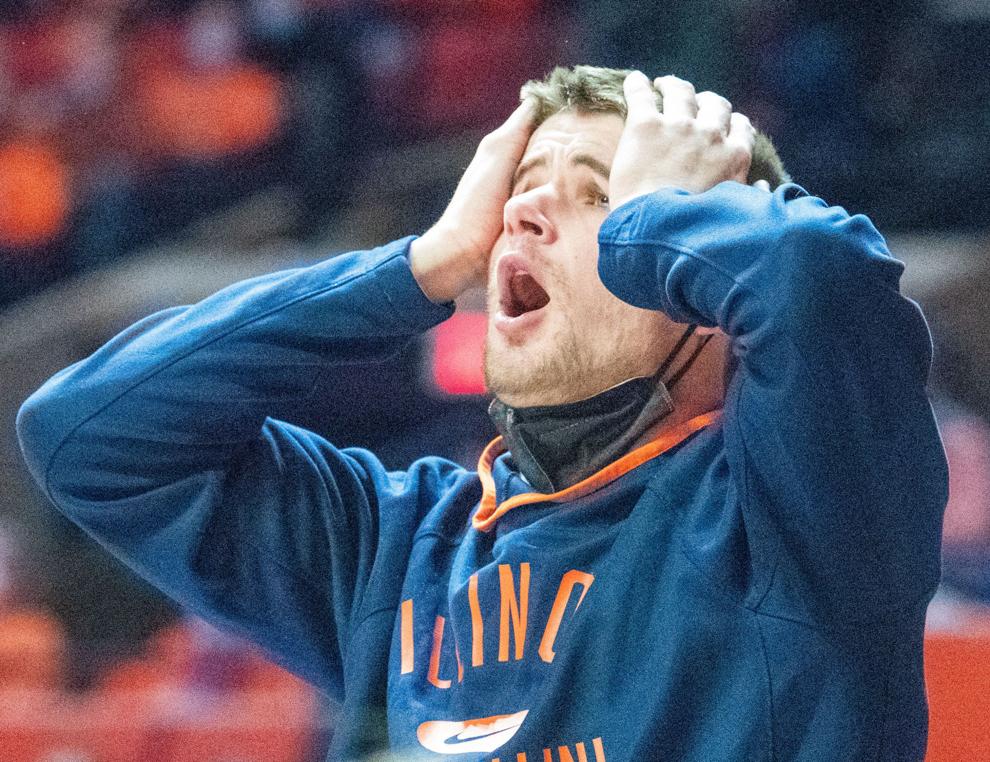 6
Hand the athletic department a sizable check and you will get your name announced at  State Farm Center. During the first half, CA Ventures was given the big donor treatment after pledging $5 million to the program.
7
Really cool halftime entertainment Friday. John Jansky, the artist from Danville, did a speed painting of Dosunmu. The finished product is going up for auction.
8
Congratulations Illinois fans: You follow the rules. Reminded multiple times during the game about wearing face coverings, the fans complied. From my seat in Section 215, a steady stream of fans passed by. While 100 percent weren't wearing their masks, the percentage was pretty darn close. To get in the game, the fans either needed to be vaccinated or have a recent negative COVID-19 test.
#Illini are 20-1 against #B10 competition over their last 21 games/year plus. No other P5 team in the country has a better record versus conference opponents over that same time span. Just enjoying the ride over here. And the winning.

— Matt McCumber (@ILL_Texan) January 15, 2022
9
New Illinois football offensive coordinator Barry Lunney Jr. received a warm round of applause when he was shown on the scoreboard in the second half and introduced to the crowd. Fans will like him even better if the offense improves a notch or 10 during the 2022 season.
10
Illinois coach Brad Underwood joined Brian Barnhart and Deon Thomas after the game on WDWS. He was gracious toward the Wolverines.
"I thought Michigan played harder," he said. "I give them a lot of credit."
The Wolverines were more aggressive.
"I thought they beat us to loose balls tonight. I just thought we were a little bit flat. In Big Ten play in 20 games you can't do that. We escaped tonight," Underwood said.