CHAMPAIGN — Chris Tamas last had the Illinois volleyball team on the court at Huff Hall in April as the Illini wrapped up their spring practice schedule.
Then it was hands off for Tamas and the Illinois coaching staff.
No individual skill workouts.
No dropping in on the team's player-led open gym practice sessions.
That's what makes the official start of practice Saturday at Huff so important. Tamas and Co. will have just 21 days — and 17 or 18 practices — to prepare for the Aug. 30 season opener at Tennessee. Lots of work to do, including figuring out the setter situation and landing on a second middle blocker, and not a lot of time to do it.
"It's pretty tough to get going right away," Tamas said. "We have 132 practice days over the course of the year and maybe 30 more of individual work we're allowed to do. Half the year is on their own."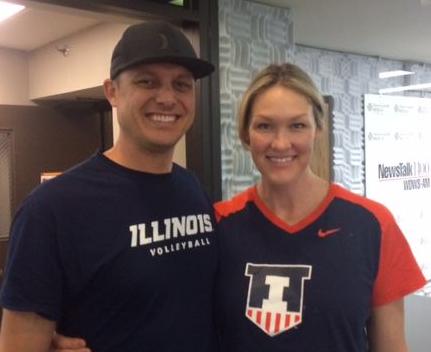 Tamas sees this year's preseason practices as different than his previous two seasons with the team. Yes, Illinois must replace a pair of All-Americans in Jordyn Poulter and Ali Bastianelli after its Final Four appearance last year, but the Illini coach sees competition for multiple spots heading into the 2019 season. Eight newcomers play into that.
It just adds more to what Tamas has to get accomplished before that trip to Knoxville, Tenn., in three weeks.
"I think the challenge is, obviously, you have to do some skill work," Tamas said about his plan for the preseason practices. "You have to get your technique work in. Then you have to compete a lot. You have to see who rises to the challenge early on.
"It's our job as coaches to put them at a high standard and try to challenge them in practice to see how they respond to pressure and kind of go from there. The lineup that we start at Tennessee may not be the lineup we end up with. You never know how those things go. That's at least the plan to start off."
One question mark, of course, is what Illinois will do at setter with Poulter now playing for Team USA in addition to her pro career. Redshirt freshman Diana Brown and Auburn transfer Mica Allison, a St. Thomas More graduate, are the top competitors for that spot and could even play together.
Tamas has fielded the question — a lot — about whether he intends to run a 5-1 (single setter) or 6-2 (double setter) attack. That's what these next three weeks will help determine.
"It's a nice option to have," Tamas said. Both Brown and Allison were top-50 recruits in the Class of 2018 and both got international experience this summer with USA Volleyball.
"Usually what you give up, though, is a ball control player with our substitution rules," Tamas continued about playing two setters. "If you're having two setters come in and out and you're substituting people in the front row for them, then you run through a lot of subs pretty quickly. That's the disadvantage of a 6-2. The advantage is you have three attackers always in the front row."
Tamas ran a 6-2 quite a bit during the spring. It at least gave him an idea of how to approach this coming season, and it's a decision that will dictate how he fills out the rest of his rotation.
"I liked some things about it," he said. "I didn't like some things about it. We'll play with it come Saturday and see how it works out. I really couldn't tell you. We have an idea of what we want to do, but you don't know until we step into the gym on Saturday and kind of move on from there."
Finding Bastianelli's replacement to match with returning middle blocker Ashlyn Fleming, an All-Big Ten second-team pick in 2018, is just as important. Replacing the all-time career blocks leader in program history, though, won't be easy.
"We've got two really talented, young, hungry middle blockers," Illinois volunteer assistant Jen Tamas said of Champaign Central grad Rylee Hinton and Kyla Swanson. "This season we've got a lot of talent in the gym. If the Big Ten's a tough conference, our gym's going to be tough. It's going to be a battle every day.
"Freshmen — young girls — sometimes it depends on who is going to be the most calm in the toughest situations. Sometimes that's not even the best player that's out there. You never know how it's going to go."
Hinton might have the upper hand heading into Saturday's first practice. The 6-foot-2 freshman enrolled early and went through spring practices before representing the Big Ten during its foreign tour of Japan.
"It is a huge advantage," Jen Tamas said. "She was like a sponge. Everything we said, (she was) nodding her head wanting to get reps."