CHAMPAIGN — Marques Lowe wasn't exactly sure how his Vipers Track Club athletes would perform at the USA Track and Field Region 7 championships earlier this month.
In his ninth year running the Champaign-based program, which is unaffiliated with any state high schools, he acknowledged having "lost some heavy hitters" from a year prior.
So while 36 individuals advancing to the USATF Hershey National Junior Olympics may not match the all-time club record of 55, it left Lowe more than pleased ahead of the weeklong meet that begins today in Sacramento, Calif.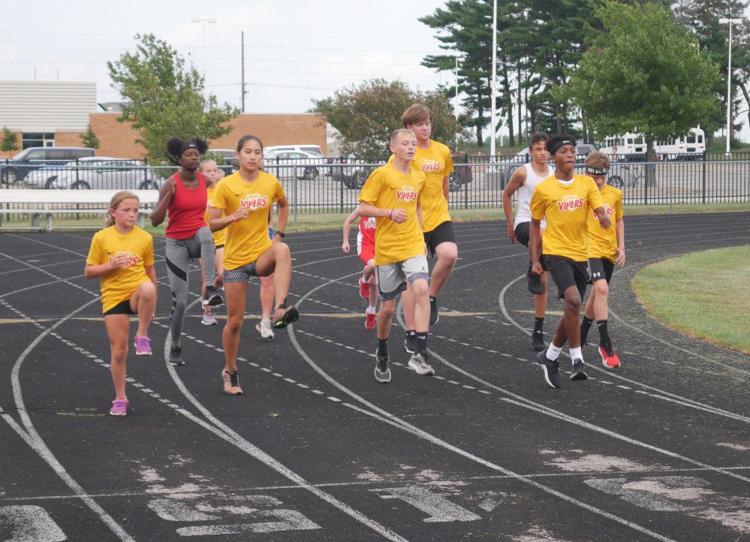 "It exceeded (my expectations)," Lowe said. "When we got to Region 7, it was just like, OK, let's step up. We know who we've got to race. They weren't worried. They didn't fear anybody. They went out, and they did their thing."
That craft now receives an even bigger stage, as the Vipers will face off against fellow talents hailing from California, Texas, Florida and elsewhere.
The Vipers are a diverse group as it pertains to East Central Illinois athletics — elementary through high school kids, from as close as Champaign and as far as Neoga and Warrensburg.
It's not uncommon to hear the public address announcer at Eastern Illinois' O'Brien Stadium, for the IHSA state track and field showcases, mention a youngster's Viper ties.
"It's pretty dope," Lowe said. "We get a lot of flak, actually, because a lot of the coaches, they just don't like summer track or they don't agree with summer track. A lot of the kids that come to our program just really want to enhance their talent."
And even though Lowe no longer has the services of various Division I-caliber competitors — Phillip Hall and Mason Barr (Illinois), Bobby Kapolnek (Louisville) and Quemarii Williams (Manhattan), to name a few — there still are familiar faces among the Vipers' ranks.
Perhaps the most recognizable is Kenli Nettles, an Arthur-Lovington-Atwood-Hammond rising senior who is less than two months removed from winning three Class 1A state championships.
She's rated second in the age 17-18 girls' 400-meter hurdles entering the national tournament, leading Lowe to believe Nettles has a good shot at All-America status via a top-eight display.
Other recent state qualifiers joining the Vipers in California are Gibson City-Melvin-Sibley's Aidan Laughery and Delanie Dykes, Salt Fork's Gracie Jessup and Iroquois West's Connor Price.
"I don't really have too many high expectations for my kids," Lowe said. "The satisfaction for me is them getting there, and then being able to experience that they can compete at a national level at any age."
Case and point is 10-year-old Keely Richmond, Lowe's youngest national advancer. She's slated to toe the line for the girls' 9-10 800 and 1,500 runs.
"I look at stuff like that, when the athletes are young and they have something to put in a scrapbook," Lowe said. "It's like, man, I was a national competitor for USA Track and Field."
Lowe's influence over the state's youth scene isn't close to dissipating, either. He termed 2018-19 as "a rebuilding year" in which he and his staff acquired 35 new pupils.
There could be some impressive Viper performances this week, and it seems likely the team will continue to produce such efforts.
"Just across the board, you name them, you'll probably never know until you ask me who are all Vipers," Lowe said. "It's a great feeling."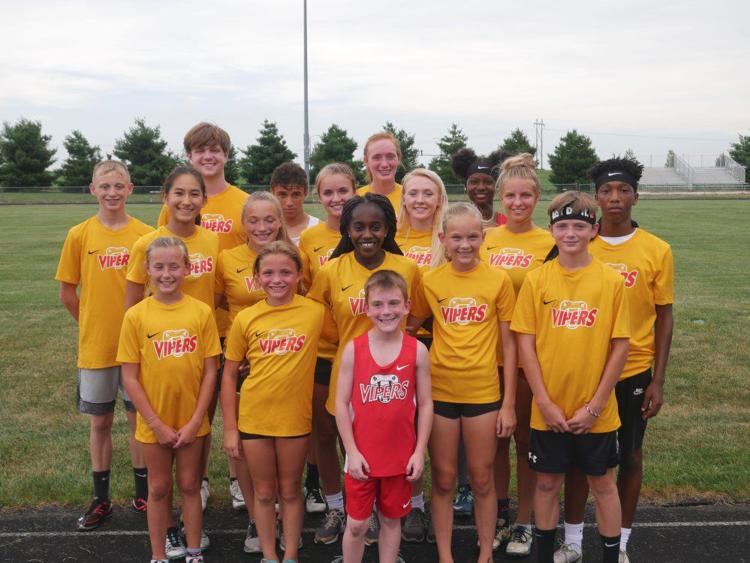 National flair
The Champaign-based Vipers Track Club is sending 36 athletes to the USA Track and Field Hershey National Junior Olympics, beginning today in Sacramento, Calif. A look at those who advanced:
ATHLETE(S)    AGE GROUP*    EVENT
Keely Richmond    G 9-10    800-meter run
        1,500-meter run
TaLeah Turner    G 11-12    80-meter hurdles
        Long jump
Ava Anderson    G 11-12    Shot put
        Discus
Terrell King    B 13-14    100-meter dash
        200-meter dash
Cedric Sabin    B 13-14    200-meter dash
Connor Nettles    B 13-14    400-meter dash
        High jump
Logan Beckmier    B 13-14    1,500-meter run
Jyaire Hill    B 13-14    400-meter relay
Cedric Sabin
Connor Nettles
Terrell King
Connor Nettles    B 13-14    1,600-meter relay
Logan Beckmier
Terrell King
Cedric Sabin
Jaeden Clark    B 13-14    1,600-meter relay
Davin Tietz
Jyaire Hill
Dashjantae Thomas
Brianna Dixon    G 13-14    100-meter hurdles
        200-meter hurdles
        High jump
Anna Barr    G 13-14    100-meter hurdles
        200-meter hurdles
Korah Palumbo    G 13-14    800-meter run
Aleigha Garrison    G 13-14    3,000-meter run
Anna Barr    G 13-14    1,600-meter relay
Korah Palumbo
Aleigha Garrison
Brianna Dixon
Aidan Laughery    B 15-16    200-meter dash
Jonah Singer    B 15-16    800-meter run
        1,500-meter run
Connor Price    B 15-16    2,000-meter steeplechase
        3,000-meter run
Jacob Tackett    B 15-16    400-meter relay
Jadon Robertson
Aidan Laughery
Ben Jessup
Miles Wood    B 15-16    1,600-meter relay
Jacob Tackett
Aidan Laughery
Connor Price
Jadon Robertson    B 15-16    1,600-meter relay
Jonah Singer
Ben Jessup
Malaki Verkler
Malaki Verkler    B 15-16    3,200-meter relay
Mitch Moran
Jadon Robertson
Miles Wood
Jadon Robertson    B 15-16    High jump
Cadi Hu    G 15-16    1,600-meter relay
Ashleigh Anderson
Brooke Oakley
Dina Hashash
Brynlee Keeran    G 15-16    High jump
        Triple jump
Katelyn Lang    G 15-16    Discus
Kodie Willis    B 17-18    Javelin
Kenli Nettles    G 17-18    100-meter hurdles
        400-meter hurdles
        High jump
        Heptathlon
Delanie Dykes    G 17-18    800-meter run
Delanie Dykes    G 17-18    1,600-meter relay
Brittney Oakley
Gracie Jessup
Taylor Fox
Cloe Clark    G 17-18    Javelin
*B for boys, G for girls