CHAT RECAP: On buy games, recruiting and Giorgi as a shooter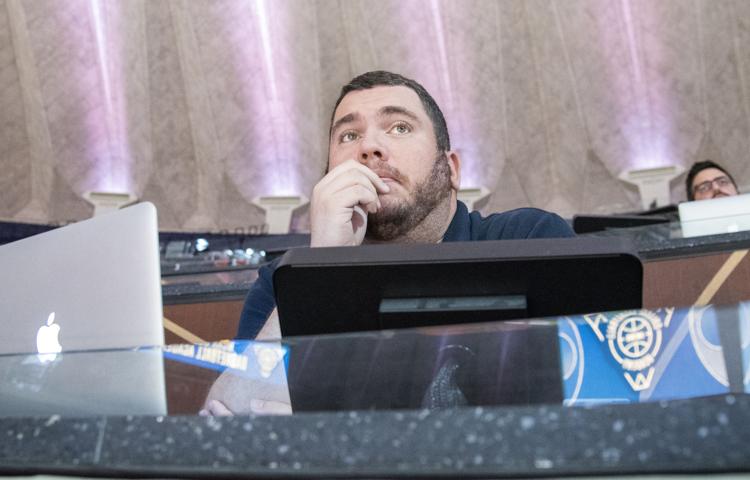 Welcome back to the chat everybody. Interesting time for Illinois basketball after nearly losing last night's season opener. Brad Underwood said his team "escaped" with a win. I'll co-sign that.
If not for Trent Frazier hitting two free throws after not making a shot all night and then locking in defensively one more time, Nicholls State wins. But he did, so the Illini managed to win their opener by the skin of their teeth after being a 22 1/2-point favorite.
Welcome back, college basketball!
Anyway, decent number of questions for me today for the chat. Let's get to it ... 
Who'd have thought that Giorgi Bezhanishvili would hit more three-pointers than Trent Frazier? -- James L.
Uhhh ... not me. I'm still not entirely sure (or sold) that the dual big frontcourt with Bezhanishvili and Kofi Cockburn is going to work. However, if Bezhanishvili can knock down a three-pointer or two each game, that would change my mind. That still pulls him away from where he's the best, but if teams take away the high-low game or any post play offensively like Nicholls State did, Bezhanishvili is going to have to be a shooter.
Not worried about Trent Frazier. His shot was there in the exhibition. Maybe Brad Underwood jinxed him by saying Frazier was shooting better than 50 percent from three-point range in practice. Frazier's a career 37.2 percent three-point shooter even with his 0-fer last night. He'll be fine.
It was only one game, but we have veteran guards and I still don't see a floor general. Andres Feliz perhaps could be, but I would have expected Trent Frazier or Ayo Dosunmu to run this team. It concerns me. Does it you? -- Dave L.
I guess I'm not concerned. Like you said, it was one game, and all three of those guards can run the show. I did find it interesting, though, that Feliz was the one with the ball in his hands to initiate the offense much more frequently than either Frazier or Dosunmu when he was paired with one or both of them. That said, I'm not sure you can argue that Feliz isn't the team's best player right now.
Shouldn't Brad Underwood and Illinois target a top big for 2021 because there's a decent chance that the top two big men, Kofi Cockburn and Giorgi Bezhanishvili, will be gone by then? And the current big men on the roster are three-star recruits, so going after a higher rated big might be attractive since the person might see a great guard combo of Adam Miller/Andre Curbelo and opportunity to step right in as a freshman? -- Craig V.
First of all, I'm not sure we can just make the assumption that both Kofi Cockburn and Giorgi Bezhanishvili will be gone after the 2020-21 season. Cockburn I could see, and if he ends up tossing out double-doubles on the regular this season his expiration date in Champaign might end even sooner. Bezhanishvili's basically the unofficial mayor of Champaign. Unless there's a compelling reason (i.e. big pro contract) to leave, I think he stays and enjoys his entire time at Illinois.
That said, yeah, a big man in the 2021 class is probably going to be a priority. There aren't a ton on Illinois' board right now, but some names to keep an eye on at the moment are Michael Foster Jr. (Mac Irvin Fire ties), Chet Holmgren (super unicorn), Charles Bediako (maybe the Illini finally get their Canadian) and Moussa Diabate (international recruit from France playing in Florida).
How can Illinois out-rebound an opponent by 30 boards and need overtime to win the game? -- Marty A.
Here's three reasons:
1). Illinois turned it over 23 times.
2). Illinois let Dexter McClanahan shoot some much too open three-pointers in the second half, and he made them.
3). Illinois shot 26 percent from three-point range and 65 percent from the free throw line.
I know it was the first game and there were many ups and downs, but would you say the biggest flaw was 23 turnovers? If we cut those in half I believe we would've won by double digits. -- Dominic M.
The turnover were by far the biggest issue. What was strange about that was Nicholls State's defense was the aggressive, denial-heavy scheme that Brad Underwood ran the past two seasons at Illinois. You'd think the Illini that have been around in those seasons would have been better against it. They weren't.
I'm trying to understand this "system" where big schools pay small schools to come and play them, and I guess my biggest question is: Why? Is paying them the only way to get them to schedule the game? Why not just play teams that you don't have to pay? Feel free to expand on this whole setup. -- Tom C.
Here's where I'll start. This weekend's game between Illinois and Arizona (and next year's return game in Champaign) is a rarity. High-major teams typically avoid playing each other except on neutral courts. To actually have home games during the nonconference portion of the season, those same high-major teams have to schedule low- and mid-major teams to fill their schedule.
Because the high-major teams are the heavy favorite in those matchups (Illinois, again, was a 22 1/2-point favorite last night), they have to incentivize those teams to make the trip. And by incentivize, I mean pay them money.