CHAT RECAP: On Donnie Tillman and Illini-to-NBA player comps
Good afternoon everybody. This is kind of a momentous chat ... as in the last on this version of news-gazette.com. We're launching our new website later this afternoon. The chat format is going to change moving forward, but I'll put out the word on Twitter and IlliniHQ Facebook about that once I know what it will all entail.
Plenty of questions for our current format send off, though, so let's get to it: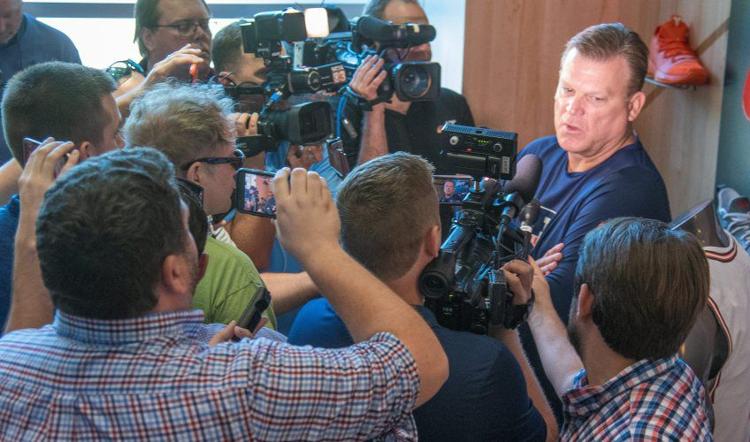 From EH8
Do you see this team as potentially being one of the most versatile teams in the big ten next season? 2 extremely solid PG's, length/athleticism/shooting on the wing Trent, Tev, AG, BBV, power and skill PF Gorgi and Kip, and 7ft defenders/above the rim center Kofi and Samba. Zone of (Ayo, AG, Tev/BBV, Samba and Kofi) would be hard to score on. Shooting team of (Ayo, Trent, Tev/AG, Gorgi, Samba) or Bully ball (Andre, DW, Kip, Gorgi, Kofi)
EH8,
This Illinois team will indeed be a versatile one, but that shouldn't be a surprise. Brad Underwood has mentioned many times that he likes to have "different pieces" when he's putting together a roster. He values players that can play multiple positions.
There are some other versatile teams in the Big Ten, though. Maryland was the first one I thought of given the Terps' collection of bigger guards and some athletic wings (plus Anthony Cowan running the show and Jalen Smith in the frontcourt of course). Michigan State and Ohio State qualify, too.
From EH8
How many future potential Pros do you see on the roster? Either NBA or overseas ( Ayo, Kofi, Samba, Tev, AG, BBV, Trent, Andres, Gorgi)
EH8,
I'd say almost all of those guys you mentioned could at, bare minimum, find a paying basketball job overseas. I'm not entirely sure about who Samba Kane is as a basketball player yet (beyond liking his athleticism at 7-foot), and I know next to nothing about Benjamin Bosmans-Verdonk.
The rest of them? Ayo Dosunmu is obviously already being projected as a first round pick next June, and I'll have a story on his early 2020 draft prospects in the next couple days. Kofi Cockburn is a talented 7-footer, but the NBA has mostly moved away from centers of his type. He'll have to show a consistent ability to extend his range a bit to increase his chances.
It's too early to tell if Tevian Jones or Alan Griffin will make an NBA roster at some point given their limited playing time last season. Trent Frazier needs to go from being a good three-point shooter to an elite one and really show his playmaking ability to better his chances. Same with Andres Feliz. And if Giorgi Bezhanishvili really turns into a stretch 4/5 type this season and shows he can make three-pointers, well, maybe that helps his odds given he isn't a super bouncy athlete.
From Efrem
I read that Bernard Kouma took his New York Board of Regents Exam last week. Once he gets his results, he will know when he is eligible to join the Illini? have you hear anything about Kouma's status?
Also, Do you really still think Samba will be getting minimal minutes for the upcoming season? I respect your opinion so I am disappointed to hear that. Based on what I saw last year, I really feel like he could give us 10 minutes a game.
Efrem,
Brad Underwood addressed both Bernard Kouma and Benjamin Bosmans-Verdonk yesterday. Their respective arrivals on campus all depend on when they get processed through the NCAA eligibity center. Underwood didn't have a timetable for either.
I saw a little bit of Samba Kane yesterday during Illinois' skill workout. He's obviously an intriguing prospect given how quick he is and the bounce he has a 7-footer. Kane simply wasn't ready last season from a situation awareness standpoint and probably would have benefitted from a redshirt and saving a season of eligiblity. Is there any doubt he would have been better as a fifth-year senior than what he did in super limited action last season?
All that said, I took a look through the stats from the 2018-19 season. Adonis De La Rosa was the backup center last year and played 8.7 minutes per game. Add those minutes to the 4.6 minutes per game Kane got and, sure, he's getting 10-plus. But that doesn't take into account Giorgi Bezhanishvili (should he avoid foul trouble a little better) getting more minutes. I can envision the scenario where Bezhanishvili starts next to Kofi Cockburn and then occasionally slides to the 5 when Cockburn goes out.
I would play both Bezhanishvili and Cockburn ahead of Kane right now, but it's still June. Maybe things are different when practices start in late September and the season gets going in November.
From Anonymous
Scott, I hear Bernard Kouma is visiting the Illini the 26th, for a couple of days. Do you know what the hangup is for him coming to Illinois? What is the timeline for his permanent arrival ?
Anonymous,
Check out my last reply for the answer on Bernard Kouma (and Benjamin Bosmans-Verdonk) getting to Champaign. Illinois has no control on the timetable given they both have to get processed through the NCAA eligiblity center, but Brad Underwood still intends for them to be on campus at some point this summer and being able to go to Italy in August.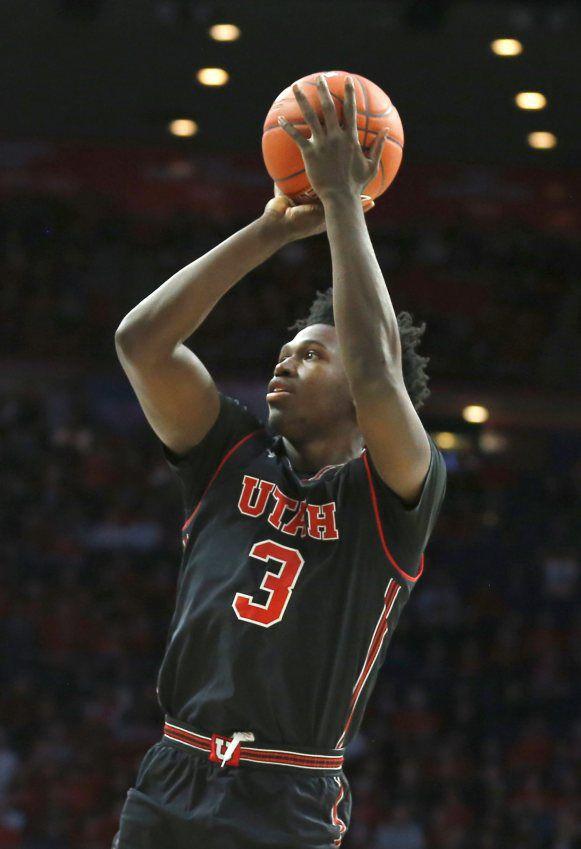 From Illini Basketball Fan
Understanding that Donnie Tillman is wanting to move back to the Midwest to be near his ailing mother and seeking a possible waiver, what are the best possible scenarios that a waiver could be realistically achievable? We know Detroit is close to 400 miles from Champaign, driving miles. I am guessing the only achievable option is for his mother to live in the same vicinity whereever he chooses for school and basketball, which means she is to move from Detroit/Las Vegas to wherever he ends up. There is also the other angle of using mitigating and beyond control circumstances that has created this situation.
I am aware some fans are anticipating that Tillman is waiting on the UM/MSU opportunity preferrably as Detroit is only 45/90 miles (less than 100 miles, meeting waiver) from Ann Arbor/Lansing respectively. Is there room for either UM/MSU? Does it appear that he is set on the Big Ten, given his recent comments of the value of the B10 and chances of getting in the NCAA tourney?
Thoughts or insights on this Tillman situation?
Thanks -
Illini Basketball Fan,
My first thought on Donnie Tillman's situation is he should be glad he's transferring this offseason because the NCAA is trying to make it harder to get a waiver (even if it seems like they were handing them out pretty freely so far in 2019).
There are four avenues for transfers trying to get a waiver for immediate eligiblity:
-- When a player determines they no longer have an opportunity to play on their previous team.
-- When a transfer claims "he or she was a victim of egregious behavior impacting his or her health, safety or well-being."
-- When a player wants to transfer because of a recent injury or illness of an immediate family member.
-- When the transfer wants to be closer to home or their support system because of their own injury or illness. 
Tillman only qualifies for the third one given he was healthy in his two years at Utah and certainly would have been a key player next year for the Utes. Additionally, there haven't been any reports of Utah coach Larry Krystkowiak doing anything related to the second of the four options.
That leaves Tillman's mother's health, which is an issue. I just don't see how he could get a waiver to play right away unless he was within 100 miles of her. Given he was the Pac-12 Sixth Man of the Year and can clearly play at the high major level, I don't see him wanting to drop down a level in competition. Michigan State is full up with 13 scholarship players, but Michigan has three open spots. Maybe that's an option. If it's not, odds are he sits a year to play two.
From Larry
Of the top 8 players what is one key thing thing each illini player needs to improve on during the offseason. Also are there any other big ten teams traveling over the summer like the Illini.
Larry,
I'm tempted to say shooting is the one thing each of Illinois' top eight players have to improve on this offseason because, well, it's true. But I'll put a little more thought into your question and dive a little deeper on the top eight, of which I guess I'm giving you my top eight but not in any certain order:
Ayo Dosunmu ... Free throw shooting (and whatever it was that made him a non-factor offensively in about seven games last year)
Trent Frazier ... Finishing around the rim
Giorgi Bezhanishvili ... Rebounding (plus three-point shooting)
Tevian Jones ... Defense
Kofi Cockburn ... Conditioning
Andres Feliz ... Playmaking for others (which he did show in the last two games of the season)
Alan Griffin ... Being stronger with the ball and limiting turnovers
Da'Monte Williams ... Whatever it takes to become at least a threat on offense even if it doesn't mean a huge jump in scoring. Just have to be able to knock down shots.
As for your other question, here's a list of where Big Ten teams will be this summer (per Jeff Goodman):
Illinois - Aug. 4-14 (Italy)
Michigan State - TBD (likely Spain)
Minnesota - Aug. 3-13 (Italy)
Nebraska - Aug. 3-13 (Italy)
Northwestern - Aug. 19-31 (France, Italy)
Rutgers - Aug. 5-16 (Spain)
From IlliniFanSinceTheSpoon
So D. Tillman in for a visit, but will need a hardship waiver. Hope the NCAA grants it. Why do you think the waiver act doesn't play well at Illinois? The sweater boy frat house at the NCAA blows off Illinois but some conf's like the SEC get a waiver for an athelete whose previous coach yelled at him. BU and staff sure cast a wide recruiting net, but are in Chicago too. I like the approach and time will tell.
IllinoisFanSinceTheSpoon,
I'd cross your fingers extra hard about that waiver should Donnie Tillman pick Illinois. I think it's going to be a tough one to get unless his mom moves to Champaign. The last two instances of an Illini player trying to get a waiver obviously haven't gone well in Ahmad Starks and now Luke Ford. That neither 100 percent matched the criteria is one thing, but from the outside it does look like other programs have had better luck. Not sure why the perceived difference exists.
If you like Brad Underwood's wide recruiting net, Friday's N-G is going to be one to check out. I'll have a story on his approach and a look at the entirety of the 2020, 2021 and 2022 classes so far.
From NJ Grainger Alum
Are plans being made to webcast or tape the Italy trip games for later broadcast on youtube or FightingIllini.com?
That would be a great way to continue to market the program and satisfy a hungry-for-news fan base.
NJ Grainger Alum,
Thinking back to the last foreign trip (France in 2015) I don't remember full games being available either streamed or after the fact. Of course, technology has changed even in the last four years so maybe that's an option. I'll ask if anything like that is planned and get the info out there when I know one way or another.
From Illini Basketball Fan
What NBA players most resemble/pattern after to each of the following with Kofi, Ayo, Trent, Giorgi, Jones, Griffin, Andres, Demonte, and Kipper? I am looking at style of play and similar strengths/weaknesses. Just curious what you come up with.
Thanks!
Illini Basketball Fan,
I saved your question for last because it was going to take some extra brainstorming on my part, but it's an interesting thought experiment. And to be clear, my choices are style comps and not necessarily potential production comps based on current pros:
Kofi Cockburn -- Hassan Whiteside
Ayo Dosunmu -- Jrue Holiday
Trent Frazier -- Seth Curry
Giorgi Bezhanishvili -- Nikola Jokic
Tevian Jones -- Justice Winslow
Alan Griffin -- Buddy Hield
Andres Feliz -- Eric Bledsoe
Da'Monte Williams -- Patrick Beverly
Kipper Nichols -- Alec Burks
That's it for this week's chat, which was a good one. Especially for late June. Thanks, as always, to everybody that submitted a question. The chat will be back next week (12:30 p.m. Wednesday). I just don't know what form it will take. Keep an eye on social media for more details.
Until then, enjoy the week!