CHAT RECAP: On early struggles, Ayo Dosunmu and 2021 recruiting
Giving all of you an extra day to submit some Illinois basketball questions (and asking for them on Twitter) seemed to work. Good number to answer this afternoon before the weekend gets busy with travel and hoops coverage on the east coast.
I'll be in Maryland on Saturday for Illini-Terps, so you'll have plenty to read in Sunday's N-G and right here at IlliniHQ.com. For now, though, I'm still in Champaign and ready to chat.
Let's get to it ...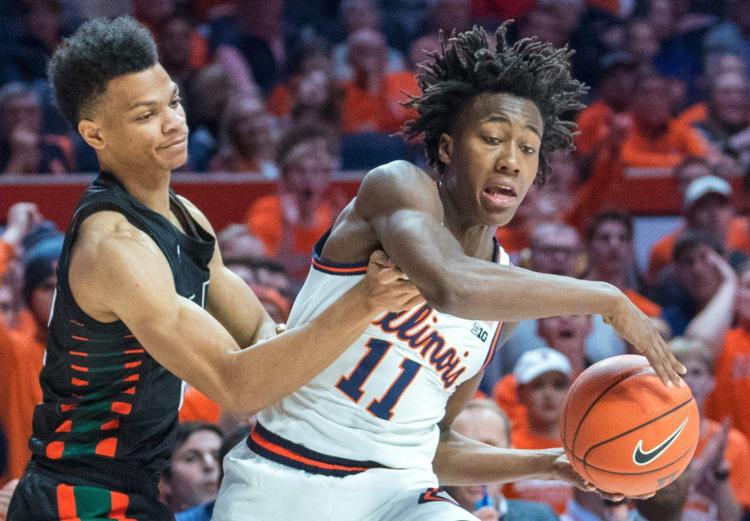 Here we go again! A tale of two halves. A great comeback that falls short versus a not that good Miami team that was basically a one-man team. Once again a smaller guard eats us up. Do you think throwing a zone in would help?
Ayo Dosunmu a lottery pick? I don't see it. 5 for 14 nightly ain't cutting it. He plays better if he stays aggressive. From what you've seen so far, over/under this team wins five more games? More Alan Griffin! -- Sam B.
Illinois has actually played more zone defense than in probably the past two seasons combined, and it's still early December. The Illini even played some zone against Miami, who promptly shot three-pointers over the top of it. It's not the type of defense ... it's the effort in running it.
There were only a few early projections that had Ayo Dosunmu in the 2020 NBA Draft lottery. Still, most considered him a first round pick. Some still do. It's not based so much on his production this season, which has been inconsistent, and instead on his potential at the next level.
This Illinois team will win more than five games the rest of the year. The Illini are projected to win nine more, in fact, per KenPom. The full season projection, which takes into account winning a couple close games that could also be losses, has Illinois at 17-14. That would be ... not enough to make the NCAA tournament. Probably.
I'd be curious if anyone has asked Coach Underwood about moving Andres Feliz back to the bench. I don't doubt he is one of the best 5. However, it seemed that having him come off the bench last year was an immediate boost of maturity and scoring. (similar to Andre Iguodola for the Warriors). Right now, all we have coming off the bench are question marks. I'd rather see Da'Monte Williams start, and have some toughness AND scoring off the bench. -- Eric J.
It is something I asked very early in the season (after the exhibition and Nicholls State games) after it looked like Brad Underwood was going to go with his three top guards together in the starting lineup. He said he liked it at the time and would be something to evaluate moving forward. 
I don't dislike the idea of Andres Feliz off the bench. Like last year, he could lead the "second" unit, which at this point would be a mix of starters and reserves given the opportunities to go super deep on the bench are limited moving forward (unless a guy like Benjamin Bosmans-Verdonk makes a leap).
Underwood has a preference now to have Feliz start, but it's something to monitor. If results don't come (i.e. some needed wins), maybe a shift in lineup happens just to shake things up. 
Am I the only one to notice Underwood's teams seem to have what seems to be a limited focus in pregame warmups? While Miami is locked in draining three-pointers in warmups, the Illinois had four players goofing around at halfcourt pretending they are bowling or curling. This is not unusual before games. I've seen it before. Is this the reason for the reoccurring slow starts? How does coaching allow that to continue? -- Ron C.
The result of Tuesday's game against Miami wasn't solely tied to what happened in pregame. It came down to two poor practices beforehand and an even worse shootaround. That's where the heavy lifting is done to prepare for an opponent. The warmup is just to get your body loose and, for some players, their mind loose, too. 
Some players play better following a strict pregame regimen. Others are at their best when they're loose, not tense. There are structured portions of pregame both with strength and conditioning coach Adam Fletcher and with the assistants. The other moments? A little levity isn't such a bad thing in my opinion. I played better when I wasn't tense.
How many more games until everyone realizes Ayo Dosunmu isn't ready for the NBA? -- James B.
Here's the thing about draft projections. They're almost always based on potential. That's why guys like James Wiseman and Anthony Edwards were considered the top prospects for the 2020 draft before they had even suited up for Memphis and Georgia, respectively.
NBA teams draft on potential and, perhaps more accurately, what they feel they can do with it. NBA organizations will always feel like they can get more out of a player than a college program.
Ayo Dosunmu's draft potential is based on his length at 6-foot-5 and ability to play the point coupled with how dangerous he can be in transition. Has his production matched that potential so far this season? No, it hasn't. But it doesn't change the fact he's an NBA prospect even if where he might be taken in the draft has.
Hearing there is a lack of leadership is concerning when this team was supposed to make waves comes March. Do you think they will get it figured out in time or will they be watching from their homes come March? -- Knight S.
The "lack of leadership" idea is floating around. Brad Underwood didn't really address it after the Miami game other than to mostly take personal blame for the loss (i.e. not getting the team ready to play apparently) and that everyone has to be accountable.
What this team doesn't seem to have right now, though, is a guy that can just drag them to another level of play in a live game situation. Andres Feliz is a low key type of guy and won't be vocal about doing it, but might come closest, right now, to being able to take over a game in terms of production. The hope is Ayo Dosunmu could do the same, and he almost got there late in the second half against Miami. 
That said, it's still the first week of December. There's three-quarters of the season to play. There's time to figure it out, but it's got to happen soon.
Stats show that Trent Frazier is shooting less this year, while Andre Feliz and Ayo Dosunmu are taking more. Any theory on why? Trent was 4-5 on three-pointers against Miami. How do you not get him more looks? -- Nelson J.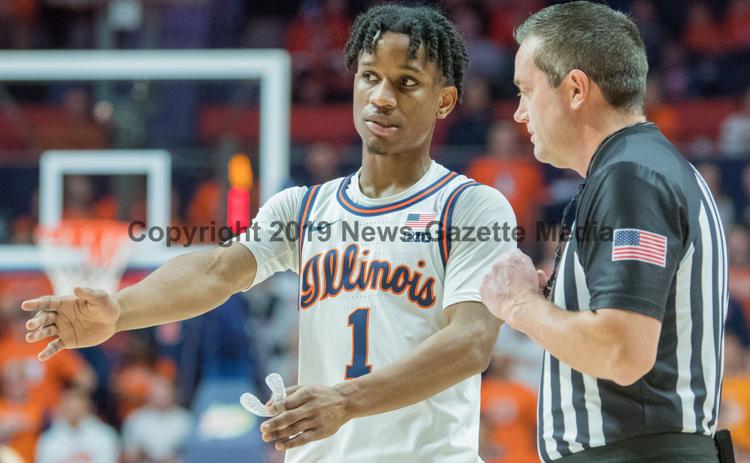 You're kind of preaching to the choir right now. A way forward for this Illinois team, in my opinion, could be Trent Frazier tapping into his freshman year swagger (where he had to be the go-to guy) and being a bit more aggressive offensively.
You can't fault Frazier for what he's done this year, though. He's playing good defense (for the most part) and taking good shots. Making them, too. He's proven he can be a game changer as a shooter, though, and it might be necessary to do so again. 
I am aware that Brad Underwood has offered zero guidance on Tevian Jones' return. If you had to make a completely unsupported GUESS on a return date, what would it be? We need him. -- Von J.
You're right that there's been no official timeline to Tevian Jones getting back on court. Here's an interesting thought, though. Jones served an eight-game suspension as a freshman and missed a quarter of the season. He's at that same mark now, having missed the first eight games of his sophomore year. So maybe Saturday at Maryland?
Again, that's based on nothing official, but does have some interesting parallels to last season.
Against their only two legit opponents this year (Arizona and Miami), Alan Griffin averaged 13 minutes. Not enough to me. What do you think? -- Nelson J.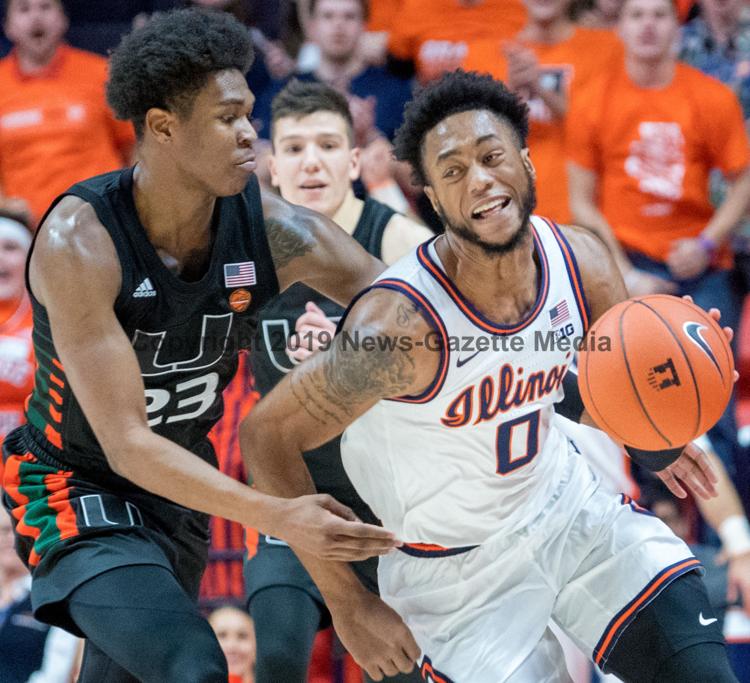 Probably not enough. Alan Griffin was the hot name around the program this summer and played really well in Italy. He's playing hard when he's in the game. Crashing the offensive boards. Defending pretty well.
There are two things, though, that I'd like to see more of (beyond a little more PT). He can still be a little loosey-goosey with the ball in his hands and susceptible to getting his pocket picked, and I'd like to see him be more assertive offensively. Just thinking about the Miami game, there were some shots he could have taken that he didn't. 
Who are the Illini's top 2021 recruiting targets? -- Tate H.
Let's look at this on two fronts. In-state guys and national level prospects. 
When it comes to the former, I think Morgan Park guard Brandon Weston, who's arguably been the Mustangs' most consistent player through three games this season, probably deserves some consideration. He's an athletic 6-4 wing and has proven early this season he can be a good scorer. 
Another in-state player to watch are 6-6 Niles Notre Dame wing Louis Lesmond. He could have a major breakout this season as a shooter that can also play above the rim. Of course, there's always Max Christie. Landing the five-star guard out of Rolling Meadows would be HUGE.
When it comes to other top guys nationally, five-star forward Mike Foster Jr. is intriguing. He's playing out in Arizona now, but he's a Milwaukee (Wis.) native and played for Mac Irvin Fire this past spring and summer. Skilled big man.