Afternoon everybody. First, apologies for the delay in getting this week's chat questions answered. You've probably heard by now that there's been some significant changes here at the N-G. Getting used to the new normal will take some time, but I'm confident we'll continue to provide you top notch coverage. That includes Illinois basketball and this chat. It soldiers on.
The extra couple days allowed for a couple more questions, so everybody's a winner this week. Let's get to it ..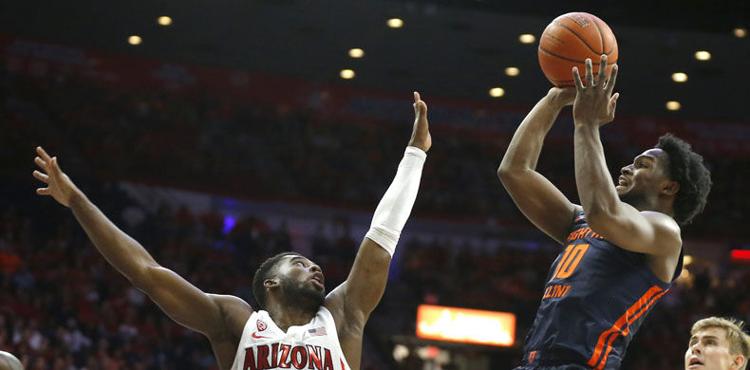 Is Kofi Cockburn the largest human to ever suit up for the Ilini? I know there have been taller players, but those guys were stick figures in comparison. -- Don O.
Yes, as far as I'm aware. There have been other 7-footers to suit up for Illinois. Five of them this century in Samba Kane, Adonis De La Rosa, Meyers Leonard, Mike Tisdale and Nick Smith. The last three are all taller than Cockburn, but your "stick figure" comparison, at least when it comes side by side with Cockburn, is accurate.
De La Rosa is probably the closest of that bunch, but Cockburn is bigger. I've heard Shelly Clark a few times, but he was listed at 6-9 and 260 pounds. There's honestly no comparison.
I know you were high on Tevian Jones prior to the season as was I. I understand he is on indefinite suspension. I am curious if he is allowed to practice with the team or watch practices or sit on the bench during Illini games. Do you see him coming back at some point or are his days numbered? -- William D.
I was high on Tevian Jones this offseason. For good reason. His ceiling is probably as high or higher than anybody else on the team given his size, length, athleticism and potential skill set. Have to be on the court to take advantage of that, though.
Jones is involved in practice, and he does sit on the bench during games. The one thing he didn't do, however, was travel to Arizona. Brad Underwood said that was his decision. So is the decision on how long Jones' suspension might last. That's why it's indefinite. 
To be completely honest, I don't know what Jones' future holds at Illinois. 
Coach Underwood does not seem to be screaming at the refs or his players as much so far this year, which I would say is an improvement. You're closer to this than us fans. Do you see a difference? Also, when are they going to insert some inbounds plays. The long, lazy lob is so common, Arizona stole at least one and contested many others. -- No Name Given
Brad Underwood has still had some moments where he's been less than pleased with both the officials and what the Illini are doing on the court. Even got a light scorer's table kick during the Nicholls State game. But, sure, I would say there's been a bit of decrease in upset moments. Just a bit.
As far as inbounds plays go, Illinois has multiple options. The long lob is what happens when they're not executed well enough to get somebody open. Those are, as you mentioned, easier to take away.
I'll start with this caveat, I have been a BIG Illini fan for many years and enjoy and support this current bunch, but is this team more of the same as last year? I realize it's only been three games. Can't extend leads, play one half, disappear the next, stagnant offense. Opponent guards are shredding Illini defense. This team looks the same, only Kofi has replaced Giorgi in the offense which has caused Giorgi to disappear at times.
And Ayo needs to take over like the pro he's going to be. More minutes for Alan Griffin and more minutes for zone defense. Will there be a Tevian Jones sighting this year? On TV coverage, Border Clash only on SEC Network? Has interest sank that low? By the way, I've never won a game in my arm chair! -- Sam B.
Plenty of questions to get to here, so let's just take them in order. It is too soon to make any sweeping generalizations about this Illinois basketball team. That said, consistency has been a struggle again. So has defending opposing guards. The Arizona game, though, was simply an indication to me that Illinois is still behind programs of that caliber. The Wildcats had multiple pros. The Illini? They have Ayo Dosunmu, but when it came to future pro vs. future pro Nico Mannion was the one that looked like the surefire lottery pick. Again, still early. So maybe that means don't push the panic button on Giorgi Bezhanishvili just yet either (even if it's not really working yet).
Alan Griffin is playing 15 minutes per game so far, so, yeah, maybe a few more for him. Griffin also needs to be more consistent in those minutes -- especially if he's going to be the guy off the bench.
Like I mentioned in my last answer, I have no real feel on the Tevian Jones situation other than he'll be back when Brad Underwood says he's back.
Last year's Braggin' Rights game was on Big Ten Network. This year it's Missouri's home game, so it's on SEC Network. More people get BTN, I'm pretty sure, so we'll see what that means come December. And, yes, the rivalry game has lost some of its always-on-ESPN luster.
Is Andre Curbelo the best pure point guard at Illinois since Dee Brown? How many wins above replacement does Curbelo bring to the team? I say 4 is the over/under. -- Craig V.
I'd say Demetri McCamey could make a case for being a pretty good Illinois point guard post-Dee Brown. I mean, McCamey is only the No. 7 scorer in program history, and he trails only Bruce Douglas for career assists (and only by 32). 
That said, Andre Curbelo could have a really good career if his production plays out in line with the expectations. Remember, Brad Underwood compared him to Steve Nash and Trae Young for some of the things he does on the court.
Basketball doesn't really do WAR. It's more about win shares when you're looking for a stat like that. The highest since 1995-96 (when it started being tracked) was a 10.7 by Michael Beasley at Kansas State in 2007-08 Others at 10-plus for a single season included Wally Szczerbiak, Stephen Curry and Shane Battier.
Using a recent Big Ten reference point, Cassius Winston had a 2.3 win share as a freshman, then 5.8 and 7.7 in his next two seasons. That's not a terrible path for Andre Curbelo to follow. Think a little lower for his freshman season, and then you have to think about how balanced Brad Underwood's teams have been. There's not been one star player. Anything between 4 and 6 would be pretty superb for Curbelo win shares.
Is it time to try Giorgi off the bench to play his different style when Kofi is on the court? The two of them don't seem to be compatible in style and the bench is fairly weak right now. -- Craig V.
I had to try really hard not to chuckle at this since I was the guy in April saying Giorgi off the bench made the most sense if Kofi was going to start at center. Said it a few times on the podcast before shifting gears.
That said, it hasn't been a seamless transition to move Giorgi more out of the post with Kofi in it. Even by the Grand Canyon game, though, it was mostly one or the other on the court after a few minutes at the start. Can it work? I think so, but it's not been Illinois' best lineup. I think Giorgi is trying to force things too much playing in his new role. If he settles in? Maybe it looks better. Illinois needs it to look (and be) better.
Why would Adam Miller wait until AFTER the early signing period to announce? Does he do this because he's waiting on other offers? Why wait to sign? Illinois needs to continue to look at other 2020's. Fair is fair. -- James F.
Waiting to sign a National Letter of Intent is the type of leverage players of Adam Miller's caliber have. The only leverage, really. He's within one ranking spot, essentially, of being a five-star guard. Teams will have an open scholarship for him in April if he wants it.
Not signing in the early period allows Miller to see if the team he commits to next Thursday is in a position to be successful when he gets to campus. Can't fault him for waiting.
Obviously, if he doesn't commit to Illinois next Thursday then the search reopens for a scoring guard to pair with Andre Curbelo in the 2020 class. The thing about that, though, is the fact Illinois is basically out of options in the combo guard market. Or at least when it comes to players they've offered.
Scott, do you have a update as to when Beasley and Blazek while return for women's basketball? -- Robert C.
I turned to women's basketball beat writer Joe Vozzelli for an answer. Brandi Beasley will be back for tomorrow afternoon's game against Illinois State. No update on Mackenzie Blazek's potential return.