CHAT RECAP: On starting lineups (for both basketball and volleyball)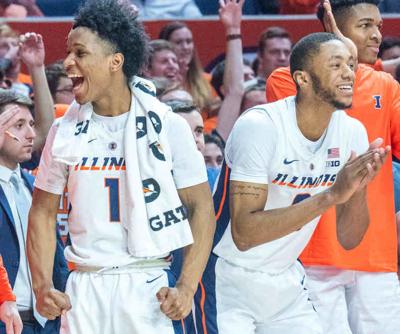 Honestly, it's hard to believe the 2019-20 Illinois athletics season is underway, but Janet Rayfield's undefeated Illini soccer team already has things off on a good note. We'll see if they can keep it up this weekend when Illinois volleyball and football also get their seasons started. Of course, that just means basketball season is even closer. 
Nice mix of questions this week. Mostly hoops, of course, but a couple volleyball queries as well. Variety. Spice of life. You know how it goes.
How unusual is it for a volleyball team to play the same opponent twice in one weekend? -- B. Ready
In nonconference play? It's fairly rare. I know Stanford essentially did it last season with a Tuesday-Friday pair of matches with Texas. I asked Chris Tamas earlier this week about playing Tennessee twice this weekend. He likes it as prep for the Big Ten in the sense of playing an opponent twice and for the end of the year when the Illini will play Northwestern in consecutive matches to end the season.
Seniors Jacqueline Quade and Ashlyn Fleming like it for the opportunity it presents the team to play one match, study it and then have to make immediate adjustments to play better. And, at least when it comes to No. 17-ranked Tennessee, Tamas is a fan of the RPI implications. Basically, win or lose, it's a cumulative plus for that metric unless the Volunteers just go in the absolute tank. (He wants to win, of course).
Can you please keep us updated on where Bernard Kouma ends up? I feel really bad for the kid after reading his tweets. Any chance he ends up at Illinois in 2020? -- E. Winters
Can do. It is a tough situation for Bernard Kouma. He thought he had everything in order to come to Illinois this season. The NCAA disagreed. Still don't what's best for the student-athlete, you know?
I feel like someone at some point asked me what the next stop might be for Kouma, and whether it would be prep school or a JUCO. Prep school is probably the best path since it wouldn't eat up a year of eligibility. As for whether he still winds up at Illinois as part of the 2020 class? Maybe. I'm sure the Illinois coaches will keep tabs on him, but whether he fits the Illini's plans for the 2020-21 season a year from now isn't something I can answer.
Hey Scott, who do you think will settle in to the starting five? What is ailing Benjamin Bosmans-Verdonk? Where does Da'Monte Williams fit in? Is there enough basketballs AND minutes to go around? -- S. Bricklayer
Appreciate all the questions again this week. Some good things to ponder. Right now, my starting lineup would be a backcourt of Ayo Dosunmu, Trent Frazier and Alan Griffin with Giorgi Bezhanishvili and Kofi Cockburn up front. I go more into my thought process there in Ep. 63 of "Inside Illini Basketball" which you can listen to right here ...
Benjamin Bosmans-Verdonk has a leg injury that kept him out of the final Italy practices and then unavailable to play in the four games on the foreign tour. He had (or has) another doctor's appointment this week to get an update on where the healing process stands. Any update I get, I'll be sure to pass along either here at IlliniHQ.com or in the pages of The News-Gazette.
As long as Da'Monte Williams keeps rebounding, playing solid defense and making hustle plays, the junior guard is going to have a spot in Brad Underwood's rotation. Maybe even as a starter considering he got 18 of them last season. I understand Underwood's point that not every player has to be a scorer, but I still think Williams needs to at least prove to be more of a scoring threat.
I think the Illini managed to find a way to keep most everybody happy last season (i.e. one basketball and 200 minutes to divvy up), so I don't envision any issues in that regard. Of course, that becomes an easier task, in my opinion, when wins are coming more frequently.
I know there's only been one scrimmage for the volleyball team, and three players were withheld, but if you had to make a guess who will be the starters this Friday? Also, do you think we will run a 5-1 or 6-2 system? -- M. Mathews
Since the last I will have seen of the team this week is going to be Tuesday's practice, I guess I'll base my projected lineup on that. Should be noted that any of the injured players (Beth Prince, Bruna Vrankovic, Mica Allison and Emily Hollowell) returning would change things. But here you go:
S - Diana Brown
OH - Jacqueline Quade, Megan Cooney
OPP - Kennedy Collins
MB - Ashlyn Fleming, Rylee Hinton
L - Morgan O'Brien
DS - Taylor Kuper, Caroline Welsh
So with Allison currently sidelined, it's going to be a 5-1 with Brown starting. I sort of think that's Chris Tamas' preference, too, but maybe he'll surprise me and play them both when Allison gets healthy. The Illini would need at least Prince and Vrankovic to be healthy, too, to have enough pin hitters to pull it off unless Allison plays all the way around and also hits (which I think can be done). The total number of substitutions available in a match is still something that eludes me.
What's our standing in Big Ten basketball at the end of the year? -- J. Wehrmeier
On paper, Illinois has the talent to be a top five team in the Big Ten. I have about a month to work on my preseason ballot for the media poll that will run in early October, and if I had to pick right now I'd probably have the Illini either fifth, sixth or seventh. Should this team prove capable of winning close games (something that has been elusive the past few years) then a top five finish is quite likely, and finishing in the top five of the Big Ten should lock up an NCAA tournament berth, too.