CHAT RECAP: On the Illinois frontcourt, defense and which '80s song best represents these Illini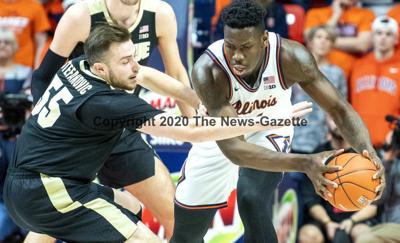 The chat is back! Between the Christmas holiday, spending almost a week in California for the Redbox Bowl and then more travel for Illinois basketball in the last week, the chat took a back seat to my other coverage responsibilities. 
But now it's back. It might not be an every week type deal, but I'll still answer any and all Illini-related questions you have. Might turn it into more of a mailbag type deal every other week. That's what this week's back-and-forth will be, as I catch up on your questions.
Let's get to it ...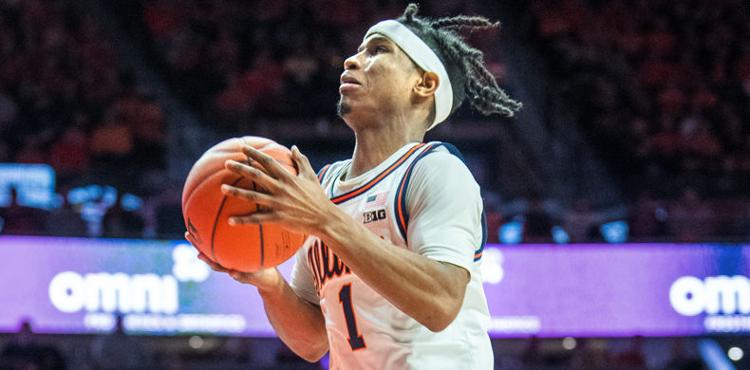 Do you know if there is any particular reason why Benjamin Bosmans-Verdonk has not played in recent games? — Patrick M.
Bosmans-Verdonk is out with a right foot injury, and he's been in a boot since the Michigan State game. It's the opposite leg of the injury that sidelined him this summer, and, like then, Illinois is being pretty cautious with the freshman forward out of Belgium.
Thank you as always for the time. Brad Underwood seems intent on playing Giorgi Bezhanishvili and Kofi Cockburn together. The eye test seems to show that they are a worse team when they are playing together. Is this supported by the stats or am I completely wrong? — Knight S.
Thank you for your interest in the chat and submitting a question. Always appreciate that.
Unfortunately, I don't have the plus/minus for the lineups where Bezhanishvili and Cockburn are on the court together. Individually, Cockburn's at a 6.6 plus/minus for the season, while Bezhanishvili is at 4.9. From the eye test standpoint, I'm not sure it's Illinois' best lineup, but I'm also acutely aware of there not necessarily being a better option.
Bezhanishvili still looks more comfortable — and productive — when he's playing the 5 and has back-to-the-basket opportunities on the offensive end. But there's just not another option at the 4. Kipper Nichols has had some positive moments, but they've come in small doses, and going small with either Da'Monte Williams or Alan Griffin at the 4 puts Illinois back in last year's predicament where Aaron Jordan gave up size and physicality playing out of position. Small ball is, again, fine in small doses, but tougher to pull off long term in the Big Ten.
Glad you are back. Must of been tough working out in Cali! Looks like I was right about Alan Griffin needing more minutes! He is all over the place. I don't get the same vibe about Tevian Jones. Yet! Would Benjamin Bonsman-Verdonk still be eligible for a redshirt?
And a note to News-Gazette readers, this is a good forum to unload on Scott all your questions and ideas. He has his finger on the pulse of Illini sports. — Sam B.
Many thanks for the kind words, Sam. It was tough working out in the Bay Arena. Like Alex Palczewski said, it wasn't a vacation to San Francisco. I intend on going back when I can be more of a tourist than the few spots I visited this time around.
Anyway, to your basketball questions. You were right about Alan Griffin. If not for this resurgence by Ayo Dosunmu, Griffin would be the far and away winner for best player on the team right now. As is, they can share the title. I also don't see Tevian Jones putting together a similar run as Griffin. Missing the first eight games of the season hurt Jones' progress, and that was all self inflicted. Given opportunity — albeit limited run — he just hasn't shown that he's ready to make a similar leap. Griffin's rebounding and hustle plays got him on the court and in position to get more minutes and be able to be more of a scorer and show off his full game. It's a path Jones might want to consider.
A redshirt for Bosmans-Verdonk is actually a good question and would be dependent on if Illinois brings him back from this current injury. Since he missed the Dec. 29 game against North Carolina A&T, the injury can be back-dated to the first half of the season. He's also only played in eight games, so that puts him below the 30 percent mark. We'll see.
I'm huge Brad Underwood fan and rarely question him. But would we have possibly won (the Missouri game) if he had gotten a technical foul or gotten ejected? There were times where I want him to throw a Bobby Knight chair onto the floor after a Kofi mugging. Again, the refs were great. Our boys need to learn to be tougher. But could we have possibly escaped this learning experience with a win and an early Underwood ejection? — John E.
Dipping back into the email well for this because it brought up an interesting point that I hadn't honestly considered from the Braggin' Rights game. Still, I don't think a potential Underwood ejection would have pushed Illinois toward a win.
Sitting courtside that game — and literally right on the court — meant I got a pretty good feel for the energy and emotions for both teams. Missouri's players played with an edge and honestly wanted it more. Javon Pickett, especially. I don't think Underwood going off on the refs changes that for his players. Missouri might have used it to be even more confident since it would be proof they had gotten to the Illini.
I have continually questioned why we can not execute a play after a timeout or halftime. Roughly, I saw (against Missouri) where we had the ball eight times after the team had direct coaching from the staff at ball stoppage. Of those eight times, five resulted in desperation shots with less the eight seconds to go (four with less than five), two turnovers and one (good) missed shot. We were fouled on two of the last second shots, resulting in 4 made free throws.
Is the offense that predictable?  Is the team not listening?  What gives in your opinion? — Ron C.
This question also came to me after Braggin' Rights. Ron was right. Illinois was ineffective out of timeouts in that game, and that's something that has been an issue not only this season but in the past couple as well. There was some disconnect between the coach and the players where execution just didn't happen.
That changed Wednesday at Wisconsin. Illinois finally had some success running plays out of timeouts against the Badgers. Maybe you just have to chalk it up to a maturation process for what's still a team of mostly underclassmen. 
Brad Underwood has pulled back from the aggressive, ball denial, "up the line" defense that he employed last year. Now that they have a rim protector, that seems odd to me. Do you think there's any chance that he brings that back, in some fashion? — Tom C.
In short, no. The analytics just don't back it up. Underwood pulling back on the aggressive nature of his defense has been successful. Illinois currently has the No. 40 most efficient defense in the country after ranking 108th last season and 129th in Underwood's first season.
The change was made to accommodate the shift in the frontcourt with Kofi Cockburn at the 5 and Giorgi Bezhanishvili at the 4. Cockburn isn't your prototypical rim protector. He'll block shots, but he's not a "shot blocker" if that makes any sense. Simply being 7-foot and 285 pounds means he makes opposing players think twice about how they attack the basket. It's his presence more than his pure shot blocking ability that has helped Illinois.
I thought Purdue coach Matt Painter discussed Illinois' defensive changes as eloquently as anyone. He knows a thing or two about the adjustments necessary when you have an extraordinarily big center. When discussing Isaac Haas, Painter said he knew if Haas made one move defensively it wouldn't be easy to make another quick one simply because of his size. Cockburn moves better than Haas did, but it was still an interesting point.
We'll end with a series of questions from regular chat participant Craig V. who also pegged Alan Griffin as a breakout candidate in the new year.

You mentioned the name of the top 2021 must get on the podcast. Can you remind me who you recently thought was the Adam Miller of the 2021 class for Illinois?
That would be five-star recruit Michael Foster Jr., who's an athletic forward that can play above the rim and also handles the ball well for being 6-9. While he's playing at Hillcrest Prep (Ariz.) as a junior, he's a Milwaukee native and played with Miller with the Mac Irvin Fire in the most recent EYBL season.
How has Bernard Kouma been playing? Given Kofi's play so far, seems that there may be a need for another big in the 2020 class.
Kouma is averaging 5.3 points and 4.3 rebounds for No. 18 South Plains College in Levelland, Texas. Whether or not he winds up at Illinois in the long run is still to be determined even though he's listed as still committed to the Illini per Rivals. Right now there's not a scholarship for him. There's technically not one for Adam Miller either, but that will, you know, work itself out.
Which team in the last 10 years does this one remind you of? Bonus points for naming a song from the 80's that best represents this team.
Is it a cop out to say the 2012-13 squad given this could be the first Illinois team to make the NCAA tournament since that one? Because there are some of those same vibes. Good guard play in 2012-13 with Brandon Paul, Tracy Abrams, DJ Richardson and Joe Bertrand is matched by this year's team with Ayo Dosunmu, Trent Frazier, Alan Griffin and Andres Feliz. Then there's the big men albeit a defensive-minded Nnanna Egwu is different from Kofi Cockburn. Plus another big like Tyler Griffey/Giorgi Bezhanishvili to help hold things together.
For my bonus points ... "Livin' on a Prayer" if only for the fact that the Illini are halfway there to actually getting back to the NCAA tournament. They'll make it, they swear.