College Basketball Extra | Statistically speaking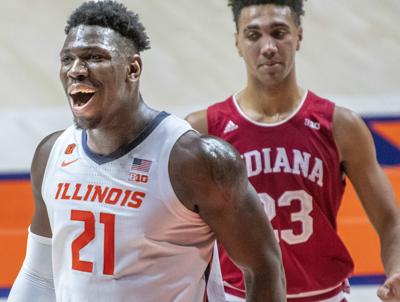 It's not difficult to get lost down the rabbit hole that can be BartTorvik.com. The college basketball analytics site kind of has it all and keeps adding new options. There's now a transfer portal section, and coaching changes are tracked. There's also a multitude of advanced statistics both for individual players and for teams, in addition to some T-Ranketology (Torvik's version of bracketology) during the season.
How users can manipulate certain aspects of the site — particularly during the offseason — is unique. The "RosterCast" option allows for the addition and subtraction of players from team rosters. Want to know how a transfer might change your favorite team? Torvik's got an app for that … sort of.
So what did adding Kofi Cockburn back to the Illinois roster mean for the Illini's chances in 2021-22 from an analytics standpoint? Quite a bit. The Illini were ranked No. 27 nationally before Cockburn announced his decision to return. Now that he's back, Illinois has climbed all the way to No. 3.
The biggest difference Cockburn's presence makes from an analytics standpoint is on the offensive end of the floor. The Illini actually dip a bit in adjusted defensive efficiency with the 7-foot, 285-pound center on the roster, but they jump up significantly in adjusted offensive efficiency from No. 27 to No. 8 in the county.
Usage rates for the rest of the team also change with Cockburn back in the mix. Without Cockburn, sophomore guard Andre Curbelo was projected to have the highest usage rate. Now it's Cockburn, and the other Illini all saw their projected usage take a low-level cut to create more opportunities for the big man.
One of the more interesting aspects of adding Cockburn back to the Illinois roster — at least when it comes to Torvik's model — is what it means for the Illini's projected contributors. It's basically a projected rotation of sorts.
All three freshmen wings in RJ Melendez, Luke Goode and Brandin Podziemski remain in the mix even with Cockburn's return. Sophomore forward Coleman Hawkins does not.
These are, of course, just projections. For the three freshmen, how they fit is based mostly off where they fell in the recruiting rankings. The reality is the internal expectations are higher for Hawkins after he played sparingly as a freshman.
Illinois coach Brad Underwood isn't afraid to throw out a smaller lineup — playing the Jacob Grandison and Da'Monte Williams combo at the 4 last season is evidence — but he's also raved about Hawkins' versatility. Getting more from the long-armed Californian shouldn't be a surprise in 2021-22.
Scott Richey
Scott Richey is a reporter covering college basketball at The News-Gazette. His email is srichey@news-gazette.com, and you can follow him on Twitter (@srrichey).