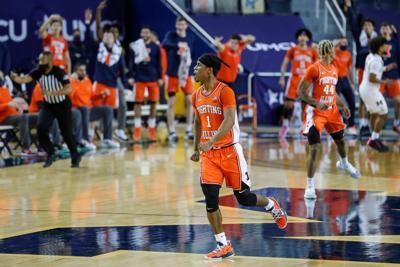 A "super senior" season for Trent Frazier presents some interesting possibilities for Illinois in 2021-22. His first four seasons with the Illini followed a rather unique path, as he went from a high usage, needed scorer to a pick-his-spots offensively, lock opponents up defensively two-way threat by the time he hit what will now be his first senior year.
Frazier had to score in 2017-18. Outside of Leron Black, Illinois didn't have another consistent option. Then Ayo Dosunmu showed up in Champaign. And Frazier's role changed.
While he had his statistically best season as a sophomore, the ball was in his hands less and less the past two seasons.
The drop in scoring from fewer opportunities played out in reverse defensively, with Frazier's defensive rating (an estimate of points allowed per 100 possessions) and defensive box plus/minus improving during his junior and senior seasons.
Especially the latter, as the 6-foot-2, 175-pound guard's defensive rating dropped below 100 (that's a good thing) and his defensive box plus/minus nearly doubled (also a good thing).
The 2021-22 season will be different — at least in some regard. Expect the same type of defensive tenacity that earned Frazier a spot on the Big Ten All-Defense team this past season. Chester Frazier's presence on staff might even kick that up a notch given his status as a three-time Big Ten All-Defensive Team pick.
It's on the offensive end where change might be more noticeable. Dosunmu is gone, off to the NBA, and while Andre Curbelo will be the primary ball handler and initiate the offense, a bump in usage for Frazier more in line with his first two seasons (an average of 24.85 percent) than his last two (an average of 16.25 percent) wouldn't be a surprise.
Michigan got a look at the complete two-way threat that Frazier presents on March 2 in Ann Arbor, Mich., when Dosunmu was out with a concussion and facial fracture.
Frazier lit up the Wolverines for 22 points and also put the clamps on Michigan guard Mike Smith, who mustered just five points on 2-of-6 shooting and had zero assists for the only time in the entire 2020-21 season.
"We saw old Trent in that second half," Illinois coach Brad Underwood said after the Illini knocked off No. 2 Michigan on the road. "He's such a good player, and he does it at both ends. … When Trent gets going, it's a pretty lethal backcourt. He's the ultimate team guy. He's the ultimate Illini."
Frazier has flashed that lethality throughout his Illinois career. The 32-point game against Wisconsin his freshman season that still stands as a career high. The "shrug game" at Purdue as a junior where he hit five three-pointers during a losing streak-snapping win for the Illini in West Lafayette, Ind.
All "old Trent" again — at least from an offensive perspective — and perhaps a reminder of what could come in 2021-22.
SCOTT RICHEY
Scott Richey is a reporter covering college basketball at The News-Gazette. His email is srichey@news-gazette.com, and you can follow him on Twitter (@srrichey).