CHAMPAIGN — Mike Lindemann sat all the way over to the left, in the empty part of the stands at Parkland College's Dodds Athletic Center, on a Wednesday night in mid-December.
He nervously watched the Cobras' women's basketball team from a somewhat unfamiliar vantage point. A year ago, he was on the sideline, coaching his sixth season at Parkland.
Watching from the stands, he was far more anxious. After all, the new coach was his daughter, Allie Lindemann, and the team was undefeated through 10 games and ranked No. 8 in NJCAA Division II.
As halftime approached, the Cobras were losing by double digits to rival Lake Land, and both Lindemanns were visibly frustrated.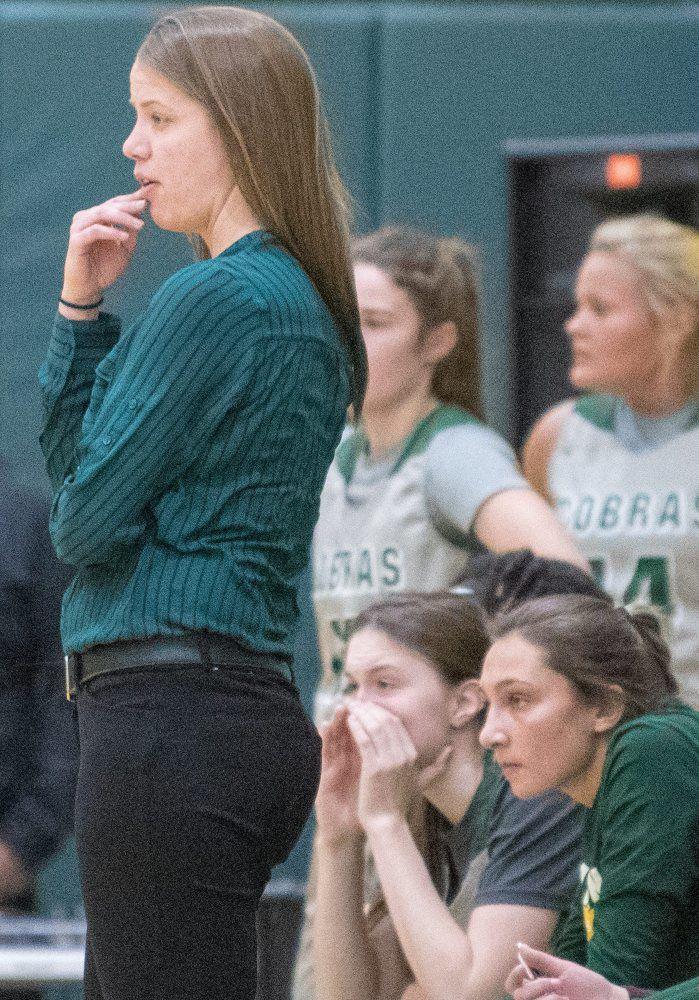 "I'm thinking the same things she is," Mike said of his daughter, who paced the sideline on the other side of the floor. "They're not reversing the ball, and they're not even setting picks on anybody."
From his spot in the crowd, the retired coach said he sees the game in a broader context than he did when he called plays from the bench. That's the difference between the way he and his daughter see the game as coaches.
Allie, Mike said, always seems to see that broader context. She's not as fiery as he was on the sideline, where he'd snap a clipboard in half once a season as a motivational tactic. But she's always analyzing.
"I think she's very calm and collected," Mike said. "I get kind of riled up, and I'm always walking up and down the sidelines. And she's up all the time, but I think she's thinking ahead.
"Going to games now, I see things in the stands that I didn't see when I was coaching. You're looking at the whole picture more than you are when you're just coaching, and I think she has a good vision of seeing what I see in the stands that I didn't see when I was on the sidelines. She just sees more things going on."
The elder Lindemann hadn't been to a single practice this season because he didn't want to interfere in any way with his daughter's team. But the two talk plenty when they get to work in the mornings at Body 'N Sole, a running shoe store that Mike owns in Savoy.
Former Central star Allie grew up playing for her dad, but her influences went far beyond him. After starring for the Maroons, she went on to play junior-college basketball — at first begrudgingly — at Kirkwood College in Iowa before moving on to play for Division I Siena. After a stint at Uni High, she took a job as the lone paid assistant at Hamilton College in New York.
Three years ago, she moved back to Champaign to work at her father's store. On the side, she took a position as an assistant coach for her father.
Originally, the intention was for her to eventually take over the family business. But this year, those plans changed.
"Now, that's pretty much out the window," Mike said.
After a difficult season in which he had knee surgery, Mike decided to step down from his coaching position. Instead, he'd focus on his store and the Christie Clinic Illinois Marathon, which he co-directs.
So instead of taking on her dad's store, Allie took on his other lifelong passion. And now, her ambitions are clear.
Even though her role at Parkland is one of the few jobs of its kind in the area not to come along with a full-time position, she's decided on a course in life.
"Coaching is what I love," she said, "and it's my true passion."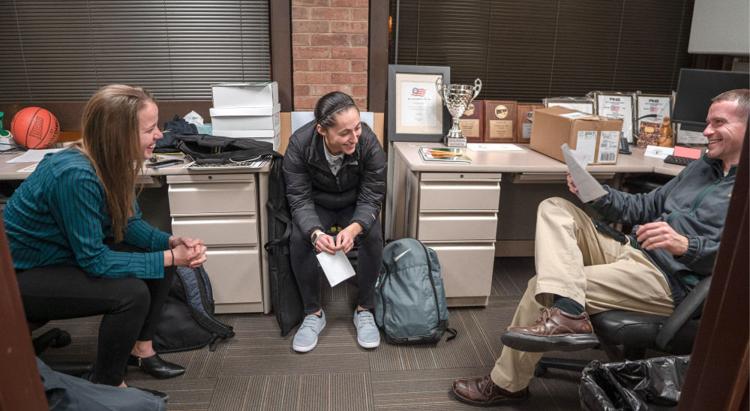 Finding her way to coaching
Her role as head coach at Parkland may technically be a part-time job, but it doesn't feel that way. After her shift at Body 'N Sole, Allie usually has an hour or two to go home, walk her dog and relax before heading to Parkland for practice.
On the day of the Cobras' game against Lake Land, she clocked out at the store at 1 p.m. before heading to Parkland's gym at 2 p.m. for an hourlong shootaround.
At 5:30 p.m., she was back at the gym for the evening, where she and her team would watch half of the men's game before preparations begin for their own game, the second half of the doubleheader.
"It's a part-time full-time job," Mike said. "It's not just during the basketball season."
Road trips are even more exhausting, and those late nights are followed by early mornings at the store.
But for Allie, this level of commitment is nothing new. When it came to basketball, she never had to be pushed.
Her hands would be cold and raw from the winter weather, but she'd still ask her dad to come out and play one-on-one with her day after day throughout the winters as a kid. In those early days, she wouldn't beat the former Mattoon player. But she had one clear advantage.
"She obviously could shoot a lot better than I did," Mike said. "I think she eventually started putting me under the table."
With that work ethic and shooting stroke, Allie was named The News-Gazette All-Area girls' basketball Player of the Year in 2006 as a senior at Champaign Central while playing under her father on her way to becoming Champaign-Urbana's all-time leading scorer — male or female — a title she still holds with 2,186 points.
Division I schools, though, didn't come calling.
"I would've never expected to go (to junior college)," she said. "You have that junior college stigma, which is usually a pretty negative stigma."
She realized, though, that going to Kirkwood, the only junior college she visited, would be her best shot at a D-I career. She now says she couldn't imagine her career playing out differently.
"At the four-year level, they recruit junior-college kids to play," she said. "They don't want junior-college kids to sit on the bench. They recruit junior-college kids to change programs … I couldn't have asked for a better experience (than she had at Kirkwood), and I couldn't have foreseen it any other way."
At Kirkwood, she won two national championships, after which four Division I teams offered her a scholarship: Drake, Illinois State, Akron, and Siena. At Siena, she was the team's second-leading scorer in each of her two seasons, hitting 68 three-pointers in both, and she built connections that would eventually lead her into college coaching.
When she returned to Champaign after school, though, she didn't know what to do.
"I was like, 'What do I do now?'" she said. "Because my life was all about basketball."
At first, she substitute taught while coaching the Uni High girls' basketball team, which she led to its second regional title in program history in 2012. Eventually, she received her master's degree in social work and took on a job as a foster child case worker.
The itch to coach basketball, though, never went away.
In 2013, Michelle Collins, an assistant coach from Allie's time at Siena, came calling. Collins was hired as the head coach at Division III Hamilton College, and she wanted to bring Allie along as her lone paid assistant.
Allie spent four years in upstate New York, living a mile off campus in a scenic area and soaking in the experience of coaching on the college level. Then, it was time to head home, and she thought her time as a full-time coach would come to an end.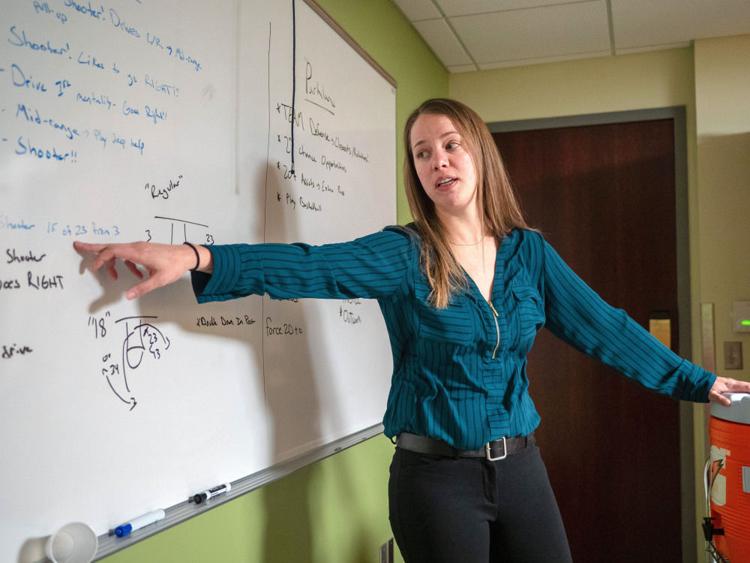 It's a balancing act
Her father, meanwhile, had built up a resume as one of the top junior-college coaches in the region in the years after Allie's Champaign Central career came to an end.
During Mike's six years as Parkland's head coach, the Cobras won five conference championships and finished second at the 2015 NJCAA Division II national championships, the program's best-ever finish.
After coming back to Champaign to work at her dad's store, Allie took a job coaching under her father at Parkland. Amidst a difficult 16-14 season, the Cobras' only year without a conference title under Mike, and with mounting responsibilities with the marathon and his store, Mike decided to retire.
It wasn't an obvious decision for Allie to take over.
"At first, I was hesitant on it because of the store," she said. "It's a lot."
Since she took the job, though, she hasn't regretted the decision. She dreams of making this a full-time career, which is one thing Parkland doesn't currently offer.
"I think Parkland's a great place to be, surrounded by great people," she said. "I think I'll stay there as long as possible. The only thing is if a great opportunity full-time comes up."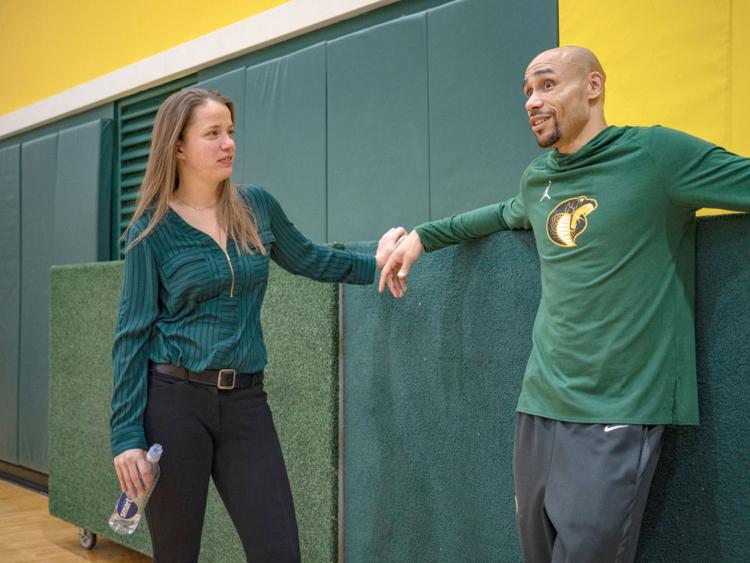 Competitive spirit drives her
At halftime against Lake Land, Allie didn't snap any clipboards like her father might have.
She didn't even come close to that level of animation.
She expressed frustration. But, mostly, her points led back to specific basketball criticisms. For the most part, she left the impassioned speech to assistant coach Bill Dobrik. Her voice never rose above a loud conversational tone.
"(Mike's) fire may pop up more out of the snap of a finger," said Dobrik, who is in his ninth season at Parkland. "And that might catch the girls off-guard. Allie has a little bit more of that competitive fire that'll build maybe. Girls may see if things aren't going well that it's building, or if it's going well, she'll build off that, too. That's how I would characterize their competitive fire, but they both have that."
Not that she won't challenge her players. Every once in a while, she'll jump into drills or games.
"That focus and intensity jumps, because she still brings that competitiveness," Dobrik said. "Let's say she scores on them. That's kind of a bad look when the coach hits a jump shot on you."
The halftime speeches didn't turn the Cobras' fortunes around. Allie suffered her first loss as a head coach in a 77-50 rout, and after addressing the team, coaches from four-year schools waited in the gym for her. As she knows full well, the recruiting process never stops at the junior-college level, whether players are incoming or outgoing.
Finally, she commiserated with Dobrik and fellow assistant Devin Curry, a former Wateska standout, in a small office across the hall from Dodds Athletic Center.
They talked about the team's overconfidence after a 10-0 start and their players' specific pitfalls. They discuss posting the score around the gym and on the scoreboard.
As she left just before 11 p.m., she vowed to watch at least some film before closing her eyes that night. She wouldn't be able to sleep well, anyway, after a frustrating night.
Win or lose, nothing captures Allie's attention like basketball. Every time she's been pulled away from the sport, she's gravitated back. Now, she hopes she's in the game for good.
"Since I was a little one, I always loved it," she said. "Having Dad as a coach, I would always watch film with him, and I always knew in the back of my head that was what I wanted to do."
All in the family
With a Lindemann on the sidelines coaching the Parkland women's basketball team each of the last seven seasons, the Cobras have experienced plenty of success. Take a look:
SEASON  REC.  COACH
2019-20 12-2  Allie Lindemann
2018-19 16-14  Mike Lindemann
2017-18  23-7  Mike Lindemann
2016-17  27-8*  Mike Lindemann
2015-16  24-9  Mike Lindemann
2014-15  35-2+  Mike Lindemann
2013-14  27-10^  Mike Lindemann
*Placed eighth in NJCAA Division II
+Placed second in NJCAA Division II
^Placed fifth in NJCAA Division II