Top of the Morning, April 24, 2021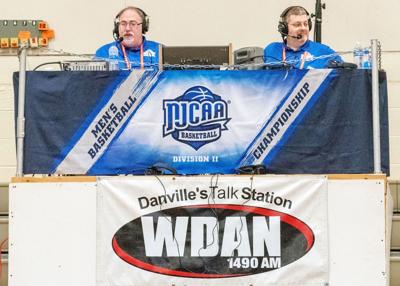 Every year, the NJCAA Division II men's basketball tournament provides an interesting challenge and unique opportunity for the WDAN broadcast team, which calls the entire tournament hosted by Danville Area Community College.
"We have 26 games that we broadcast over the course of the week involving 16 different teams, of which none of them are local," said Mike Hulvey, COO of WDAN's parent company, Neuhoff Media, and a longtime DACC supporter. "We study information provided by the school, we look for information provided by the national association. You're always looking for an interesting human interest story or something with the team."
Each year since DACC began hosting the tournament in 1994, WDAN has broadcast the games both locally and for teams' local stations. That used to mean running a feed over a phone line back to different communities. Now, teams simply access the audio stream online.
This year, that attention to detail is even more important than normal, because fans who would normally come to Danville for the tournament won't be there because of COVID-19 restrictions. Only one radio broadcast team is visiting, so that means DACC's six broadcasters — Scott Eisenhauer, Doug Barnett, Keegan Nickoson, Emily Jordan, Eric Westphal and Nate Norris — are tasked with broadcasting every game.
That means they're combing through notes on every team in the tournament, which began Tuesday and runs through Sunday. And like every year, by the end of the tournament on Sunday, they'll feel like they know all 16 teams.
"Every year, it starts off the same way," Hulvey said. "You start off with a little knowledge, and by the end of the week it's like, 'Wow, you're telling all of these great stories, and you're sharing it with the rest of the country through these different platforms. It's pretty cool."